Introduced in fall 2018, the program has doubled in size with more high-profile lithium battery manufacturers coming on-board.
Newtown, PA, March 21, 2019 -- NABCEP Continuing Education Conference, San Diego, California, March 25, 2019

At one of the solar industry's most respected events - the annual gathering of top installation professionals for the North American Board of Certified Energy Practitioners education conference - Morningstar Corporation announced that its Energy Storage Partner Program (ESP) has more than doubled in size since being introduced just last September.
Morningstar launched the ESP program to make it easier for solar professionals to specify lithium batteries into new systems or drop them into and upgrade existing ones. Initially including five leading advanced battery brands - Discover Battery, NEC Energy Solutions, PowerPlus Energy Solutions, RELiON, and SimpliPhi Power -ESP eliminated the uncertainty and "lithium anxiety" for installers by doing their homework in advance.
All critical settings required for switching a system's electronic control over to lithium-iron phosphate (LiFePO4) chemistry were determined in advance, between Morningstar and the battery brand partner. Installers no longer needed to "ping pong" between a battery manufacturer and a solar system component manufacturer to get the information they needed - ESP provides it up-front in verified documentation. All the installer has to do is access the documentation free of charge, saving them considerable design and set-up time.
Based on its initial success, the next wave of battery partners has joined Morningstar's ESP program. They include: Trojan Battery, Pylon Technologies, Dragonfly Energy, KiloVault, Blue Planet Energy, Battle Born Batteries, and Lithium Werkes BV.
Comments Morningstar president and co-founder Lee Gordon, "We developed ESP because we saw the inevitability of both battery makers and solar installers needing more seamless integration. With residential storage projected to grow annually at over 80% and comparable growth expected in rural, security, communications and other applications, it's not overstating the fact to say that energy storage represents the driving growth segment in solar. And that battery companies and installers can benefit from expert collaboration between them and the industry's leading brand in solar controller technology and applications. The enthusiastic reception for the concept of an energy storage partnership is evidenced by this latest group of premiere battery brands joining us. We're thrilled to welcome them, and are looking forward to the others we're now working with following their example."
Information on the program and all its partners is available here: http://go.pardot.com/e/706173/nergy-storage-partner-program-/2617i/888770?h=nYv5c8OFa7oUdq2eOAUGtAXKXJc-E6_57DiU66l-DJw
About the Energy Storage Partners (in alphabetical order):
Battle Born Batteries, Reno, NV specializes in rugged, high-quality and high-value lithium-iron phosphate deep-cycle batteries for active applications including RV, marine, overland/van and off-grid, in bundled solutions with other essential solar system components.
Blue Planet Energy, Honolulu, HI, is known for complete, cost-effective energy storage systems built for and proven in one of the leading solar markets in the United States: Hawaii. Their proprietary Blue Ion BMU battery management system ensures long life and maximizes battery protection.
Discover Battery of Richmond, BC Canada is a world leader in designing and manufacturing transportation, motive power and advanced energy storage solutions.
Dragonfly Energy, Reno, NV is dedicated to popularizing green, renewable energy by developing more efficient lithium batteries through improved manufacturing and assembly technology. The company is known for both standard and customized battery packs for specific project use.
KiloVault Lithium Batteries are distributed by Alternative Energy Store, Inc. Boxborough, MA, a complete on-line solar distributor for consumers and professionals. Designed for demanding hybrid and off-grid installations, KiloVault's HLX series is engineered for more efficient, zero-maintenance use.
Lithium Werks BV, Hengelo, The Netherlands, unique U-Charge® technology enables twice the run time and up to 10 times more cycles at 2/3 the weight of similar sized lead-acid battery modules, making them an ideal replacement/upgrade solution. Their unique built-in battery management system provides complete communications and control.
NEC Energy Solutions in Westborough, MA is widely recognized as a pioneer and leader in the market for utility scale energy storage. NEC's ALM series is ideal for tough, critical off-grid applications.
PowerPlus Energy Solutions (Bayswater, Vic) offers rack battery systems that are precision-crafted in Australia for that market, and represent a reliable storage solution for AC and DC-coupled, on and off-grid solar systems.
Pylon Technologies Co. Ltd., Shanghai, China, is an emerging brand in lithium batteries for storage and transportation uses, and unique with an entirely vertically-integrated manufacturing chain. Their new advanced US2000B Plus is designed for flexible integration into systems with hybrid inverters.
RELiON of Charlotte, SC. specializes in a wide range of unique, integrated energy storage products. RELiON's wide line provides a popular drop-in replacement/upgrade solution for lead-acid.
SimpliPhi Power in Oxnard, CA; field proven for 15+ years with roots in off-grid power for the film industry and military. The brand's PHI batteries set a standard for performance, safety and reliability in high-profile commercial and residential energy systems.
Trojan Battery Company, Santa Fe Springs, CA, is a venerable 90-year old brand that's now a global supplier of deep-cycle batteries for a wide range of applications including renewable energy. Trojan's new Trillium Intelligent lithium batteries offer built-in diagnostics and extraordinary cycle life.
About Morningstar: With well over 4 million products installed and sold since 1993 - in some of the most extreme environments and mission-critical applications in the world - Morningstar Corporation is truly "the world's leading supplier of solar controllers and inverters." The US-based privately-owned company is headquartered in Newtown, Pennsylvania, with an engineering research and development center in Maryland and a global network of dedicated, best-in-class distribution and manufacturing partners.
Featured Product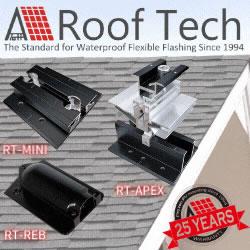 Now Roof Tech brings you the most innovative, watertight mounting systems ever developed for solar photovoltaic systems. Designed and manufactured exclusively for us by Japan's longtime leader in roofing technologies, Roof Tech products are 100% code-compliant and offer fast, simple installation and huge savings on shipping costs due to their compact, rail-less design. Learn more about our full line of versatile PV mounting solutions now available for residential installations. The next generation in rooftop solar mounting solutions."