The results obtained at Bifacial Tracker Evaluation Center (BiTEC) will be published on a white paper on Friday, 29th of March
Soltec, a leading manufacturer and supplier of single-axis solar trackers and related services in large ground-mount PV projects, has prepared a white paper that presents the results obtained from September to November of 2018 at Soltec's Bifacial Tracker Evaluation Center (BiTEC) in Livermore, California.

BiTEC studied the bifacial gain of PV modules deployed in the two most common tracker configurations in the market today: 1-in-Portrait (1P) and 2-in-Portrait (2P). Initial results show that individual modules deployed in SF7 Bifacial tracker in 2P configuration exhibit a Bifacial Gain that is 2.4% higher than that of the same modules in 1P configuration.
The increased bifacial gain is applied to a hypothetical 65 MWp solar project and yields an improvement in the project net value of 1 US$ Million.
Black & Veatch Management Consulting LLC reviewed the technical data, measurement techniques, and methodology used by Soltec and believes that the methodology is consistent with accepted industry practice. *
SOLTEC
Soltec's global operations and a workforce of over 750 people blend experience with innovation. The company has manufacturing facilities in Argentina, Brazil, China, and Spain, as well as offices in Australia, Chile, Denmark, Egypt, India, Israel, Italy, Mexico, Peru, and the United States. With a strong commitment to renewable energy and the environment, the company is dedicated to innovation, product standardization, and customer success.
BLACK & VEATCH
Black & Veatch is an employee-owned, global leader in building critical human infrastructure in Energy, Water, Telecommunications and Government Services. Since 1915, we have helped our clients improve the lives of people in over 100 countries through consulting, engineering, construction, operations and program management. Our revenues in 2018 were US$3.5 billion. Follow us on www.bv.com and in social media.
*Legal Notice: This statement above is qualified in its entirety by the full Black & Veatch Report. The statements contained in this document are for general information purposes only. Black & Veatch makes no representations or warranties of any kind about the accuracy or suitability of such statements for any purpose. Black & Veatch shall not be responsible or held liable for any losses or damages related to your reliance on this document and you hereby waive and release B&V from any such losses or damages of any kind or nature, including any consequential, indirect, special, or incidental damages.
Featured Product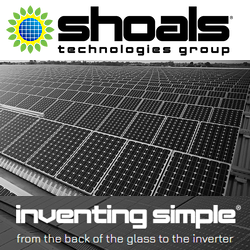 Inventing Simple® isn't just a slogan to us, it's a way of life. Using simple plug-and-play ideology, we revolutionized solar installations in 2003 with our Interconnect System™. Our harnessing system is now the gold standard EPC's use around the world. By using simple ideas, we are making solar energy a more affordable and clean power source for future generations.