As the world becomes increasingly concerned about the impact of human activity on the environment, the demand for renewable energy sources is growing at an unprecedented rate. One of the fastest-growing segments of the renewable energy market is green power, which includes sources like solar, wind, and geothermal power. The estimated value of the worldwide green power market in 2021 was US$ 47.41; by 2030, it is anticipated to reach US$ 126.7 billion, with a CAGR of 11.54% from 2022 to 2030.
What is Green Power & How Big is The Green Power Market Right Now?

Green power is a term used to describe electricity that is generated from renewable energy sources. These sources include solar, wind, geothermal, hydro, and biomass power. Unlike traditional power sources that rely on fossil fuels, green power is generated without emitting harmful greenhouse gases. This makes it a more sustainable and environmentally friendly alternative to traditional power sources.
The global green power market size was estimated at US$ 47.41 in 2021 and it is expected to surpass around US$ 126.7 billion by 2030, poised to grow at a CAGR of 11.54% from 2022 to 2030.
Why is Green Power Important?
There are many reasons why green power is important. Perhaps the most significant is its ability to reduce our dependence on fossil fuels. Fossil fuels are non-renewable resources that are rapidly depleting. As we continue to use them at current rates, we are contributing to climate change, air pollution, and other environmental problems. By using green power, we can reduce our reliance on these harmful sources of energy and transition to a more sustainable energy future.
In addition to reducing our dependence on fossil fuels, green power can also help to create jobs, stimulate economic growth, and improve public health. Many renewable energy projects require skilled labor and local support, which can help to create new jobs and stimulate economic growth in areas that need it most. By reducing pollution and greenhouse gas emissions, green power can also improve public health and reduce healthcare costs.
Ask here for customization study@ https://www.precedenceresearch.com/customization/1733
The Growing Demand for Green Power
The demand for green power is growing at an unprecedented rate. According to a report by the International Energy Agency (IEA), renewable energy sources are set to account for 90% of the global electricity mix by 2040. This growth is being driven by several factors, including government policies, falling renewable energy costs, and consumer demand.
Government policies are playing a key role in driving the growth of the green power market. Many countries have implemented renewable energy targets and subsidies to encourage the development of renewable energy projects. In the United States, for example, the federal government offers tax incentives for renewable energy projects and many states have set renewable energy targets.
Falling renewable energy costs are also driving the growth of the green power market. As technology has improved and production has scaled up, the cost of generating renewable energy has fallen dramatically. This has made renewable energy more competitive with traditional power sources, making it a more attractive option for businesses and consumers.
Finally, consumer demand is driving the growth of the green power market. Many consumers are becoming increasingly concerned about the environmental impact of their energy use and are seeking out renewable energy options. This has led to the development of new business models, such as community solar programs, that allow consumers to purchase renewable energy directly from local projects.
Growing carbon emission is driving the market growth
Growing environmental concern due to excessive usage of fossil fuel is shifting the demand towards green energy. Increasing initiatives taken by the government of various economies to reduce carbon footprints is expected to propel the growth of the industry. Moreover, people are becoming aware of the harmful effects associated with the usage of fossil fuels and they are adopting green energy to move towards a cleaner environment. Increasing penetration towards a healthy lifestyle is also one of the major factors propelling the growth of the industry.
Furthermore, surging urbanization along with the increasing population is driving the need for alternative and cleaner sources of energy. The rising development of infrastructure along with an increasing number of buildings is providing lucrative opportunities for market growth.
Rising demand for Electric vehicles
The growing population along with increasing traffic congestion in urban areas is shifting the market demand toward electric vehicles. Moreover, surging environmental concerns owing to the rising level to the rising number of key players in the electric vehicle industry and increasing innovations. The adoption of electric vehicles alleviates the need for fossil fuels and further decreases the pollution level.
Key insights
Based on power insights, the hydropower segment is expected to dominate the overall market during the upcoming years. Solar energy is also expected to grow significantly.


Green energy is being widely used in transportation to reduce the usage of fossil fuels.


On the basis of end-user, the utility segment accounts for a significant share owing to surging disposable income.


The installed hydropower capacity in the world in 2021 was 1,360 gigawatts (GW), an increase from 2020 of 2.21%, well below the estimated 2.0% annual growth needed to achieve the Paris Agreement targets and below the five-year annual average of 2.1%.
Asia Pacific to lead the market growth
In recent years, the market for renewable energy was dominated by the Asia-Pacific area. Throughout the forecast time, it is probably going to continue to dominate.
China will dominate the world in the deployment of renewable energy as of 2021. The capacity of all green energy sources in the nation increased by roughly 13.4% from the year before to 1020.2 GW in 2021. The main sustainable energy sources in the nation are hydropower, solar energy, and wind energy.
India's population growth and expanding economy coincided with a substantial increase in power demand. The nation produced 150.3 TWh of energy through hydropower in 2021, up from 114.3 TWh in 2011.
India has overtaken China and the United States as the third-largest power consumers in the globe. Additionally, over the past ten years, India's net power generation capacity grew considerably, with the majority of that growth coming from large hydro and other renewable energy sources.
By FY 2022, the Indian government wants to build 175 GW of renewable energy capacity, of which 100 GW will come from solar energy, 60 GW from wind energy, 10 GW from biopower, and 5 GW from small hydropower. In addition, the Indian Ministry of New and Renewable Energy anticipates USD 15 billion in investments in 2022 for green hydrogen, electric vehicles, solar equipment production, and renewable energy.
Additionally, the Uttar Pradesh New and Renewable Energy Development Agency's bidding procedure resulted in SJVN (Satluj Jal Vidyut Nigam Ltd) winning a 125 MW solar project in Uttar Pradesh in January 2022. It consists of a 50 MW solar project in Kanpur Dehat districts and a 75 MW grid-connected solar project in Jalaun.
As a result, during the forecast period, such changes are expected to make Asia-Pacific the dominant player in the renewable energy market.
COVID-19 Impact on the green power market
The outburst of the coronavirus pandemic has declined the growth of almost every industry. Temporary shut down of manufacturing units owing to the stringent norms imposed by the government of various countries. The decline in power demand due to the spread of the disease has negatively affected the green power market growth.
Mergers and acquisitions
On February 10, 2022, Hydro-québec acquired great river hydro, an operator of hydropower generation facilities in New Zealand for $2 billion. The acquisition will help hydro-québec to expand its revenue.


Grenery Renovables acquires Safos Harbert Renewable Energy which is a developer of solar energy facilities that focuses on bringing energy transition to a cleaner energy industry. The acquisition will assist the company to enter is US market.


RWE Renewable Americas acquired Con Edison Clean Energy businesses. The company operates solar energy generation. The acquisition aims to double its business of renewable energy in the United States.
Latest Developments
In Poggio Renatico, Emilia-Romagna, Italy, the Malvezzi solar park, the first photovoltaic (PV) power plant to actively involve the local community, is now operational thanks to the online crowdfunding project Scelta Rinnovabile (Renewable Choice), promoted by Enel Green Power.


Construction on an 8.9-MW floating solar installation in Millburn, New Jersey, which is anticipated to be the largest floating array in the country, was begun by NJR Clean Energy Ventures (CEV) in May 2022. 16,510 solar panels will likely be placed on a reservoir at the New Jersey American Water Canoe Brook Water Treatment Plant as part of the project, which makes use of a floating racking system. Through a power purchase agreement with CEV, the clean energy produced by the array will meet roughly 95% of the facility's yearly power requirements.


The second-largest wind maker in China announced in February 2022 that it had received orders for 1.9 gigawatts of turbines from India, underscoring the efforts of businesses to pursue international sales as the domestic market becomes more competitive. The joint orders from Envision Energy Co. represent the highest capacity ever offered to a single foreign nation by a Chinese wind manufacturer.


In China's Shandong province, Huaneng Power International put into service a 320 MW floating solar PV array in January 2022. The project is being set up on a reservoir close to its 2.65 GW Dezhou thermal power plant in two stages.
Market Share Insight
Some of the prominent players in the market are
Adani group


Enel Spa


GE renewable energy


Brookfield Renewable Corporation


Siemens Gamesa renewable energy


Tata power


Vestas wind systems


Iberdrola SA


Jinko Solar Holding


Next Era Energy


Suzlon energy limited
Conclusion
The green power market is growing at an unprecedented rate and is set to play a key role in the transition to a more sustainable energy future. By reducing our dependence on fossil fuels, green power can help to mitigate climate change, reduce pollution, and improve public health. As government policies, falling renewable energy costs, and consumer demand continue to drive the growth of the green power market, we can expect to see even more innovative and sustainable energy solutions in the years to come.
Segments Covered in the Report
By Power
Wind Energy


Solar Energy


Geothermal Energy


Hydropower


Bioenergy
By Application
Electricity generation


Transportation


Heating


Others
By End User
Utility


Residential


Industrial


Commercial
By Geography
North America



Europe



Asia-Pacific


China


India


Japan


South Korea


Malaysia


Philippines



Latin America


Brazil


Rest of Latin America



Middle East & Africa (MEA)


GCC


North Africa


South Africa


Rest of the Middle East & Africa
Get Full Report Study@  https://www.precedenceresearch.com/checkout/1733
Ask here for more details@ Call: USA - +1 9197 992 333 | 
sales@precedenceresearch.com
Featured Product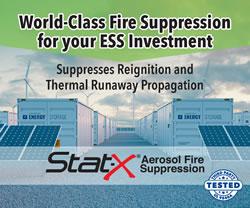 Stat-X® condensed aerosol fire suppression is a solution for energy storage systems (ESS) and battery energy storage systems (BESS) applications. Our Stat-X condensed aerosol fire extinguishing product was tested for efficacy in suppressing li-ion battery fires. It was found that the product successfully extinguished single and double cell battery fires. This testing was conducted in parallel with a large battery fire testing program on behalf of a large energy storage company.