Shore-side power and data monitoring help cruise industry reduce emissions.
On July 7, 2023, the United Nations International Maritime Organization (IMO) and its participating maritime countries set their Greenhouse Gas (GHG) emissions strategy to achieve net zero "by or around" 2050. As a result, the shipping industry, including cruise lines, is adopting various strategies to achieve this ambitious goal, including new fuels, air scrubbers and shore-side electricity (SSE) systems.

"The adoption of the 2023 IMO Greenhouse Gas Strategy is a monumental development for IMO and opens a new chapter towards maritime decarbonization," IMO Secretary-General Kitack Lim said in a press statement.
One significant strategy being adopted by cruise lines and ports is shore-side electricity (SSE), also called "cold ironing" or shore power systems. According to some estimates, the industry can lower CO2 and other pollution emissions up to 98% by shutting down all on-board power generation from diesel engines and connecting to shore power supplied by the local utility.
Those additional pollutants include sulfur dioxide (SO2), nitrogen oxides (NOx) and particulate matter (PM). Overall CO2 reduction depends partially on the electricity sources of the port's grid. If, for example, a port depends upon renewable energy sources such as wind, solar, or hydroelectric power, the GHG emissions reductions can be significant.
As a result, many cruise lines and ports are adopting the technology. Carnival Cruise Lines, for example, says that as part of its emission abatement program, 57% of its ships are fully equipped
to leverage shore power technology, even though less than 5% of the ports it uses offer shore power connections. But the number of ports adopting the technology is growing.
Miami-Dade County, in partnership with Florida Power and Light Company (FPL), Carnival Cruise Line, and Royal Caribbean Group, expect shore power to be in place at Port Miami by Fall 2023. Carnival Corporation has also partnered with the Port of Galveston to develop shore power capabilities and is partially financing a shore power project for its cruise terminals at Port Everglades.
"We are fully committed to a successful shore power program, as it is in line with our top priorities of compliance and environmental protection, as well as the health, safety, and well-being of our guests, employees, and the people in the communities we touch and serve," said Christine Duffy, Carnival President.
The Cruise Line Industry Association (CLIA) indicates that 40% of its global members' ships are set up to operate in SSE in 29 ports, which is up 20% year over year. And of new builds ordered between now and 2028, 98% are either planning to be fitted with SSE systems or be configured to add it in the future.
The EPA's Shore Power Technology Assessment at U.S. Ports - 2022 Update described the "technical and operational aspects of shore power systems in the U.S." It also refined its Shore Power Emissions Calculator (SPEC), which is used to calculate emissions benefits from shore power.
The EPA said that the report, "In conjunction with the calculator, can help port stakeholders — including applicants for Diesel Emissions Reduction Act, Bipartisan Infrastructure Law, and Inflation Reduction Act funding — evaluate whether shore power would be an appropriate means to reduce pollution at port, and to estimate emissions reductions from installed systems."
Adoption is expanding across the globe. The California Air Resources Board (CARB)'s 2020 At-Berth Regulation is driving the expansion of shore power across the state. International shore
power standards for high-voltage systems are being implemented to make it easier for ports to choose the appropriate equipment.
CLIA stated on April 26, 2022, "By 2035 all ships calling at ports where shore-side electricity is available will be equipped to use SSE."
One of the technical challenges, however, is determining exactly how much emissions are being reduced by SSE. Today innovators in the design of standalone shore-to-ship power solutions like Kingston, WA-based Watts Marine are addressing that issue with improved reporting systems based on information gathered from the underlying power protection system components.
Watts Marine has installed its Shore Power System at ports in Seattle, WA; San Diego, CA; San Francisco, CA; Halifax, NS; Vancouver BC; Brooklyn, NY; and Long Beach, CA. An estimated 500 ships connect to their shoreside equipment each year.
The company's patented custom shore power system consists of proprietary equipment designed specifically for the cruise ship industry. It includes dual-voltage electrical service equipment, custom-developed electrical cable handling equipment, and customized electronic monitoring and control equipment.
Once a cruise ship or ocean transport vessel is equipped to receive shore power docks in port, an operator selects the ship to be connected from a database that is integrated into the customized automation system which determines the proper operating parameters. To make the connection, five flexible power and control cables are lifted by a specially designed cable positioning device and connected to the ship's electrical system through marine standard plugs and sockets. A shore-side operator then closes the breaker and power is supplied to the vessel.
Protection relays and redundant safety systems are used to protect both the ship and shore electrical systems. For this, Watts Marine partnered with an industry leader, Pennsylvania-based NovaTech Automation, a substation automation company that has served the power transmission and distribution market for more than 40 years. NovaTech's long history designing and installing SCADA systems in electrical utility substations applies directly to shore-side systems.
"As in the case of traditional substations, protection relays and redundant safety systems ensure reliable and safe power transmission while monitoring and control equipment provide real-time management and remote access with in-depth reporting," explains Conrad Oakey, CEO of NovaTech Automation. "For shore power systems, only a few minor customizations are required to provide a full range of power quality and usage reports for the ship and operator billing requirements."
Oakey adds that NovaTech Automation is deeply committed to the sustainability of the cruise industry and to engineering net zero across numerous other industries. The company believes climate change is the most important engineering challenge of our time, with shore power solutions as one of its primary targets.
Documenting Emissions Reductions
To document the reduction in fuel emissions, Watts Marine utilizes information collected by NovaTech's Orion automation system to calculate the total emissions reduction across all main pollutants while a ship is connected to shore power and tracks other important information in its database. Daily connection reports are generated with key metrics for each shore power connection, including KWH of energy consumed and connection start and stop times.
Unfortunately, determining exactly how much emissions are reduced by shore is complex. In the U.S., there are nine regions, with each region employing its own calculation tool. The EPA has its Shore Power Emissions Calculator (SPEC), but many calculations begin with the number of KWH consumed. In its new database, NovaTech is working to be able to track fill lot hours consumed as part of the calculations involved in emission reductions.
Meanwhile, cruise lines are tracking their usage as part of their environmental reporting. Carnival discloses its greenhouse gas emissions performance within its sustainability reports, through the CDP, the Sustainability Accounting Standards Board (SASB) cruise line standard, and the Task Force on Climate-related Financial Disclosures (TCFD). Individual countries, regions, states and port cities may also require reporting.
"As the cruise industry — and numerous other industries — grapple with ways to reduce carbon emissions, effective ways to monitor and validate those reductions will be increasingly important, both for determining effectiveness and for regulatory reporting," says Oakey.
For more information on SCADA solutions from NovaTech Automation, visit www.novatechautomation.com or call (913) 451-1880.
Featured Product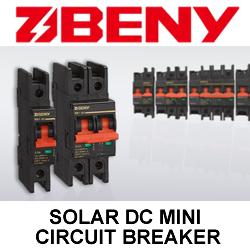 The BB1-63 modular miniature circuit-breakers can be used in solar DC circuits up to 1200 VDC (4-poles execution). Application in solar DC circuits, battery energy storage systems and UPS. Arc flash barrier design keeps solar equipment more safe and reliable. For DC circuit over-current protection.