Preventative Maintenance for Renewable Energy
Despite the pandemic, 2020 was a booming year for solar purchases and installations. Other renewable system sales followed once society viewed their environmental and economic benefits. Various industries adopted clean energy technology, supporting eco-consumerism and government policies.
When President Biden took office, he initiated the Build Back Better policy, allocating two trillion dollars to the clean energy sector. Additionally, he signed the Paris Agreement, displaying our national commitment to greenhouse gas emission reduction. Expanding and preserving renewable energy sources may shrink our carbon footprint and support a sustainable market.
Efficiency and Longevity
Expanding the renewable energy industry requires technological advancements and regular maintenance. Preventative maintenance is essential when ensuring component functionality and optimal efficiency. Over time, systems' power generation abilities deteriorate, and proper upkeep and upgrading may extend its life span.
Because renewable energy sources like solar and wind power interact with the elements, they are prone to wear and tear. The technology is relatively new, and recycling procedures remain in the works. While environmental engineers and scientists develop optimal recycling methods and technology, we may preserve systems for longer with maintenance.
The elements also degrade a system's efficiency over time. Fortunately, regular inspections and part upgrades can preserve full functionality over a lifespan. A professional tests a system's parts thoroughly during a preventative maintenance inspection, addressing electrical, connection, or generation issues.
Solar
Solar radiation is an essential resource for climate change prevention. It is a non-depletable source that eliminates society's reliance on greenhouse gas emitting fuel. Performing regular maintenance is necessary for photovoltaic solar systems because of their low starting efficiency rates.
Fortunately, solar panel upkeep is relatively simple, and homeowners can perform the routine. During dry seasons, dust and debris can accumulate on panels. Residents must clear their panels with a leaf blower, allowing total sun exposure.
In the winter, clearing snow additionally improves efficiency rates. Homeowners can either remove weather accumulation with a solar rake or lukewarm water. If you opt for spraying down the system, using a squeegee after can prevent ice accumulation.
System maintenance is also essential for accessing your solar warranty. If components break because of the homeowner's lack of upkeep, the distributor may void all security backing. You can prevent a loss of contract by receiving professional inspections once a year.
The professionals may oversee the efficiency and quality of a system, recommending upgrades or repairs. Hiring a field service engineer team can optimize clean energy extraction and lower a homeowner's greenhouse gas emissions.
Wind
Wind turbines also require regular maintenance to ensure optimal efficiency rates and extended life spans. There are currently no recycling procedures for turbine blades, causing landfill consumption. Extending their functionality over the years prevents waste generation and carbon emissions.
The height of turbines requires supportive equipment that additionally needs maintenance. Companies must ensure the safety of machinery and heavy devices, protecting their employees and the environment. When regularly maintained, businesses can decrease the ecological impact of their equipment.
Companies must also perform annual generator maintenance. Various owners fail to preserve their turbine parts, causing system failure and outages. Wind projects cost nearly $45 per kilowatt, and 5% of the price derives from generator malfunctions.
Businesses can save money and prevent outages by conducting regular upkeep, addressing system issues before degrading efficiency. They may also utilize drones for employee safety procedures. Autonomous machinery helps professionals inspect problems from the ground level.
Technological advancements are helping workers conduct repairs and installations using drone technology. Some companies even optimize their turbine upkeep by installing bat collision prevention devices. A research team at Duke University generated an ultrasonic system, alerting bats of a turbine's presence.
The researchers believe bats view turbines as a water source or tree. Ultrasonic technology differentiates wind power systems from natural structures, preventing collision-caused death. Adding the top technology to renewable energy sources during maintenance can decrease their environmental impact and increase efficiency.
Aligning Sustainable Values
Engineers and scientists developed renewable energy systems to reduce society's adverse environmental impacts. We can align clean power devices with the systematic purpose by extending their life span and increasing their production. When we can fuel the globe with renewable energy, we will eliminate greenhouse gas emissions and prevent climate change.
Comments (0)
This post does not have any comments. Be the first to leave a comment below.
---
Post A Comment
You must be logged in before you can post a comment. Login now.
Featured Product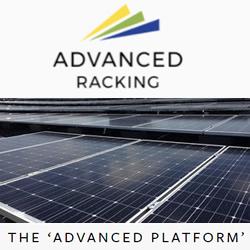 The 'Advanced Platform' simplifies the installation process by using universal mounting hardware that works perfectly across all roof types. Smart roof connection kits then connect to the specific roof's surface. The Advanced Platform is versatile: Our common design can be your single solution for all roof types.