Joe Romm for ThinkProgress: Solar photovoltaic (PV) systems have seen explosive growth because of their stunning 99 percent price drop in the past quarter century. As a result, the other form of solar power — concentrating solar thermal power (CSP) — is a small fraction of the solar market. But the International Energy Agency (IEA) says CSP has a very bright future too because it enables cheap, efficient storage, which allows CSP plants to provide electricity long after the sun has set. According to the IEA's 2014 CSP Technology Roadmap, 11 percent of global electricity will be generated by concentrating solar thermal power in 2050. Cont'd...
Records 16 to 16 of 16
Featured Product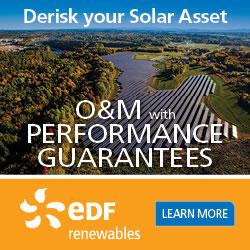 EDF Renewables offers the same innovative solutions that maximize the performance of our own 5.2 GW of installed projects. Because we're not an equipment manufacturer, our recommendations are transparent and data-driven. We cover the entire project lifecycle: from pre-commissioning support, through warranty and post warranty operation, to late stage and decommissioning.