BY¬ DAVID GILBERT¬ For International Business Times: ¬ ¬ As cars become less about horsepower and torque and more about the technology inside, CES has become one of the most important showcases of the year for auto manufacturers. It's a sea¬ change in how cars are built and marketed,¬ with technology now the core, rather than an added feature. Connected, autonomous and electric vehicles will all be on display at CES 2016, with some of the world's most talk-about companies in the field looking to make a major impact. First up will be Faraday Future, the secretive startup based in Los Angeles and backed by a Chinese billionaire. It¬ is¬ set to unveil its first ever concept design on Jan.¬ 4, and while all the company has said so far is that it will be an electric vehicle, it is widely believed to feature autonomous capabilities. While Faraday Future¬ is a relative unknown, one of the world's biggest automotive companies, Ford, will also be at CES announcing news about the autonomous car it has been testing internally for several years. Among the announcements expected is apartnership with Google¬ to build some of Google's fleet of self-driving cars. ¬ Cont'd...
The EV industry is on the precipice of a significant growth spurt. AltEnergyMag.com talks with Principal Solar about this and the their now available White Paper "The Road To Change: Electric Vehicles Power the Future for Everyone".
Records 1 to 2 of 2
Featured Product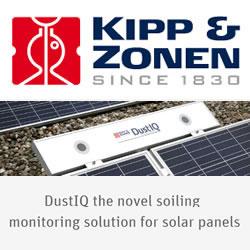 Soiling of the panel glass is one of the major problems in the rapidly expanding solar energy market, with the attendant loss of efficiency and reduction in performance ratios. Now, there's a new, simple and very cost-effective alternative. Based on Kipp & Zonen's unique Optical Soiling Measurement (OSM) technology, DustIQ can be easily added to new or existing solar arrays and integrated into plant management systems. The unit is mounted to the frame of a PV panel and does not need sunlight to operate. It continuously measures the transmission loss through glass caused by soiling, so that the reduction in light reaching the solar cells can be calculated.