BY¬ DAVID GILBERT¬ For International Business Times: ¬ ¬ As cars become less about horsepower and torque and more about the technology inside, CES has become one of the most important showcases of the year for auto manufacturers. It's a sea¬ change in how cars are built and marketed,¬ with technology now the core, rather than an added feature. Connected, autonomous and electric vehicles will all be on display at CES 2016, with some of the worlds most talk-about companies in the field looking to make a major impact. First up will be Faraday Future, the secretive startup based in Los Angeles and backed by a Chinese billionaire. It¬ is¬ set to unveil its first ever concept design on Jan.¬ 4, and while all the company has said so far is that it will be an electric vehicle, it is widely believed to feature autonomous capabilities. While Faraday Future¬ is a relative unknown, one of the worlds biggest automotive companies, Ford, will also be at CES announcing news about the autonomous car it has been testing internally for several years. Among the announcements expected is apartnership with Google¬ to build some of Googles fleet of self-driving cars. ¬ Cont'd...
The EV industry is on the precipice of a significant growth spurt. AltEnergyMag.com talks with Principal Solar about this and the their now available White Paper "The Road To Change: Electric Vehicles Power the Future for Everyone".
Records 1 to 2 of 2
Featured Product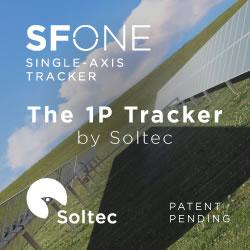 Soltec manufactures and supplies solar trackers designed and proven for extreme climate conditions, which is an ideal solution for any region's environment. Soltec's trackers are self-powered, requiring no additional PV module or grid-powered connection. Bifacial modules collect energy on both the front and rear sides, capturing reflected irradiance from the ground surface under and around the tracker and from other modules. Depending on site conditions, bifacial yield-gain can reach +30 percent.