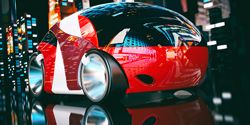 In this article, I discuss the primary reasons why autonomous vehicles are emerging, what factors go into developing self-driving cars, and how energy storage is a vital part of autonomous vehicle design.
The new metric (PUAV) is a way to compare solar technologies specifically for UAV applications.
Records 1 to 2 of 2
Featured Product
RBI's fixed-tilt ground mount solar systems are custom designed and engineered for each site specific conditions to minimize the field installation labor. Our meticulous project planning and precise execution offer freedom and flexibility to support any unique design or engineering specification required. From the heavy snow loads in the Northeast to the high wind speeds in Hawaii, RBI has installed cost effective and efficient solar mounting systems in a variety of loading conditions. RBI Solar's fixed-tilt systems are suitable for projects ranging from the community solar to utility scale size. Our systems are classified by Intertek to UL subject 2703, and they can be made compatible with any PV module in the marketplace.