For solar providers, Clean Power Finance offers CPF Tools, the leading solar sales solution in the US. CPF Tools is a web-based suite of services that includes residential and commercial project financing, verified leads, and a solar quoting and customer management tool.
Interview - Using Software to Enhance Sales of Solar Systems
Jeremy Neigher | Clean Power Finance

1. Can you talk a little about CPF and the basis of its founding?

Clean Power Finance began formal operations in late 2007. The basis of our founding was to provide cost effective solutions for the green economy we saw approaching. Our founder Gary Kremen used to say, "It's better to be too early than too late." The upfront cost is the number one obstacle preventing home and business owners from going solar Thus, we decided to first focus on solar and provide the means for the mass market to pay for their purchase. Much like purchasing a house or a major piece of equipment, we know that not all financial situations and preferences are alike, there needs to be options.
That's where CPF comes in. We wanted to provide alternate financing solutions for installers nationwide to help their customers (both residential and commercial) more easily afford solar. As we conceptualized this idea, we realized we would also need to provide additional value to the installation community by helping them to sell and market their services more efficiently.
We then developed our software platform, CPF Tools. From here, not only can installers get access to financing options to offer their customers, but they can manage customers, get access to additional customers, and generate detailed financial, energy, and environmental analyses on the benefit of going solar. We give installers one central location for all their solar quoting needs so they can spend more time finding customers and selling solar.
2. If I'm an installer, why would I want to work with CPF? More specifically, what's so great about the CPF Tools software that you have?

There are a lot of reasons installers would want to work with CPF. First and foremost, we are a nationwide company and our software provides one central location to streamline their sales process. Greater efficiency is needed for solar businesses to grow and differentiate themselves from their competition. We provide the software and training to make that happen.
Additionally, we maintain updated databases of utility rates, equipment, and state and federal incentives from across the country, empowering solar professionals to accurately project the value of going solar and more easily sell their services. These databases are the most comprehensive in the industry and better yet, they are not for reference but for instant use in our software.
Further, our software was designed to be a customizable platform so whether you're a small installer or large with branch offices and teams of salespeople, we provide the flexibility to tailor how you run your solar business, to customize costs of all types of jobs, planned energy bill savings, and a professional looking quote proposal that installers can give to their clients. Additionally, within CPF Tools, you can set pricing, margin, track jobs from an entire sales team, tailor each solar quote to the intended audience, and get access to additional customers through our Verified Lead program. On top of all of this we have a responsive customer service team provides support and training.
3. What are some of the things that your customers are saying about Clean Power Finance?

"CPF Tools is easy to learn, straight forward to use, and generates professional materials. It's a valuable resource for any installer."
– Elmar Niewerth, CEO ThinkSolar
"I wanted to let you guys know how much I am looking forward to teaming up with Clean Power Finance. This is going to free me from hours of desk work trying to put together estimates and professional looking proposals. I'm going to be able to be in the field much more and it will save me from having to hire an extra man. The proposals are going to look so much better and have so much more appeal to tech savvy clients (which means I'll have a higher close rate)" Thank you very much!
- Darren Burke, Solar Source Tech
"CPF Tools is the easiest PV quoting program to learn and to use. It is customizable and looks very professional. I was up and running in no time at all and would highly recommend it to anyone in the solar business."
- Grant Vospher, Maintco Corp
"CPF Tools is the one piece of software available that allows us to track leads, do material resource planning, perform financial analysis, size PV systems and perform simulations to predict annual energy output."
– Shawn Murphy, Solar Technologies
"I've only been using the tool for about a week, but it is showing great potential. The user interface is so much easier than the Microsoft Excel based programs we've tried."
- Dave Simon, Aegis Electrical Systems
"Information it has taken our company over the last 11 years to bring together and utilize is all here right out of the gate for those new to the industry."
- Eric Morrison, Solar Energy Design
4. Is Clean Power Finance going to focus solely on the CPF Tools and their leads program or are there other products coming out that we can look forward to?
Our mission here is to allow for the mass adoption of renewable energy. We are constantly developing additional products and services to offer through our software platform. We are also looking to offer a tool that provides remote roof measurements for installers, which will save a good amount of money in site assessment costs. On top of all of this, we're in the process of rolling out a solar industry specific insurance program. To put it simply, we're always looking to give solar installers more cost effective solutions for anything solar related.
5. What's your own perspective on the state of the solar industry in the United States right now?
The solar industry just keeps growing and is gaining more steam as a viable solution for our country's energy problems. The cost of solar keeps going down and energy prices keep going up. In the past few years solar has played against the odds but has been progressing steadily. The Federal tax credit that was passed and extended last year will also go a long way in helping solar continue to grow. The future looks bright. More and more people are getting involved every week, from electric contractors to roofers to general contractors to those just looking to make an industry transition. People are excited about taking part in something new, something they can help shape.
Solar in the US is still a new industry and the general public is in the process of understanding not only the environmental benefits, but the financial benefits a lot more clearly. Utilities and the governments from the local to federal level are getting on board. The question now with solar is how much is going to be installed and when.
The remaining challenge is still lowering the up-front costs of installation and that's what we're looking to do. We believe that as we continue to enhance our products and services, it will help to lower the costs for installers and the end-users as we get to the point of grid-parity. Eventually the short-term benefits will start catching up with the long-term.
6. Is your system set up for solar sales only or does it apply to other home energy savings such as insulation, lighting control etc.?
Currently our system is set up for solar PV. However, we're in the process of expanding to solar thermal and energy efficiency.
7. How much training is required to install and implement the software system?
There is no installation required! Our software is web based meaning it is safe and secure. Privacy and security is a huge deal for us. You can have yourself up and running with our software in 20 minutes because we already provide access to the utility rates in the major solar markets, incentives across the country (local, federal, state), and all the CEC approved solar equipment. One of the services that we provide here at CPF is a live, weekly webinar, which goes through the solar quoting process. Our CPF Tools trainers also answer your questions at the end of each webinar, over email, and through 1 on 1 support. If you want to start learning how to use the tool immediately and can't wait for the webinar we have also created instructional videos on-line that teach customers how to use our software.
8. Where do the prospects come from --- how do you gather the contact information?
CPF works with several third party partners to generate the highest quality sales leads available in the Solar Installation Business. Using web-based education and a highly selective screening process, our partner websites are able to consistently verify and deliver the most interested residential and commercial solar power customers available in the purchasers' territory. Sales Leads are sent on to the purchaser immediately upon receipt and organization by CPF, via the email address a purchaser has provided CPF. If the purchaser is a CPF tools subscriber they are able to paste the leads sent to them directly into the "prospects" tab of the CPF Tool.
9. Is the financing system kept up to date with changes in grants and interest rates etc. in local markets?
Well, here at CPF we have the most up to date information on rebates, state and federal tax credits, federal grants, accelerated depreciation, SRECs, and performance based incentives that feed into our financial analysis calculations. We constantly review our ROI, IRR, and levelized cost calculations.
10. How does the system work --- in other words how would I set this up in a small company with say 3 salespersons and how much would it cost?
We have a dedicated sales team that can guide customers through the process of signing up for our system. The setup is minimal. CPF Tools is a web-based platform that allows for immediate usage. Our software platform is customizable, meaning we provide solutions to ranging from a small 3 person company to a large solar installation company, distributor, or manufacturer.


Bio:
Based in the heart of San Francisco, the mission of Clean Power Finance, Inc. is to bring energy efficiency and renewable power to the mass market. Expanding the availability and practicality of renewable energy is not only our company's sole focus, it's our passion. Our team is made up of industry experts with years of experience in renewable energy, consumer finance, and consumer online services.
For solar providers, Clean Power Finance offers CPF Tools, the leading solar sales solution in the US. CPF Tools is a web-based suite of services that includes residential and commercial project financing, verified leads, and a solar quoting and customer management tool. By providing one platform from which solar providers can manage projects from idea to installation, Clean Power Finance helps you to grow, manage, and close more business. We are determined to make the solar sales process easier and more efficient, allowing you to bring renewable power to more customers.
For property owners, Clean Power Finance has partnered with the top renewable energy experts to provide financing options for residential and commercial energy projects. As a member of several industry organizations and with patent-pending technology, Clean Power Finance offers a unique approach in expanding this fast-growing market. We are focused on delivering the smartest financing solutions that best serve your needs. See what we can do for you with our residential and commercial financing options.
The content & opinions in this article are the author's and do not necessarily represent the views of AltEnergyMag
---
Comments (0)
This post does not have any comments. Be the first to leave a comment below.
---
Post A Comment
You must be logged in before you can post a comment. Login now.
Featured Product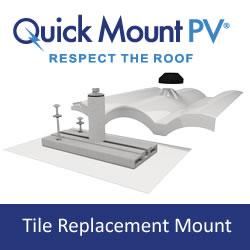 The Tile Replacement Mount provides a fast and easy way to install solar on tile roofs while protecting against water intrusion. Simply remove the tile and replace it with the Tile Replacement Mount. Works with all standard curved and flat tile roofs, and all standard rail-based racking systems. Flashed at both the deck and top levels, the mount is fully engineered to meet code requirements and industry best practices. The Tile Replacement Mount features Quick Mount PV's patented Elevated Water Seal technology for optimal waterproofing. Get a free sample and see for yourself!