The fuel cell industry is still finding its foothold in the energy technology portfolio, but supportive state policies that help foster fuel cell installations, company relocations and growth will help keep the U.S. at the forefront of fuel cell commercialization for a wide variety of applications and power needs.
States Drive Impressive Fuel Cell Growth
Evelynn Escobar-Thomas | Fuel Cells 2000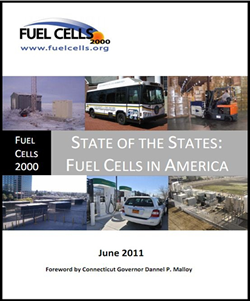 A new report by, Fuel Cells 2000, "
The State of the States: Fuel Cells in America 2011
", outlines the vast progress made by the United States with regards to fuel cells and hydrogen activity in the last year. The report begins with a powerful foreword from Connecticut Governor Dannel Malloy on Connecticut's activity and goes on to examine each individual state's fuel cell progress in more detail.
From coast to coast, fuel cells have gained exponential territory in nearly every aspect of the industry, i.e. policies, installations, sales and vehicles. The U.S. faces stiff competition against Korea, Japan, Germany and many other countries that are deeply invested in fuel cells, so state activity is important to help maintain our place in the industry. In a little over a year, many states have taken major strides, not only in policies and funding initiatives that facilitate fuel cell installations and deployment, but also by creating a national marketplace for the industry.
In that report, Fuel Cells 2000 singled out "Top 5 Fuel Cell States" - California, Connecticut, New York, Ohio and South Carolina - because of their leadership and success with policies, legislation, fuel cell installations and vehicle deployment. Those states held their title in this new report and Delaware, Florida, Hawaii, Maryland and Texas were selected as "Up & Coming Fuel Cell States" for breaking major ground in moving the industry forward. This new report provides more detail on all the activity of the Top 5, Up & Coming and the rest of the U.S. with regards to funding, policies, installations and fueling stations as well as highlights of some of the major players in each state.
Since the last year, there has been a movement on every front. More stationary fuel cells were installed, more forklifts were purchased by major corporations, more fuel cell cars and buses were placed on the road, more hydrogen stations were constructed and more policies were developed to help fuel the industry.
Stationary Market Not Standing Still
According to the report, more than 50MW of power was installed or sold nationwide in just over a year. California's supportive organizations such as the Air Resources Board, California Alternative Energy and Advanced Transportation Financing Authority, California Energy Commission and the Public Utilities Commission allowed for the state to be one of the largest purchasers of stationary fuel cells by providing funding and financing opportunities. Adobe Systems, Cox Communications, Bank of America, AT&T, Universal Studios and Time Warner are just some of the companies that have installed stationary fuel cells in California. Many utilities and municipal facilities also took advantage of California's generous tax credit, the Self Generation Incentive Program (SGIP), to finance large-scale fuel cell systems that will run off of biogas, with a dozen installed or purchased MW-sized fuel cells for wastewater treatment plants in the state.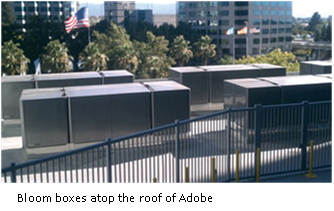 In New York, stationary fuel cells were installed to power buildings throughout the state, including the Octagon (a 500-unit apartment building) and an office building in Rockefeller Center in Manhattan, and a couple of Price Chopper supermarkets in upstate New York. The planned Freedom Tower at the World Trade Center site at Ground Zero received six of the twelve fuel cells that will be installed there and the City Hall, which is under construction, recently selected to utilize a fuel cell rather than solar panels.
In other states, big name companies such as Sprint and Whole Foods installed fuel cells in multiple locations and even Wisconsin put itself on our fuel cell map with an installation at Diversey's headquarters in Sturtevant.
Fuel Cell Forklifts
Since the last State of the States report, more than 1500 fuel cell-powered forklifts have been deployed or purchased around the country from California to Kansas to Virginia. Customers are finding the many benefits, including lower emissions, longer life, quick refueling and freezer capability to be a perfect fit for warehouse and distribution center operation.
There have been several repeat customers such as Coca-Cola, Walmart and Sysco Foods and major new customers including BMW, CVS and WinCo Foods, LLC.
Cars, Buses and Boats, Oh My!
The most anticipated application for fuel cells among the public are for passenger vehicles and other forms of public transportation such as buses and boats. Several automakers deployed vehicles around the country and a couple have implemented leasing programs to offer customers a chance to drive the vehicles before mass commercialization. Toyota announced that they would be offering over 100 fuel cell vehicles in New York and California to public, private and educational organizations and deployed 10 of its FCHV-adv fuel cell vehicles to Connecticut and two to Long Island, New York.
Mercedes Benz has begun leasing fuel cell vehicles in the Los Angeles and San Francisco areas. The lease program is $849 a month and includes the hydrogen fuel. Honda is also leasing its FCX Clarity in Southern California to qualified customers for $600 a month.
Hydrogen buses can be found in various cities and at universities around the nation. Even as far as Hawaii, where they have implemented hydrogen buses at the University of Hawaii, Hawaii Volcanoes National Park and Hickam Air Force Base. Also, since the last report, 30 fuel cell buses were either put on the road or plans were announced for deployment in numerous states.
Last but not least, a Hybrid Hornblower Ferry is set for deployment in New York City. The 600-passenger ferry will feature two fuel cells alongside other forms of alternative energy and circle around New York's famed Ellis Island and Statue of Liberty.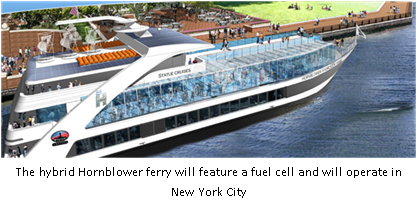 Fueling Up
With fuel cell vehicles already on the road and more coming down the pike, hydrogen stations are a critical piece to the puzzle. California has at least 20 public stations operating or under construction around the state. Stations were opened in Delaware, South Carolina and New York to fuel buses and vehicles. More private refueling stations were installed or are under construction for use in warehouses for fuel cell forklifts. Plug Power, GENCO and Kimberly Clark opened the nation's first multi-use industrial park refueling station for commercial, government and industrial use in South Carolina. More refueling stations are appearing in Connecticut, Maryland, Massachusetts and Michigan.
The U.S. fuel cell industry also helps the nation in other ways as well. According to the report, it is estimated that there are 3,600 direct
fuel cell industry jobs
in the U.S. The U.S. also currently leads the rest of the world in fuel cell patents.
Universities around the nation are helping to further along the industry in research as well. The University of Hawaii, University of North Florida and the University of Alabama are just a few of those helping the nation progress with fuel cell research, attracting international students and collaborations as well as funding to their states.
The fuel cell industry is still finding its foothold in the energy technology portfolio, but supportive state policies that help foster fuel cell installations, company relocations and growth will help keep the U.S. at the forefront of fuel cell commercialization for a wide variety of applications and power needs.
Full profiles on each state, as well as additional resources and appendices can be found in the "
State of States: Fuel Cells in America 2011
" report from Fuel Cells 2000.
The content & opinions in this article are the author's and do not necessarily represent the views of AltEnergyMag
---
Comments (0)
This post does not have any comments. Be the first to leave a comment below.
---
Post A Comment
You must be logged in before you can post a comment. Login now.
Featured Product
Trojan's deep-cycle batteries provide rugged durability, outstanding performance and long life for use in all types of solar energy installations. With over 90 years of experience, Trojan delivers the world's most reliable and trusted batteries in flooded, AGM, Gel, and Lithium types. These batteries enable solar equipment systems to operate at a peak level of performance in the harshest conditions or the most challenging of locations and are manufactured and tested to IEC standards.