We try to pull together everything that an energy and utility executive needs to know. This includes news, breaking commentary from twitter, jobs, market and commodity updates, jobs, white papers, market research, and more.
Utility Dive - App for Energy Executives
Sean Griffey | Utility Dive
Tell us a little bit about Utility Dive
Utility Dive is an industry dashboard designed to keep energy and utility executives connected with information that is critical to their jobs. This information includes news, trending commentary and social insights, stock market updates, jobs, industry research, and more. We pull all of these items and select only the most important, interesting, and relevant content for the dashboard. In sixty seconds, a user can quickly see what is happening in the industry. And, because all of our products are designed specifically for smartphones and tablets, we make it easy for them to stay informed at all times.
Tell us about the process and how you ensure you are posting the most up to date and relevant news and articles for your readers?
Our product team built an application that is constantly searching for breaking and important content for the industry. We monitor news organizations and company websites for breaking news. We also monitor social signals from sites like twitter that indicate if there is something important. Our system will then pull the best content into our site.
The final step, however, is always a human. We have an editorial team that evaluates the results, hand picks the most important items for the dashboard and adds a layer of analysis. That final human interaction ensures quality and adds a level of sophistication that can't be produced simply with algorithms.
We also rely on our readers to tell us where we've made mistakes. A feedback loop from the community helps identify new sources and contributors for future dashboards.
Who is the average user of your site?
Our users are tend to be managers and senior executives at electric utilities. As a free resource, however, we are open to a wide community. We also see users from IPPS, smart grid vendors, government regulators, and more.
What type of information can a user find on your site?
We try to pull together everything that an energy and utility executive needs to know. This includes news, breaking commentary from twitter, jobs, market and commodity updates, jobs, white papers, market research, and more.
From a topic standpoint, we focus slightly more on the transmission and distribution side of the business and cover items such as demand response, smart grids, metering, and home area automation. Because they are so tied, however, we still cover generation topics and certainly keep up with regulatory environment that impacts the entire industry.
How have you seen people use your dashboard?
People tend to use the dashboard in two ways. The first is as a quick touch base in the industry. Users go to the dashboard when they have some brief downtime and want to make sure they aren't missing anything. This may be on their commute, while waiting for coffee, or riding the elevator. In sixty seconds, we can present what is happening in the industry so people can be assured that they aren't missing a thing.
We also see executives use the dashboard as a launching pad to explore more. Our users find stories in the dashboard, get a brief synopsis, and then dive in to get deeper insights into stories. In this sense, Utility Dive serves as a powerful discovery tool to introduce users to new stories and resources they may not have found on their own.
How have you seen people use your trending section?
Our users recognize that twitter and social media can be a powerful source of breaking information and insight. It can be difficult, however, to pick out the needles from the haystack. We've heard from a number of users that, while its valuable, they don't have the time or the inclination to monitor twitter or other social media sites.
Our trending section does that for them. In trending, we monitor the best of twitter and show only the most interesting tweets and important sources. Additionally, we hand pick the best tweets and call them out specifically.
This allows people to get the benefits of twitter without the overhead required to monitor it individually.
What kind of feedback are you getting from your users, in particular some of the utility executives?
We push our users to be honest - so we tend to get both good and bad feedback from the community.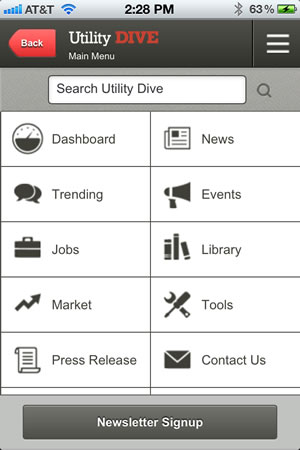 We only recently relaunched our mobile website and we are getting a largely positive response. We continue, however, to work on our content mix monitoring new media outlets and tracking new social media sources. We always welcome feedback and I encourage anyone to contact us with ideas and suggestions.
One of the things I find most fun to watch is the adoption of Utility Dive throughout a company. We can see one user subscribe to our email newsletter and then quickly see others in the organization follow. It's gratifying to know that they are finding value and sharing Utility Dive with their co-workers.
You offer this as a free app, how are you able to do this?
Our products are advertising supported. We try hard, however, to only include targeted industry advertisers. I'm a big believer that, if the relevant and presented properly, advertising can be valuable and educational to the user. While we don't always get that 100%, it is always our goal.
How do I get to your site on my phone?
You can simply go to Utility Dive from your smartphone's web browser. From their, we've created simple instructions to save our mobile web app to your phone's home screen. Once you have done that, Utility Dive is always only a click away.
Alternatively, we've also created a daily email newsletter that provides much of the same information. Like all of our products, it has been designed specifically for your phone so it will be easy to read when you are out of the office. We make it easy to subscribe here.
Sean Griffey – Co-founder and CEO
Sean is a Co-founder and the CEO of Industry Dive. He initially got started in media at FierceMarkets where he served as President. Before catching the start-up bug, Sean spent nearly 10 years as a consultant at A.T. Kearney and PricewaterhouseCoopers helping companies with a broad range of strategic and operational engagements. Sean has a B.S. in Economics from Penn State and an M.B.A. from Northwestern's Kellogg School of Management.
The content & opinions in this article are the author's and do not necessarily represent the views of AltEnergyMag
---
Comments (0)
This post does not have any comments. Be the first to leave a comment below.
---
Post A Comment
You must be logged in before you can post a comment. Login now.
Featured Product
Morningstar's TriStar MPPT 600V charge controller leverages Morningstar's innovative TrakStar™ MPPT technology and our 20+ years of power electronics engineering excellence, to enable the widest input operating voltage range available from a solar array, wind turbine or hydro input. This controller's standard and DB versions are for off-grid applications, and the TR versions were developed to enable retrofitting grid-tied systems with battery backup.