Unique, global risks—whether a disastrous tsunami, puzzling regulations or unpredictable foreign travel mishaps—are a formidable reality as the clean tech industry continues to expand. Awareness of these risks and working with partners that can offer proactive guidance and cost-effective risk transfer solutions can help ensure the industry's continued success.
Taking Global Risks by Storm
Amy Ingram | Chubb
On March 11, 2011, the most powerful earthquake ever to strike Japan rumbled under the Pacific Ocean, triggering raging tsunami waves that met Japan's coast with all their fury; taking from their victims everything in their water-filled path. It was the unexpected. A crisis that exceeded the magnitude of any that had ever hit the area.
For U.S. companies with global operations, catastrophic incidents like the Japanese tsunamis not only have an immediate impact on business plans, but also have a long-term ripple effect. From tornadoes to hurricanes, port strikes and civil unrest, global risks can shut down suppliers for months, endanger employees who are traveling abroad on business and threaten the financial resiliency of a company that does not have a business continuity and recovery plan.
Clean technology firms which source funding globally, rely on a global supply chain, utilize contract manufacturing, and offer their products and services worldwide may be vulnerable to the potential chaos and uncertainty created by global risks. According to the Chubb 2012 Clean Tech Industry Survey, three out of four clean tech companies operate internationally, leaving them exposed to risks that may quickly threaten the very existence of their business.
Clean tech executives are typically innovators and accustomed to the risks and constant changes inherent in their industry. In their quest to develop technology, secure funding and increase sales, they may miss the global risks that could threaten the viability of their business. For instance, 59 percent of clean tech companies responding to the Chubb survey do not have an up-to-date business recovery plan and at least 50 percent are not proactively planning for or protecting against disruptions caused by weather-related events or electronic security breaches.
Business continuity planning can mean the difference between long term survival and succumbing to the catastrophe, especially for small to mid-size businesses. According to the Federal Emergency Management Agency (FEMA), 40 percent of small businesses do not reopen after a weather-related disaster. A study conducted by the Ponemon Institute reported that 90 percent of organizations have had at least one data breach in the last year; while almost 60 percent have had two or more breaches over the year. In 2011 the average cost of a data breach was $5.5 million.
Clean tech companies that prepare now may be able to avoid a costly loss in the future. Three areas worthy of due diligence for clean tech companies are supply chain stability, employee safety and global regulatory compliance.
Weak links in the chain
The clean tech industry includes both start-ups as well as commercialized companies all of which may have an international presence. Forty percent of clean tech companies depend on foreign businesses for their supply chain, yet according to the Chubb survey only one in four companies is very concerned about supply chain stability.
Clean tech businesses with a large global footprint have suppliers in developing countries as well as in China and India. An under-managed supply chain increases their vulnerability to delays caused by fire, theft, or more complex issues such as terrorism and natural disasters. For instance, recently China reportedly shut down numerous factories due to heavy smog—a move that could quickly create costly production delays for clean tech firms awaiting the delivery of components in the U.S.
Assessing all parts of the supply chain—including your supply chain's supply chain—can help expose any weaknesses. For example, a clean tech company may obtain a key component from a single location—a red flag that indicates potential trouble if a fire occurs at that manufacturing facility. A global property and business income insurance policy can bolster strong supply chain management by providing a firm with a financial cushion for loss of income and extra expenses if operations are halted due to property damage caused by natural disasters or other causes.
A Recipe for Employee Well-Being
Sending employees abroad for business is inevitable for companies that are expanding globally and for companies having a well-established international presence. Unfortunately, the risk of injury during travel is on the rise. According to the Association for Safe International Road Travel (ASIRT), the chances of being killed or seriously injured when traveling overseas may be from 20 to 40 times greater than in the U.S.
In addition, employees who travel for business may be exposed to local endemic diseases. With many manufacturing facilities and businesses located outside of urban areas, an employee may become sick or injured in a remote, rural area that lacks proper medical resources.
Despite the fact that the majority of clean tech companies have a global presence, Chubb's survey noted that 57 percent of are not concerned about global protection for employees while they are traveling on business.
Clean tech companies should consider how they manage employees on the road. Do employees know about the country specific hazards prior to travel? Do companies limit the number of key employees who are traveling together on a plane? The key is to know where your employees are at all times and the potential threats they may encounter in their travels.
Since a U.S. workers compensation policy will not usually cover work-related injuries or even illness when employees are outside the country, clean tech companies may want to consider the purchase of foreign voluntary workers compensation and repatriation insurance. This can help protect employees by paying for travel expenses for emergency medical treatment and evacuation as well as bodily injury from accidents and diseases.
Global Complexities
The clean tech companies in Chubb's survey conduct business in 60 countries on six continents—each country with its own distinct legal requirements. This complex regulatory environment can be a risky place for clean tech companies. However, 45 percent of international clean tech companies surveyed are not concerned with compliance with global regulations.
One of the compliance risks that clean tech companies may face is local insurance requirements. More than half of the international clean tech companies surveyed do not have the legally required insurance necessary to conduct business in foreign countries. For instance, a U.S. component manufacturer sells parts to a German company that builds electric engines. After a number of engine fires occur, the U.S. component manufacturer is sued in German court and found liable. The component manufacturer purchased a standard U.S. general liability policy that requires all foreign lawsuits are brought to the U.S.—this leaves the component manufacturer responsible for defense costs. If the component manufacturer had included an international general liability policy in its global insurance program, the cost of defense would have been insured by the policy.
By working with insurance agents and brokers and insurance companies that have international expertise, clean tech companies can build a global insurance program that will help insure they meet local insurance requirements wherever they operate.
Unique, global risks—whether a disastrous tsunami, puzzling regulations or unpredictable foreign travel mishaps—are a formidable reality as the clean tech industry continues to expand. Awareness of these risks and working with partners that can offer proactive guidance and cost-effective risk transfer solutions can help ensure the industry's continued success.
Amy Ingram, a vice president and worldwide clean tech manager for Chubb Group of Insurance Companies, can be reached at aingram@chubb.com.
The content & opinions in this article are the author's and do not necessarily represent the views of AltEnergyMag
---
Comments (0)
This post does not have any comments. Be the first to leave a comment below.
---
Post A Comment
You must be logged in before you can post a comment. Login now.
Featured Product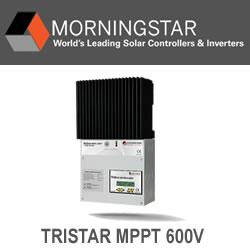 Morningstar's TriStar MPPT 600V charge controller leverages Morningstar's innovative TrakStar™ MPPT technology and our 20+ years of power electronics engineering excellence, to enable the widest input operating voltage range available from a solar array, wind turbine or hydro input. This controller's standard and DB versions are for off-grid applications, and the TR versions were developed to enable retrofitting grid-tied systems with battery backup.