Fuel cells help reduce grid dependency and mitigate financial losses from power outages while keeping critical infrastructure up and running. No longer an environmentalist's pipe dream, fuel cells' reliability, scalability and wide range of fuel sources are saving money for companies in a variety of industries, and making dependable access to emissions-free power a reality.
Fuel Cells Backup Critical Infrastructure
Chris DeArmond | Fuel Cells 2000
A new report, by Fuel Cells 2000, "When the Grid Fails: Fuel Cells Power Critical Infrastructure in Disasters," profiles a group of companies that are implementing fuel cell systems to provide backup power during grid outages. The report examines the downsides of traditional forms of backup power, namely battery and diesel generators, and highlights how fuel cells have performed during past disasters and grid outages. The businesses examined in the report are categorized into four industries: telecommunications, data centers, grocery and retail, and hospitals.
The United States' power grid is 99.97% reliable, but it is estimated that power outages cost Americans $150 billion in economic losses each year. While fuel cells increasingly are known for automotive and combined heat and power applications, they are proving to be an attractive option for clean, reliable backup power during hurricanes, blizzards and other causes of grid failures. After Superstorm Sandy slammed the Caribbean and the East Coast, fuel cells provided emergency backup power to at least 100 telecommunications towers in both the Bahamas and the Northeast U.S. During Hurricane Irene, ReliOn fuel cells kicked on at 56 Sprint cell towers, and ClearEdge fuel cells maintained power at a storm shelter at South Windsor High School and a Whole Foods location in Connecticut.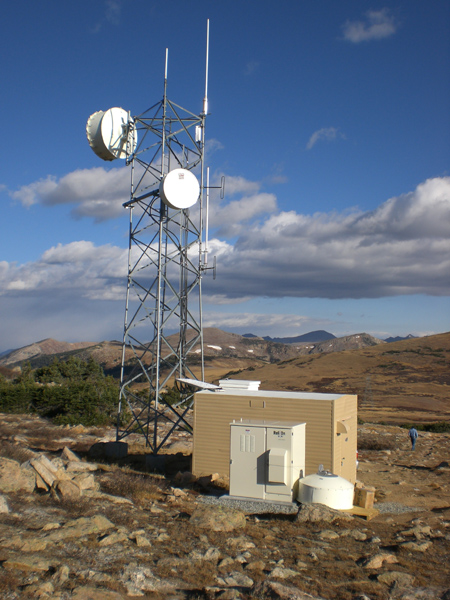 ReliOn fuel cell powering cell site
Diesel generators and battery backups still provide the vast majority of emergency power despite their limitations. Diesel generators require regular maintenance, must be located carefully due to noise and toxic emissions, and are susceptible to mechanical failure due to the high number of moving parts. Batteries are a clean source of electricity, but their power output is highly mass-dependent, they must be charged regularly and they are prone to capacity and performance degradation.
Many businesses are switching to fuel cells due to their inherent efficiency, reliability, ease of operation, and zero-emissions. A fuel cell works by combining hydrogen and oxygen to produce electricity, with potable water and useful heat as the only byproducts. Fuel cells are roughly two to three times more efficient than an internal combustion engine, and hydrogen can be can be derived from a variety of sources. The cleanest method is the electrolysis of water using solar or wind power. Hydrogen can also be derived onsite with hydrocarbon fuels such as natural gas, diesel, and even renewable biogas.
Telecommunications
Several highly-recognizable telecommunication companies, including MetroPCS, AT&T and Sprint rely on fuel cells for backup power. MetroPCS has the largest network of fuel cell systems in the telecommunications industry, consisting of almost 2,000 10- and 15-kW fuel cells in California and more than 350 fuel cells in South Florida. AT&T acquired its first fuel cell in the 1990s and now has hundreds of backup units at cell sites across the country, installed during the past few years with funding assistance from the 2009 American Recovery and Reinvestment Act (ARRA) through the Department of Energy. AT&T is also installing 17 megawatts of fuel cell power at 28 sites in California and Connecticut, including some at its data centers. Sprint also received ARRA money to install hundreds of fuel cells for backup power at telecommunications sites, and the company has said it would eventually like to replace all of its existing backup systems with fuel cells. Collectively, the telecommunications industry has ordered or installed backup fuel cell systems at more than 3,000 telecom sites nationwide.
Fuel cells have already helped cell networks power through a difficult storm. When Superstorm Sandy knocked out power in the Bahamas, seventeen 5-kW Ballard Power Systems fuel cells on the islands of New Providence, Abaco, and Grand Bahama operated as designed for 700 hours and produced more than 1,200 kilowatt-hours (kWh) of electricity. The continuous power supply kept the cell network up and running for seven days, enabling critical communications amid the storm's destruction. In New York, 60 Altergy Systems fuel cells successfully backed up cell sites after Sandy knocked out utility power to 8.1 million customers.
After Hurricane Irene in 2011, fuel cell manufacturer ReliOn reported that 56 of its systems, owned by Sprint, provided backup power throughout the entire outage. Forty-five of those sites experienced grid power outages in excess of six hours during the storm, with fuel cells providing a total of 725 hours of continuous power. And after Winter Storm Alfred in October 2011, ReliOn fuel cells kept cell towers up and running in Connecticut, enabling customers to stay in touch and access 911 services.
Data Centers
Similar to telecom sites, data centers also require an uninterrupted supply of electricity. A study by the Aberdeen Group estimated that companies lose an average of $138,000 for every hour their data center is offline, and companies with more than 1,000 employees lose an average of $1.1 million per year. Understanding the impact of power loss, the First National Bank of Omaha (FNBO) installed four fuel cells to back up its data center as far back as 1999, making it one of the longest-running fuel cell installations in the world. The fuel cells provide an unmatched 99.9999% availability, making the bank confident enough to forego building a second backup data center for $75 million.
Bloom fuel cells at Apple Maiden, NC data center
Apple and eBay have both invested heavily in fuel cell power to safeguard their data access. Apple's new iCloud data center in Maiden, North Carolina, receives 10 MW out of the 20 MW it requires from 24 Bloom Energy fuel cells. Some of the hydrogen powering the fuel cells comes from biogas produced by a landfill three miles away. By mid-2013, eBay's flagship data center in Utah, named Quicksilver, will use a 6 MW fuel cell installation as its primary power source. The company was able to recoup much of the higher initial cost of the fuel cells by simplifying the building design and eliminating the need for UPS and backup generators.
Grocery and Retail Stores
Supermarket chains, including Whole Foods, Safeway, Stop & Shop, Albertson's, Star Market and Price Chopper, have invested in fuel cell backup systems at some of their new stores, hoping to mitigate the financial impact of losing power. Walmart says it is working toward having 100% renewable energy at its stores and facilities. It has already installed Bloom Energy fuel cells at 26 Walmart and Sam's Club locations in California. Perhaps the best example of the benefit of fuel cells to grocery stores came about during Hurricane Irene, when a Whole Foods store in Glastonbury, Connecticut, the first grocery store to install a fuel cell, was able to power its coolers during the storm with its 200 kW ClearEdge fuel cell. Whole Foods now has four stores nationwide powered by fuel cells.
Hospitals
While fuel cells enable businesses continuity, electricity may be most vital to hospitals where patients' lives could be threatened if power is lost. A report by the Urban Institute focused on the challenges faced by hospitals during Katrina called backup generator failures "one of the most striking and disappointing parts of the post-Katrina experience." Fortunately, several hospitals have already switched to fuel cells. One of the earliest fuel cell demonstration projects included a 200-kW fuel cell at North Central Bronx Hospital, located on the building's second-story rooftop that served as supplementary or backup power to the grid and diesel generators. The unit has since been decommissioned, but many hospitals were inspired by its success. St. Francis Hospital in Hartford, Connecticut, has installed two fuel cells that power the hospital's operating room, air conditioning, and meets half the building's electricity demand. Other hospitals with fuel cells either installed or planned include Stamford Hospital and Waterbury Hospital in Connecticut and St. Helena Hospital and Sutter Santa Rosa Hospital in California.
ClearEdge fuel cell at Lafayette Hotel
Fuel cells help reduce grid dependency and mitigate financial losses from power outages while keeping critical infrastructure up and running. No longer an environmentalist's pipe dream, fuel cells' reliability, scalability and wide range of fuel sources are saving money for companies in a variety of industries, and making dependable access to emissions-free power a reality.
The complete report can be found at http://www.fuelcells.org/wp-content/uploads/2013/04/Fuel-Cells-in-Storms.pdf
To read more about fuel cells and the various applications and customers they serve, please go to http://www.fuelcells.org.
The content & opinions in this article are the author's and do not necessarily represent the views of AltEnergyMag
---
Comments (0)
This post does not have any comments. Be the first to leave a comment below.
---
Post A Comment
You must be logged in before you can post a comment. Login now.
Featured Product
Morningstar's TriStar MPPT 600V charge controller leverages Morningstar's innovative TrakStar™ MPPT technology and our more than twenty-five years of power electronics engineering excellence, to enable the widest input operating voltage range available from a solar array, wind turbine or hydro input. This controller's standard and DB versions are for off-grid applications, and the TR versions were developed to enable retrofitting grid-tied systems with battery backup.