Water management spurred by scarcity in the US is likely to produce new financing and business models, technological innovation and greater engagement of the public in proactively handling the world's most precious resource.
The State of the U.S.Water Sector
John de Yonge | Ernst & Young Global Cleantech Center
What are some of the stresses to the US water sector?
The US faces several major water challenges, the impacts of which are beginning to be felt across industries: increasing water scarcity, aging infrastructure, climate volatility, water quality issues and rising water-related energy risks.
The US faces a water supply-demand imbalance that must be resolved, in addition to an unsustainable funding gap. Because water systems are reaching the end of their service lives across the US, an estimated US$1t in new investment is needed just to rehabilitate current water infrastructure over the next two decades. New investment flows will be required to implement the necessary system expansions, mitigate the effects of climate volatility and secure new water supplies.
What are the key barriers to addressing these pressing water issues in the US?
In-depth interviews with industry leaders paint a sobering picture of the present state of water sources, systems and businesses:
Hopes for the water sector to produce "bluegold"- like investment returns are damped by market structure growth constraints and major barriers to entry for innovators.
Decaying infrastructure and the related funding gap remain unresolved and underemphasized by politicians and rating agencies.
Professional risk aversion and the sway held by consultants over utility preferences have curbed the pace of system innovation.
Regulation has imposed substantial obligations and costs on operators, while at the same time leaving efficiency-focused measures voluntary and unenforced.
Utilities have lacked a sense of urgency to revamp managerial and financial practices. This lackluster approach stems from reliance on perceived water abundance, an ability to raise prices and continued capital availability through municipal bond markets.
Why do early stage companies struggle to make headway in the US water market?
Start-ups face regulated utilities and water businesses that have traditionally refrained from assuming innovation risk. As a consequence, startups must persevere through a long sales cycle, many months of trial installations and subsequent reviews. This long road to return on investment requires considerable capital and affects valuations and exit opportunities accordingly. In an already difficult venture capital market, water technology companies are at a competitive disadvantage. Compared to other start-up markets, such as biotech, tech or energy, there is still no "customary" broad participatory process to qualify and finance companies from seed stage to initial public offering (IPO) in the water sector.
Historically, R&D and engineering efforts have rarely yielded groundbreaking disruptive water technologies. Even fewer inventions have been tested and proven to offer reliable performance, cost-cutting and simple integration with existing systems. In addition, the fragmentation across geographies, authorities and technological standards prevents effective scale-up. As a result, small innovative companies often find themselves struggling to establish the breadth of products, distribution channels and technical support to compete effectively in both the municipal and the industrial arenas.
What new approaches are emerging to financing water innovation?
The challenges in financing water innovation also create interesting business opportunities and innovative practices:
New business models are being introduced to the market in which the start-ups and small companies assume the financial risk and installation costs in order to persuade price-sensitive customers of cost-cutting benefits as they try new technologies.
Smaller companies are merging or forming early-stage joint ventures to offer the market more integrated solutions rather than stand-alone products.
Platform companies are formed to float multiple new products, offering capital and expertise to pre-revenue start-ups or joint robust sales and support capabilities.
Further, a set of opportunities may be found on the intellectual property (IP) front, where a rich "graveyard" of IP has formed, consisting of patents and even complete products that have been tested but never reached critical mass commercially.
How can the US transform its water sector?
Today, water scarcity, crumbling infrastructure and climate change are providing impetus for change. In markets where these factors have pushed water sustainability initiatives high up the state or regional agenda, substantial water and financial savings have been realized when institutions and businesses have undertaken more collaborative and transparent approaches to water resource management.
To achieve a similar transformation in the US, one that yields economic benefits and ensures water availability, we must build wide support for what is a politically and economically charged endeavor. Mobilizing stakeholders to support new investment and structural reforms will require more forceful communication of the challenges, action plan and anticipated results. To this end, Ernst & Young has proposed a 10-point action plan:
Develop the data and transparency practices needed to establish consistent, comprehensive pricing models that reflect the true economic value of water to attract investment and promote a better balance of interests among users.

Improve quantitative management by establishing common terminology standards and comparable metrics for water disclosure and footprinting.
Consider the opportunity to bring new capital, dynamism and efficiencies to the water sector through private equity-driven consolidation.
Spur the development of public-private and public-public partnerships to help close the water funding gap by bringing globally established best practices to the US market.
Strengthen the water innovation ecosystem by establishing industry frameworks for assessing and adopting new technologies.
Open up conservative utility bidding procedures and update building codes to allow for procurement of efficient cutting-edge equipment and technologies.
Encourage innovation and competition in serving water systems by providing incentives for consultant rotation, independent advice and transparent bidding processes.
Expand the decoupling of regulated utility revenues from water consumption to enable investments in conservation and efficiency, especially in water-stressed regions.
Consider more closely long-term capital expenditure needs and water source availability, as well as the traditional financial indicators, in the formulation of water utility bond ratings.
Convene the various institutions with oversight on water to set a coherent national water agenda, one that includes efficiency goals, upon which updated regulations and implementation mechanisms would be based.
The US water sector is on the verge of transformation. Water management spurred by scarcity
in the US is likely to produce new financing and business models, technological innovation and greater engagement of the public in proactively handling the world's most precious resource.
John de Yonge
Director, Account Enablement
Ernst & Young Global Cleantech Center
Secaucus, NJ
John de Yonge is responsible for research, thought leadership and client insight for Ernst & Young's Global Cleantech Center. In this role, John sets research priorities based on key business issues across cleantech verticals and manages the Cleantech Center's research function. He develops the Cleantech Center's market analysis, reports, presentations, whitepapers and other publications focused on the global cleantech markets. He also creates cleantech market insights to support client strategic discussions and decision-making.
In his 13 years at Ernst & Young, John has been consistently focused on developing insights and analysis related to global geographic and sector growth markets, initial public offerings and innovation. Before joining the Global Cleantech Center, he was Research Director for the Ernst & Young Global Venture Capital Advisory Group, part of the firm's Strategic Growth Market Practice.
Prior to his global roles, John was a founding member of the Ernst & Young Pacific Northwest Venture Capital Advisory Group in Silicon Valley. His responsibilities there included analysis of VC industry data and trends, coordinating VC programs and developing VC relationships.
Before coming to Ernst & Young, John held several positions that deepened his expertise in research, marketing and account management, including Sr. Associate at TRADEC, an international trade consultancy in Seattle, and Research Director of a U.S. Senate campaign.
John holds a B.A. in International Relations from American University in Washington, D.C., and a M.Sc. in European Studies from the London School of Economics.
The content & opinions in this article are the author's and do not necessarily represent the views of AltEnergyMag
---
Comments (0)
This post does not have any comments. Be the first to leave a comment below.
---
Post A Comment
You must be logged in before you can post a comment. Login now.
Featured Product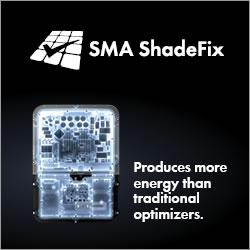 A recent university study showed SMA ShadeFix optimization produces more energy than traditional optimizers. It also utilizes far fewer components, reducing the need for costly service visits. Systems with ShadeFix optimization and SunSpec certified shutdown devices are the ideal solution for residential and commercial PV systems. Visit SMA's website to learn more and download the whitepaper.