In the near future, as solar becomes even more efficient and cost effective, it will play a larger role in industry and energy production. Plants that primarily burn natural gas for fuel, for example, will increasingly use solar to supplement the process to increase the efficiency of power generation.
Solar Power and the Future Energy Mix
Vlatko Vlatkovic | GE Power Conversion
Do you think Solar power has a central role in the overall energy mix?
Not yet, but it will do in the future!
Solar does have the potential to be a much more significant form of energy production if we focus on how to harness the sun's power in the right way and in the right locations.
Solar power generation is a hot commodity in the renewables energy market – last year, it topped the charts for renewable energy production growth, passing the 100 terawatt hour mark with 65% year on year growth in 2013. And figures from the European Photovoltaic Industry Association show solar grew by 37,000 megawatts (MW) to 136,700 MW by the end of last year.
This is a marked shift from decades of slow growth, and a global challenge to deliver a significant proportion of energy demands from renewable sources. In the past, renewables as a whole – and solar technology in particular – have been too expensive and too inefficient, and national energy policies have been slow to embrace them.
What are the challenges for greater success of solar?
We will only see the acceleration in solar if we can find the means to efficiently operate solar power at large scale.
Until recently, the cost of purchasing and installing solar panels was a big barrier to the success of solar, although it has more than halved in the last few years. Some regions, including the UK, have also faced unfavourable government subsidies for solar which has seen some investment being withdrawn on both residential and commercial level.
But perhaps the biggest challenges are more technical: converting the energy captured by solar panels to supply the electricity grid is a hugely important part of the solar efficiency puzzle.
Managing the peaks and troughs of this energy is also a challenge. Simply put, the sun does not always shine, which means fluctuating amounts of energy and problems for grid managers. And of course, some areas are always going to be sunnier than others, but we still lack an efficient way of transporting energy from areas of where there is a surplus, to where there is high demand.
Alongside this, some solar plants are often located in extreme or remote environments such as deserts, meaning that the equipment has to withstand larger fluctuations in temperature. These locations are also often on an independent grid, which means transport infrastructure needs to be expanded to make delivery of this energy more efficient.
What needs to change for solar to become more central to the energy mix, and what is GE doing to make it a reality?
I think there are five key things which need to change to enable the growth of solar:
Improving transmission networks
Over many hundreds of thousands of kilometres, the 96% efficiency of traditional High Voltage Alternating Current (HVAC) transmission simply isn't enough. The key here is in increasing the efficiency of the transmission networks. High voltage Direct Current (HVDC) transmission, cutting heat and transmission waste by 40-60%, has the potential to make the export and long-distance transmission of solar much more viable

Power Conversion System


Increasing the efficiency of solar inverters can reach 30% CAPEX savings on solar farm infrastructure, making solar far more cost effective.
Improving storage
Short and long-term energy storage can compensate for fluctuations and off-grid operation in areas of weak grids. However, most storage solutions currently in use or in development are expensive.

Increasing the operational efficiency of plant maintenance


Faults in solar farm equipment can drastically reduce production levels, and because they are often based in remote locations, gaining access to engineers to solve problems is often costly and time consuming. Intelligent software is needed to help manage plant controls, energy dispatch and assess any issues remotely.

Grid Controls


We should look to digital technology to automate grid stabilization and management in line with peaks and troughs in energy production through solar.
Do you think that this will happen?
Yes! While there is a lot of work to be done, there is no reason why solar can't be a big player in our energy mix.
Are there any specific programs, products etc. that GE is working on now in the Solar field?
Yes. GE Power Conversion's ProSolar inverter technology is a cornerstone of decreasing the cost and increasing the efficiency of solar power, giving solar utility players tremendous flexibility, scale and value.
The one to four megawatt modular range of our inverters gives many options for farm deployment, and make it easier to maintain and manage facilities. The four megawatt maximum capacity of the ProSolar inverters delivers huge scale, and operational savings. And the fact that ProSolar carry 50% more than any other inverter currently in the field today delivers up to 30% in CapEx savings on infrastructure as the energy production output of the plants goes up.
GE is also investing heavily in digital energy interconnection, working out ways in which the often variable contributions of renewables into the grid don't compromise its stability.
Linked to this is GE's research in energy storage – to help deliver sustained contributions to the grid even when the sun isn't shining. GE's energy storage business is focused on high capacity batteries for infrastructure applications. This includes grid scale energy storage batteries, vital to delivering "renewables firming" and regulating electric frequency.
Do you think there are still new technologies out there that will change the face of gathering or distributing solar energy?
Today's solar plants are only able to collect a small percentage of the sunlight they are exposed to. However, many new avenues are being investigated to increase efficiency. The Frauenhofer Institute recently announced a new record of 44.7 per cent efficiency using concentrated photovoltaic technology, which could offer an immense boost to the industry if the technology can be commercialised.
We are also getting closer to solving the distribution challenge with developments of advanced farm architecture and controls.
Looking into your crystal ball -- where do you see the solar industry evolving over the next 5 to 10 years.
I see solar as vital to our energy mix over the next decade. To touch on a few of the key points:
In the near future, as solar becomes even more efficient and cost effective, it will play a larger role in industry and energy production. Plants that primarily burn natural gas for fuel, for example, will increasingly use solar to supplement the process to increase the efficiency of power generation.
Panels will continue to become more efficient –recent advances produced a solar cell which reached an efficiency rate of over 20 percent — more than 40 percent improvement in performance in the past three years.
Automated grid management systems will also enable solar energy to be integrated onto the grid whilst ensuring stability – something which is currently a big challenge as we look to build greater intelligence and automation into the ageing grid infrastructure of today
Slightly further down the line, solar exports will become common, as HVDC infrastructure makes it more viable across the world.
Vlatko Vlatković
Vlatko Vlatković is the Chief Engineering Officer of the GE Power Conversion business. He is responsible for fulfillment and new technology development in all areas of high power conversion systems, power electronics and electric machines. Before joining GE Power Conversion, Vlatko held a number of engineering and technology leadership positions across GE Energy business and with the GE's Global Research Center. Vlatko holds Ph.D. and M.S. in Electrical Engineering from Virginia Tech and Dipl. Ing. Degree from University of Novi Sad.
The content & opinions in this article are the author's and do not necessarily represent the views of AltEnergyMag
---
Comments (0)
This post does not have any comments. Be the first to leave a comment below.
---
Post A Comment
You must be logged in before you can post a comment. Login now.
Featured Product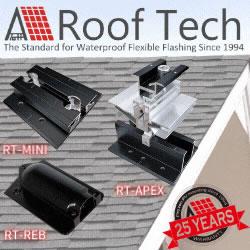 Now Roof Tech brings you the most innovative, watertight mounting systems ever developed for solar photovoltaic systems. Designed and manufactured exclusively for us by Japan's longtime leader in roofing technologies, Roof Tech products are 100% code-compliant and offer fast, simple installation and huge savings on shipping costs due to their compact, rail-less design. Learn more about our full line of versatile PV mounting solutions now available for residential installations. The next generation in rooftop solar mounting solutions."