It is of interest to note how the large majority of plants, in terms of numbers of single plants, is skewed towards projects with a size lower than 3MWp, represented by more than 5'000 plants.
More than 250MWp of transactions registered last year on the photovoltaic secondary market in Italy
Contributed by | Prothea
Several consulting firms have published estimates for the relevance of the photovoltaic secondary market in Italy during last year. The Energy & Strategy Group of the Politecnico di Milano during their annual presentation of the "Solar Energy Report" has estimated that 187MWp of solar photovoltaic deals have been closed during 2013. REA, a market leader Asset Management and Technical advisory company, has quantified an overall amount of M&A deals reaching ca. 250MWp with 30 closed transactions and an estimated aggregate value of ca. 700Mln. Both firms have acknowledged a drop on the number and value of finalized transactions if compared to 2012, partially as a consequence of the decrease of value of plants connected under more recent Conto Energia.
Prothea last year has completed deals for 25MWp by advising several clients: it has been involved in about 10 to 15% of the secondary market transactions. Thanks to this strategic positioning, it benefits of a preferred standpoint to take a view on trends and opportunities in the next years.
Based on an analysis performed by Prothea's team on data collected by the Italian authority devoted to the management of the Conto Energia, the "Gestore dei Servizi Energetici" (GSE), it emerges that there is a potential market of large scale target plants (i.e. Peak power ≥ 0,9 MWp) in the secondary market equals to 7GWp of the total capacity installed. Based on this estimate, it can be established that about 4% of the market has been involved in the ongoing aggregation process in 2013. Prothea believes that this process will continue in 2014 as well.
It is of interest to note how the large majority of plants, in terms of numbers of single plants, is skewed towards projects with a size lower than 3MWp, represented by more than 5'000 plants. The plants larger than 3MWp are just slightly more than 2'000 and they have been object of a more mature and consolidated market with transactions closed in the years 2010 and 2012. Just to cite a few, market leaders in this market segment such as RTR Rete Rinnovabile, with more than 300 MWp split in about 100 plants, Antin Solar with 77MWp in 9 plants, VEI Capital with 100 MWp e Etrion Solar with 57MWp of plants larger than 3MWp, already own a relevant slice of the pie.
Source Prothea e GSE – Data analysis from Atlasole database, size and number of large operative PV plants in Italy
The Italian PV market is thus a market dominated by a vast number of mid-size plants, which has led to an extremely vibrant secondary market with many active players both in the demand and supply sides. There is a vast potential for consolidation of the market as primary market players such as EPC, entrepreneur and developer, that have played an active role in the peak years of the construction market with an opportunistic approach, are now looking favorably to the market consolidation as a chance to monetize their investment and continue with their construction strategy in new markets. "We expect a strong growth of the so called "under the radar" consolidation market, with transaction involving minor portfolios of plants in the range between 3 and 7 MWp, a phenomenon that has already dominated the PV M&A market in 2013. Moreover, we expect a jump start of deals involving the most active players of the last 2 years such as the Private Equity players with investment horizon of 3 to 5 years that will exit towards long term players such as infrastructure, real estate and pension funds" reports David G. Armanini, founder of Prothea.
The data available for the first quarter of 2014, confirms these trends. Few deals have already been announced with an aggregated capacity of 70MWp. Some regulatory and market changes that have been implemented in late 2013, such as the clarifications released by the Italian Tax Authority on the depreciation regime for PV plants, the substantial drop on average price of energy and the cancellation of the minimum guarantee price for the PV plants that have access to the Conto Energia, have created a spread between the supply and demand, particularly for those mid-size portfolio connected with the 4th and 5th Conto Energia. " The recent structural changes have not been yet absorbed by the market, as some of these variations will be evident only after the first quarterly results in 2014. This is having an impact on the market and, as already experienced after similar events in the past, the changes will have an impact on the market for a limited time and the spread will be reabsorbed by the supply side. We thus expect a growing trend of transaction in 2014." confirms Marco Sartor, a director at Prothea.
ABOUT US
Prothea (www.protheagroup.com) is an investment boutique specialized in Renewable energies, a member of AssoRinnovabili. Prothea is headquartered in Milan and specialized in structuring investment opportunities in renewable energy assets (solar PV, biomass and biogas, wind and mini hydro), sourcing green-field and brown-field projects. Prothea has a multidisciplinary team, comprised of members with investment banking expertise, technical as well as experts in valuations, structuring and executing M&A transactions and in arranging project financing. Since its establishment in 2008, Prothea has originated and structured projects for an aggregate asset value in excess of €400 M.
The content & opinions in this article are the author's and do not necessarily represent the views of AltEnergyMag
---
Comments (0)
This post does not have any comments. Be the first to leave a comment below.
---
Post A Comment
You must be logged in before you can post a comment. Login now.
Featured Product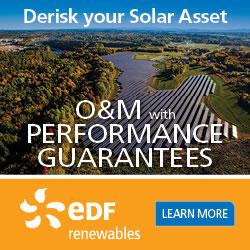 EDF Renewables offers the same innovative solutions that maximize the performance of our own 5.2 GW of installed projects. Because we're not an equipment manufacturer, our recommendations are transparent and data-driven. We cover the entire project lifecycle: from pre-commissioning support, through warranty and post warranty operation, to late stage and decommissioning.