Going solar should be a great experience - not a headache, and doing your homework upfront will give you something money can't buy - peace of mind.

Contributed by | EcoFasten Solar
So, you're going solar. Good for you! You will be so happy you did. You'll save money - over the long-term the average 20 year savings for Americans who made the move to solar is projected to be over $20,000. That's a LOT of money! Plus, solar energy creates zero pollution by harnessing a completely renewable resource. Yeah, it's a pretty big deal.
Some things to consider before making the leap:
Be aware that price DOES matter. Any installation company that presents you with a radically lower bid should make you suspicious. Experienced installers know the costs entailed to install your system correctly. Newer installation companies may come in at a low bid because they are either not aware of the true costs of doing it right, or they are so new that they really, really, want the business.
It's also good to be aware of the fact that many reputable installation companies may not repair another company's mistakes for you, and so if installed incorrectly the first time, you will most likely have to pay to have the system completely removed before also incurring the cost of an entirely new install.
You'll want to make sure you ask the right questions when selecting an installation company. Doing your due diligence prior to the installation ensures that you won't have to worry about inferior workmanship, leaks, or other easily avoidable mistakes down the road ….reminds me of something my Father always says, "Do it all the way, or don't do it at all." Thanks, Dad; good words to live by.
10 Must-Ask Questions:
There are obviously a ton of questions you will want to ask, and other questions will most likely arise from the answers you are given to the below. This should be a good starting point.
1. How long have you been in business / How much solar has your company installed up until now?
Personally, I would only go with a company that has been doing installs for at least 3 years (the longer the better).
2. Are you NABCEP Certified (North American Board of Certified Energy Practitioners)?
Ask for proof. This is a voluntary certification that gives PV Installation Professionals the experience, knowledge and skillset that will distinguish them between their competitors. This is a supplemental accreditation to state licensure requirements, and does not replace those requirements, rather it adds to the overall credibility and dependability of an installer.
3. Are you licensed and ensured as a solar installer or electrician in my state?
Ask to see their license and proof of insurance.
4. Do you subcontract any of the installation? If yes, to who? What are their qualifications?
You don't want to hire someone and then see a vehicle with a company logo you don't recognize show up in your driveway, leaving you scratching your head and wondering what's going on. It's OK if they subcontract – many companies use a network of installers across various jobs - just be sure the subcontractors hold the proper accreditations.
5. What are the electrical codes in this area, and will you be adhering to them?
This varies by state – know yours beforehand and make sure the installer knows them all as well.
6. What are the names of the panel and inverter manufacturers? What are their warranties?
Get a run-down of all the pieces and parts - look them up online and make sure they are from reputable companies, check out reviews and testimonials.
7. Can we go over the racking, mounts and fasteners that will be used?
Same as above. Structural attachments from the roof to the panels are extremely crucial parts of the installation.
8. How will your installation protect my roof from leaking?
You want to know that the installation company will use solar roof mounts that will have the waterproofing properties necessary to protect against water damage.
9. Can I have the names of 3 references I can call?
Unhappy customers are sure to tell you about their experience. You should also go to the installation company's website and look for testimonials, as well as researching them online for any related reviews. It also wouldn't hurt to ask for 1 or 2 local addresses you could drive by to see the installs for yourself, and in person.
10. Can I see some photos of systems you installed that are similar to the ones you'll be installing on my house?
Chances are, if they can't show you any photos, they haven't done much in the way of actual work.
Going solar should be a great experience - not a headache, and doing your homework upfront will give you something money can't buy - peace of mind. I hope you enjoy the many benefits only solar power can provide.
Committed to the connection
EcoFasten Solar® designs, engineers and manufactures watertight solar roof mounts and components. We work closely with leading solar developers, racking system providers, roofing manufacturers and commercial installation companies to ensure we deliver a quality product every time. All of our products are made in the USA, and always have been.
For more information about our line of products, visit our website or email info@ecofastensolar.com
We are also on LinkedIn and Pinterest
The content & opinions in this article are the author's and do not necessarily represent the views of AltEnergyMag
---
Comments (0)
This post does not have any comments. Be the first to leave a comment below.
---
Post A Comment
You must be logged in before you can post a comment. Login now.
Featured Product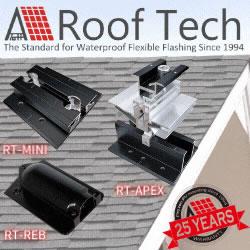 Now Roof Tech brings you the most innovative, watertight mounting systems ever developed for solar photovoltaic systems. Designed and manufactured exclusively for us by Japan's longtime leader in roofing technologies, Roof Tech products are 100% code-compliant and offer fast, simple installation and huge savings on shipping costs due to their compact, rail-less design. Learn more about our full line of versatile PV mounting solutions now available for residential installations. The next generation in rooftop solar mounting solutions."