The US and China will be in the 12-15 GW range in 2015 but the incremental growth will come from some of these emerging markets. We expect Mexico to be a 2 GW market by 2017, with South Africa also above the 1 GW mark by 2017. These two markets were stagnant in 2013-14, so the growth will be quite significant in the coming years.
Deutsche Bank MD expects Cost of Solar to Drop Another 20-30% as 2020 Approaches
Contributed by | SolarPlaza
Solar PV has recently been handed a huge responsibility, and solar proponents may now rejoice as the world finally expects solar power to fill the role of the global electricity providing powerhouse. While the global PV market rang in around 42 GW at the end of 2014, the worldwide market is now gaining even more momentum with emerging markets boasting impressive projects coming down the pipeline during 2015. Vishal Shah, Managing Director at Deutsche Bank, shares his insight about the current situation of the global PV market, what we can expect in the next 3-5 years, and which emerging markets are going to experience a solar surge.
Future Global Market Outlook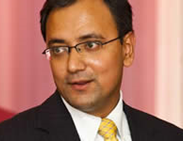 The growth that has occurred in solar PV over the last three years has been tremendous, as it has not only exceeded global market expectations, but various markets have since gained momentum after the cessation of the financial crisis in the United States. According to Mr. Shah, "The global PV market in 2015 will likely end up around 54 GW, as we are looking for about 25-30% growth in total volumes by the end of this year.
Significant growth this year, however, will come from emerging markets such as South Africa and Mexico, to name two. We can expect them to gain a lot of momentum over the next few years." China, India and the United States in combination with emerging markets will drive global market growth, with the strongest markets getting bigger, and the emerging markets picking up speed. "The US and China will be in the 12-15 GW range in 2015 but the incremental growth will come from some of these emerging markets. We expect Mexico to be a 2 GW market by 2017, with South Africa also above the 1 GW mark by 2017. These two markets were stagnant in 2013-14, so the growth will be quite significant in the coming years," remarks Mr. Shah.
Some investors have raised concerns about the solar market conceivably plateauing and facing another difficult period in 2016-17 in response to either the potential domestic market regression in China, possible Japanese FiT expense cuts, or the plausible removal of the ITC in the United States. Mr. Shah explains, "We don't see these things happening. 2016 will be up another 15% or so, with 2017 coming down to how fast these other emerging markets will grow. We are quite optimistic that the 2017 transition will not be that difficult."
Solar Competitiveness with Low Oil Prices
Emerging markets and established markets share an important characteristic that is their overall consumption of oil. While many believe the declination of oil prices will result in direct competition between solar's cost competitiveness and oil's impressively low prices, the correlation that many assume exists in fact does not at all. Mr. Shah clarifies the current situation by looking to rising electricity prices among various markets.
"Even despite the low oil and gas prices, electricity prices in the US have been rising and we do not see that changing. There is plenty investment in transmission and distribution that will drive these price increases. These big markets such as China and the US are not impacted by oil prices. Even some of the smaller markets, our research reports have shown, that the cost of electricity production from oil is even higher than the cost of solar today so oul is not competitive, even at $50 per barrel for oil. It is a temporary phenomenon, and we will not see a $50 oil price/barrel that will be there for 10-20 years, whereas the cost of solar will remain at this level for the foreseeable future."
Expectations for Emerging Markets
South Africa and Mexico have proven themselves to be up and coming markets to watch, gaining momentum in the start of 2015. Vishal Shah strongly believes in the role of solar in these markets going forward, expressing not only their need for the technology, but also their well suited geographical locations. "There is a huge role for solar in South Africa. The technology today is very competitive at current retail electricity prices. The cost of solar is only going down, we estimate by another 20-30% at least in the next couple years, so when you see cost competitive solutions in the market, it is only a question of how soon you can adopt them."
"I also believe Mexico is very interesting market because of the different types of markets available there in terms of the variable pricing models. When you think about the cost of solar production today in Mexico given the amount of sun resources we have there, grid parity can occur for all consumers above the 150 kWh consumption range. Electricity prices in Mexico have grown at an average rate of 8-10% per annum in Mexico, and energy demand is growing rapidly. Because I don't see that changing, it is fair to say that the grid parity situation in Mexico is only going to get better."
While there are many emerging markets offering plenty of potential as 2015 begins, Mr. Shah notes the importance of today's market position. "The good thing is that there is not one market driving solar demand today. There are a number of markets globally that are equally as important. Diversity is what is going to be a big driver for global demand growth in our view."
Learn more about the expectations for African and Mexican solar growth from Mr. Vishal Shah in person at the Solar Diesel Africa Conference March 3-5, 2015 and Solar Finance Tour March 9-13, 2015 where he will be speaking and presenting.
The content & opinions in this article are the author's and do not necessarily represent the views of AltEnergyMag
---
Comments (0)
This post does not have any comments. Be the first to leave a comment below.
---
Post A Comment
You must be logged in before you can post a comment. Login now.
Featured Product
What if you could maximize the Ground Coverage Ratio (GCR) on your next project and not have to worry about the complicated variables that come with a tracker system? With a low tilt and clearance design, Dahlia® has the highest GCR of any fixed-tilt system in the marketplace. The system is available in three tilt options (7.5, 10 and 12.5 degrees) and designed to accommodate any sized PV module. The lightweight system is engineered with fewer components, several of which are shipped to job sites pre-assembled. This design feature reduces freight costs and rapidly trims the amount of on-site installation time required to complete construction. Maximizing PV coverage on a site can lead to an increase of production, which creates greater financial return for project owners. Over 100 MW of Dahlia® projects have been deployed across the United States, in regions of variable snow and wind loads. How much can Dahlia® cover and save you on your next project?