SAENORE will create and maintain knowledge transfers amongst renewable energy experts in South Asia and it will work in the areas of Energy efficiency, Solar Energy, Wind Energy, Small Hydro Power, Bio-energy and Geothermal Energy.
SAENORE - South Asian Experts Network on Renewable Energy
Faiz Bhutta | SAENOR
What SAENORE stands for and why SAENORE was formed?
SAENORE stands for South Asian Experts Network on Renewable Energy and I served as chapter chairman of REAP for three years and then I formed PSA and I was first Chairman and then retired as my tenure was over. I thought that I have now done enough work at Pakistan level and now we should move on regional level and serve Renewable Industry at regional level. It happened that I was selected for 20 days training in china by MOST in October 2015 on Planning, construction and management of Small Hydro Power Plants and we all South Asian experts gathered at HNAC –UNDP approved Training center and held deliberations to work at regional level and all South Asian experts present there decided to formulate SAENORE and we signed a constitution of SAENORE at a ceremony and vowed to work for 100% renewable in South Asia and put pressure on South Asian Governments to shift their priorities from fossil based energy planning to low Carbon, Clean and green energy planning making South Asia a sustainable and green region. SAENORE is voluntary network for exchange and share of information amongst South Asian Renewable Energy Experts.
SAENORE has a formal signed constitution and formal structure is given at its website www.saenore.org
What are the objectives OF SAENORE?
Knowledge transfers: SAENORE will create and maintain knowledge transfers amongst renewable energy experts in South Asia and it will work in the areas of Energy efficiency, Solar Energy, Wind Energy, Small Hydro Power, Bio-energy and Geothermal Energy.

Training: SAENORE will hold training workshops on Renewable Energy applications.

Technology and educational policy: SAENORE will advise the Governments of South Asian countries to formulate policies and plans favoring growth of renewable energy.

Curriculum Development: SAENORE will provide support in development of diploma, graduate, master and PhD curricula in the field of Renewable Energy and Energy Efficiency.

Consultancy Services: SAENORE will provide consultancy services to customers through its team of experts and consultants

Publications: SAENORE will publish newsletter, magazine, reports, guides, manuals, standards, codes and case studies; will disseminate information to all stake holders.

Innovation: SAENORE will promote innovation and innovative research in South Asia.

Academia and Industry relationship: SAENORE will help in establishment of forum for enhancing relationship between academia and industry.

Discussion platform: SAENORE will provide a platform to companies, industries and governments for meeting, discussing and developing Renewable Energy standards and codes.

Research and Development: SAENORE will initiate programs for research and development of cost effective technologies in South Asia.

100% Renewable Energy Access: SAENORE will strive for 100% Renewable Energy Access for all people in South Asia.
What will be the working methodology?
SAENORE has its structure and supreme council is SAENORE Founders Board (SFB) headed by Secretary General and each country has its Country Council headed by its Chairman and I have been selected its first Head for two years and deputy head is Engr. Sanjeev Pokhrel from Nepal and Secretary General is Engr. Tiksha Madaan from India and there are six sector councils namely Solar Sector Council, Wind Sector council, Bio_Energy Council, Geo-Thermal Council, Hydro Sector Council and Energy Efficiency Council and each Council is represented by its head. These Councils have regular meetings to achieve network objectives.


Who one can become member of SAENORE and how many members are there now?
Any person having expertise related to Renewable Energy can become member of any of six sector Council and he/she can contact Country chairman for membership and membership is free and have no fee at all for first two years and there are about 400 members registered at SAENORE facebook page and it is fast growing Network. One of the unique feature of this Network is that its members are selected with care and all members are highly educated and have expertise in each sector of Renewable Energy. We all vowed to keep network professional and transparent.
What is the status of Renewable Energy in Pakistan and South Asia.
Renewable Energy Sector is slowly growing in Pakistan. Wind sector was the first sector and about 360MW has been installed and about 500 MW is in the process. Solar PV has installed base of about 600MW and 1000 MW is in progress. Bio-mass has potential of 5000MW and small Hydro has potential of 3000MW and Ge-Thermal has not yet started.
In South Asia, SAENORE country heads and Sector Council Heads are busy in collection of data from all countries and we will soon print a book on Renewable Energy Status in South Asia from SAENORE platform and if any donor agency is interested to fund this study, it will be a great contribution.

What is your one year plan?
Our one year plan is to internally develop the network and fill up all the positions in the organizations and make at least 20 members in each sector council so that the whole network operates with full Quorum and print one book on Renewable Energy Status in South Asia. Our yearly plan includes development of web portal helping the experts to share and exchange information. Portal will be one of the largest information platform on Renewable Energy in the region. Chinese HNAC Technology Co has promised to fund the development of Portal but other global and regional donors can fund it programs.
About Faiz Mohammad Bhutta
Faiz Mohammad Bhutta has done B.SC engineering from UET and MBA from IBA Punjab University. He has 35 years of experience of serving at technical and managerial posts in national and multinational companies. He started his career as CNC and Automation Engineer. He is currently serving as Director Projects SESI Pakistan and Director PRENAC – Renewable Academy. Apart from his professional career, he has served as visiting teacher on engineering and management subjects in Air University, COMSATS University and UMT and has trained about 1000 person in the area of Solar Energy.
He has also contributed as PEC Task force member on Building Energy Code 2011 Provisions. He is member of PEC task for on "National Electrical Safety Code of Pakistan". He is resource person for CPD courses on Renewable from PEC.
He was first chairman of REAP and PSA and is now SAENORE HEAD. He is member of organizations namely International Solar Society Germany; ASHRAE USA, Life member of PEC , Life Member of HVACR Society, Life Member of IEP, Life member of IEEEP and member of MAP. He is master trainer on solar PV from GIZ Pakistan He got TOT training from RENAC Academy Berlin Germany on Solar.
The content & opinions in this article are the author's and do not necessarily represent the views of AltEnergyMag
---
Comments (0)
This post does not have any comments. Be the first to leave a comment below.
---
Post A Comment
You must be logged in before you can post a comment. Login now.
Featured Product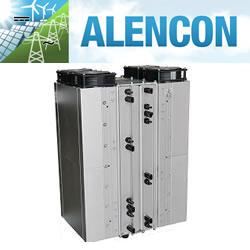 Alencon Systems is the premier manufacturer of high power, high voltage DC:DC optimizers for alternative energy applications including solar, battery energy storage, Microgrids, Fuel Cells and Electric Vehicle charging. Alencon's DC:DC converter offerings include the SPOT, BOSS and CUBE series DC:DC converters. The SPOT is a modular, uni-directional DC:DC solution ideal for solar applications. The BOSS is a modular, bi-directional unit for use with battery energy storage. The CUBE is a monolithic DC:DC converter which is available in both uni-directional and bi-directional modalities. Pictured above, is the Alencon SPOT.