Panasonic HIT® panels recently set a world record for conversion efficiency at the research level (laboratory), a full percentage point increase over the previous record.
Panasonic Continues To Innovate HIT® Technology In Their PV Panels
Mukesh Sethi | Panasonic
What is HIT® technology and what differentiates it from other solar technology on the market today?
HIT® solar panels are one of the most efficient panels currently available on the market. While other high efficiency panels have monocrystalline type cell structure, what makes HIT® unique is the innovative silicon hetero-junction cell structure made of amorphous silicon and mono-crystalline layers. These ultra-thin amorphous silicon layers prevent the recombination of electrons which keeps carrier loss at an absolute minimum. Panasonic HIT® panels employ 96-cells in the same panel footprint as the conventional, 60-cell models that are the standard in the solar industry. These unique characteristics allow for the HIT® panels to convert the highest percentage of sunlight into power.
How has Panasonic continued to innovate HIT® technology over time to stay ahead of the curve?
Sanyo, which was acquired by Panasonic in 2008, has been in the solar business over 40 years (since 1975) and has been working on high efficiency silicon heterojunction cells since the very beginning. In that time, we've developed such strong institutional knowledge of the technology, perfecting it over the years and reducing the costs of manufacturing and production.
While initially the technology and cells were used for consumer electronics like watches and calculators, we introduced the solar panel in 1997 when the cells achieved over 20% efficiency. Since then, Panasonic has spent more time and effort in perfecting it, and we now hold the world record for the highest efficiency cell of 25.6% and module efficiency of 23.8% at R&D level. This feat comes not only from perfecting the cell structure, but a lot of other innovations which enhance the overall output of the cell itself and the panel, making it high quality at low cost.
HIT® panels are a prime example of Panasonic's long history of innovation. Panasonic has a company-wide, sustained commitment to R&D which has led to innovation across a wide array of product categories including solar. Panasonic is focused on all of the intricate details that go into making an efficient and durable solar panel. The HIT® solar panels have been carefully designed to maximize efficiency while still being remarkably easy to install and maintain over time.
What notable trends are you seeing across the solar industry today and where do you see the market headed looking a few years down the road?
Renewable energy as a whole has seen a huge jump in popularity in recent years. This trend is here to stay, as the vast majority of people are better educated and more informed on the dangers of climate change. People are willing to reduce their carbon footprint, and public/private partnership and investment continues to fuel innovation and adoption. As people are becoming more aware and knowledgeable about the benefits of solar, not just for the environment but also the savings it brings, they understand that owning the system outright far exceeds the savings that leasing models or PPAs can bring.
With higher efficiency panels, the return on investment pays off fairly quickly with much more savings in the long run. Other notable trends today is the continued stabilization in the cost of components. This encourages broader adoption and enables the development of equipment that is affordable and easy to maintain without sacrificing efficiency. This is the next great challenge in our industry, as companies are trying to cut prices while still providing top-of-the-line products. We are confident that we will continue to produce the most efficient solar panels on the market and offer huge savings to our customers over the long term. HIT® solar panels are an investment that provides continuous savings over the 25-year lifecycle, with the longest warranty in the industry to ensure the utmost customer satisfaction.
The solar industry has experienced explosive growth over the past 5-10 years. Does Panasonic expect that pace to continue and what are your plans for taking advantage of that growth?
We do expect this trend to continue. The extension of the ITC will fuel growth in solar, we are extremely confident that by offering customers the best product on the market and continuing to innovate we'll continue to see solid growth. To help further our presence in the solar industry, we have expanded our team to meet these new demands. David Lopez is our new Sales & Business Development Manager who will help us realize our goals in the solar marketplace. He has years of experience in the solar industry and he will use his experience in the business to help us on our path forward. We look forward to continuing to grow our team and bring in talented individuals to constantly improve our team and meet the challenges that lie ahead.
In which parts of the world are you seeing the fastest development of the solar industry? What are the most important elements driving this growth?
While the Japanese market has already peaked, other parts of the world are still seeing strong growth. Besides the United States, China and India are two countries which have seen a major increase in the solar industry. As these countries realize the importance of reducing their carbon footprint, and also the fact that the cost of residential solar options are now more affordable, we expect this growth to continue. This will help even more countries to be able to afford solar technology.
Panasonic claims to have the most efficient solar panels on the market. What are the differentiating characteristics of these panels and what's coming next from an R&D standpoint to maintain that leadership position?
Panasonic HIT® panels recently set a world record for conversion efficiency at the research level (laboratory), a full percentage point increase over the previous record. This is due to a number of characteristics unique to the HIT® panels that elevates them from the competition. The silicon heterojunction structure of monocrystalline silicon sandwich between amorphous silicon minimizes carrier loss. It also utilizes a distinctive pyramid structure surface that minimizes reflection and maximizes absorption of sunlight. The amorphous silicon has excellent temperature characteristics which minimizes drop in performance at high temperatures, with minimal degradation on quality or efficiency.
Do you see any disruptive technologies under development for the solar industry in the future or are we at a point where small improvements are the norm?
Panasonic spends over $5 billion per year in research and development and is always looking for ways to improve technology, leader the market forward and come up with the next generation of disruptive technology.
We can't share too much from the R&D pipeline yet, but one thing is for sure – we have been and will continue to be the leaders in innovation and technology.
Is Panasonic involved in developing products or services in other aspects of the Alternative Energy Industry?
Panasonic is one of the biggest manufacturers of storage batteries, which is a big part of several eco solutions products including electric cars, solar storage and a myriad of household appliances. Designed for high power applications, these batteries can be recharged and reused up to 1,600 times, which means they not only save money, but the environment as well.
About Mukesh Sethi, Group Manager and Head of Solar Products Group of Panasonic Eco Solutions Company of North America (PESNA)
Mukesh Sethi is the Group Manager and Head of Solar Products Group for Panasonic Eco Solutions Company of North America (PESNA), a unit company of Panasonic North America marketing and selling Eco products such as Ventilation Fans, Indoor Air Quality products, Power Tools and high efficiency Solar Panels.
Mr. Sethi is charged with managing all aspects of Panasonic's Solar Products division and expand the high efficiency solar panel business to the U.S. market. He joined Panasonic in March 2010.
Prior to joining Panasonic, Mr. Sethi has worked in operations, planning and management for Avionics Company Thales Avionics and Sensient Technologies.
Mr. Sethi holds a BS in Industrial Engineering and Masters in management from Rutgers University. He resides with his family in New Jersey.
The content & opinions in this article are the author's and do not necessarily represent the views of AltEnergyMag

Panasonic Solar
Panasonic has been pioneering solar power since the green revolution began. Starting with production of amorphous cell technology in 1975, no one has spent more time on solar R&D. In 1997, our HIT® modules introduced high-efficiency solar panels to the world. Panasonic HIT® offers one of the most efficient solar modules available today, providing homeowners with decades of reliable sustainable power. Add our intelligent battery storage solutions and deliver the most complete solar + storage system under the sun. Help homeowners improve grid independence and save money with a fully integrated energy ecosystem that keeps their family powered up during outages and peak rate periods. With full support from one of America's most trusted brands, Panasonic installers stand by their work and product with confidence. Our industry-leading warranty on HIT® solar panels covers product, performance, parts and labor for 25 years.
Other Articles
This project, like most, came with its share of challenges and requests from a discerning homeowner who wanted top quality. The ask: plan and install a solar system to handle the high electricity needs of this large home with a customized design and clean aesthetics.
EverVolt modules are more resistant to the effects of shade than conventional panels as the cells' connections are split in parallel, so even if one part is shaded, another parallel connected part can generate the electricity.
There isn't a lot of historical data on energy storage to leverage in sales strategies, so installers should sell homeowners on the benefits of purchasing a complete home energy solution, including the technology used and the warranty options.
---
Comments (0)
This post does not have any comments. Be the first to leave a comment below.
---
Post A Comment
You must be logged in before you can post a comment. Login now.
Featured Product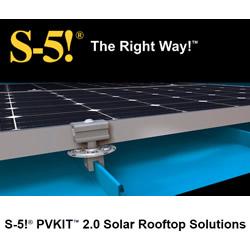 The concept of combining PV arrays with standing seam metal roofing is growing-for good reasons. Metal roofs have a life expectancy of more than 40 years. Shouldn't the mounting system last as long? With S-5! zero-penetration attachment technology and PVKIT 2.0, the solarized metal roof is the most sustainable system available -and without compromising roof warranties! PVKIT 2.0 is the also the best solution for attaching PV modules directly to any exposed fastener metal roof.