The majority of the 195 ethanol plants, and most of the U.S. fuel ethanol production capacity, are located in the Midwest region
U.S. ethanol plant capacity increases for third consecutive year
Reprinted with permission | Today in Energy
Fuel ethanol production capacity in the United States was nearly 15 billion gallons per year, or 973,000 barrels per day (b/d), at the beginning of 2016, according to EIA's most recent U.S. Fuel Ethanol Plant Production Capacity report. Total capacity of operable ethanol plants increased by more than 500 million gallons per year in January 2016 compared with January 2015.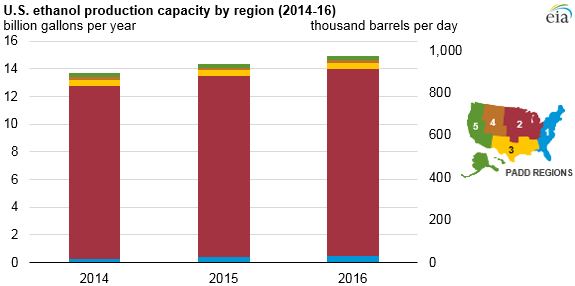 Source: U.S. Energy Information Administration, Fuel Ethanol Plant Production Capacity
The majority of the 195 ethanol plants, and most of the U.S. fuel ethanol production capacity, are located in the Midwest region (as defined by Petroleum Administration for Defense Districts). Total nameplate capacity in the Midwest was 13.5 billion gallons per year (883,000 b/d), an increase of more than 500 million gallons compared with 2015. Of the top 13 fuel ethanol-producing states, 12 are located in the Midwest.
Actual U.S. production of fuel ethanol reached a total of 14.8 billion gallons (966,000 b/d) in 2015. In EIA's August Short-Term Energy Outlook (STEO), U.S. production of fuel ethanol was forecast to reach 15.1 billion gallons (982,000 b/d) in 2016, equivalent to slightly more than 100% utilization of reported nameplate capacity as of January 1, 2016.
Nameplate production capacity, the measure of capacity that EIA tracks, is the plant manufacturer's stated design capacity to produce denatured (made unfit for human consumption) fuel ethanol during a 12-month period. However, nameplate capacity is not a physical production limit for many ethanol plants.
By applying more efficient operating techniques, many ethanol plants are capable of being operated at levels that regularly exceed their nameplate production capacity, if market conditions provide an incentive to do so. This level of operation, called maximum sustainable capacity, is inherently subjective.
Principal contributor: Chris Buckner
---
Comments (0)
This post does not have any comments. Be the first to leave a comment below.
---
Post A Comment
You must be logged in before you can post a comment. Login now.
Featured Product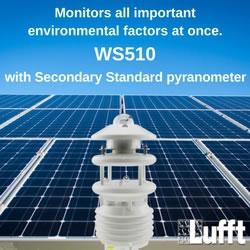 Professional weather sensors form the heart of large solar plants supporting their operation and performance. Lufft was the first manufacturer to combine several sensors in one housing, bringing the largest multiparameter weather sensor family with 19 members into being. Many of them are well-suited for solar site assessment and continuous monitoring. The most commonly used one is the WS600 delivering data on temperature, air pressure, wind, relative humidity and precipitation. Through its open protocol, it can easily be attached to radiation sensors e.g. from Kipp&Zonen. Other models have an integrated Silicon, Second Class or Secondary Standard radiation sensor.