We connect people from across the continent to create new, commercially attractive technologies. We open up markets and cross borders to find customers for new businesses and their solutions.
Supporting Early Stage Energy Start-Ups in Europe
Richard Biagioni | InnoEnergy
What is the aim of InnoEnergy?
The challenge is big, but our goal is simple: to achieve a sustainable energy future for Europe. We believe that innovation is the solution. At InnoEnergy, our aim is to support and invest in new ideas, products and solutions that make a real difference, new businesses and new people to deliver them to market.
At InnoEnergy we support and invest in innovation at every stage of the journey – from classroom to customers. With our network of partners we build connections across Europe, bringing together inventors and industry, entrepreneurs and markets, graduates and employers, researchers and businesses.
We work in three essential areas of the innovation mix:
Education to help create an informed and ambitious workforce that understands what sustainability demands and industry needs – for the future of the industry.

Innovation Projects to bring together ideas, inventors and industry in collaboration to enable commercially viable products and services that deliver real results.

Business Creation Services to help entrepreneurs and start-ups who are creating sustainable businesses to grow rapidly to contribute to the global energy ecosystem.
Together, our work creates and connects the building blocks for the sustainable energy industry that Europe needs.
What is the highway programme?
Our InnoEnergy Highway supports early stage start-ups. It is a one stop shop for transforming a business idea into a successful enterprise.
Once on the Highway, start-ups receive services in four essential areas:
Product: We assess the product's potential, identify and track possible competitors, and ensure IP is protected. We support the enhancement, development, piloting, and industrialisation of our start-ups' solutions.

Market: We identify gaps in the market, assess the opportunity, and help develop a business case and market positioning. We support business modelling, planning, and commercialisation strategy. And we discover and validate that all-important first customer.

People: We assess each start-up's team and its capabilities, providing training and on-going support and mentoring. We help identify new skills to bring into the business, and organize its legal framework.

Finance: We provide access to seed money, our venture capital community and our network of business angels. We invest in the start-ups that we believe can make a difference. In return, we acquire an equity stake of five to 15 per cent in the company.
How many new start-ups have you helped to bring to commercialisation?
InnoEnergy has captured 1,992 business ideas in Europe. Of this amount, InnoEnergy has selected and supported more than 160 early start-ups and created 80 new companies. These successful new companies raised 37 million euros of external investment in Europe since 2011.
Why is it important to promote a culture of innovation?
Innovation is the driving force of InnoEnergy. Everything we do is about creating the right conditions for new ideas to flourish and create a fully sustainable energy industry. Europe has the people, ideas, resources and skills to make this happen. Our role is to bring them together.
We connect people from across the continent to create new, commercially attractive technologies. We open up markets and cross borders to find customers for new businesses and their solutions. We bring the best in pan-European knowledge and experience together into one place.
Encouraging change requires new ways of thinking – and we challenge the status quo.
Our innovative business model de-risks investment in new technology for both the investors and start-ups, so we can encourage more organisations to participate. This is possible due to the three different mechanisms in place for providing a healthy return on investment, including: sharing investments among our pan-European consortia supporting the individual projects, IP Licensing and equity-based investment. We work hard to ensure we keep up ROI and understand that working capital is key for young businesses, in order to make them a commercial success.
The result is a broad array of new products and solutions that can be sold to global customers. We also know that big innovations are not created in isolation and this is why it is so important to bring our consortium of partners together. We help develop partnerships, plug skill gaps and fill market niches to maximise the potential of every InnoEnergy student, every start-up and every technology.
Innovation runs through every aspect of our business. The success of InnoEnergy depends on the success of the entrepreneurs we invest in and the technologies we enable. By developing commercially attractive innovations that have a real impact on the market, we empower a sustainable energy future.
Please give us some examples of some specific start-up companies that are benefiting from the programme?
Atawey is a start-up supported by the InnoEnergy Highway® since 2012. The company has developed a technology that makes renewable energy usable day or night, year-round at off-grid sites worldwide.
Lancey is a new start-up supported by InnoEnergy Highway® since September 2016. The company develops an energy storage solution: a Plug and Play heater with a connected battery. Lancey has been awarded by Pollutec the 30th November for its innovation.
Solable is a start-up supported by InnoEnergy Highway®. Its new innovation, LaDouche uses wastewater to warm water. Solable's LaDouche is selected as a CES 2017 Innovation Awards HONOREE in the Eco-Design and Sustainable Technologies product category.
Steadysun makes management of power grids and photovoltaic power plants easier, enabling its customers to reduce their operating costs by using its solar forecasting systems. Combined with meteorological models, satellite imaging and instrumentation on site, SteadySun technology generates forecasts ranging from a few minutes to a few days.
How would a company go about applying for funding and support from the programme?
The process to apply is the following:
Submission of the idea to one of our offices covering seven regions in Europe.

Opportunity assessment where your business idea is assessed based on three criteria - innovation novelty and technology, market potential and team competencies.

Coach assignment: If the assessment is positive, you and your assigned coach will design your individualised roadmap with a tailored bundle of services.

Services delivery: Thanks to our network of European partners, we will provide a holistic bundle of services, covering all aspects of your projects' needs.

First customer: InnoEnergy is committed to finding your first customer. This is a real milestone for a start-up and a first step towards consolidation.
About Richard Biagioni
Richard has extensive experience in the field of innovative Research & Development as well as working in public-private partnerships.
Before joining InnoEnergy, Richard was the managing director of the National Competitiveness Cluster for Risk Management in Aix-en-Provence, France. As the objective of the Cluster was to foster innovation through identification and funding of innovative R&D projects, Richard had the opportunity to get to know the actors within the French innovation ecosystem very well. The Cluster gathers 232 members, including SMEs, industries, research laboratories, universities and end-users, and financed 105 projects, which represented EUR 229 million of R&D.
The content & opinions in this article are the author's and do not necessarily represent the views of AltEnergyMag
---
Comments (0)
This post does not have any comments. Be the first to leave a comment below.
---
Post A Comment
You must be logged in before you can post a comment. Login now.
Featured Product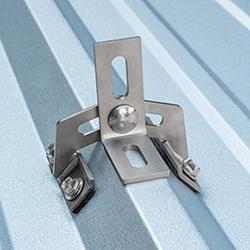 QuickBOLT Low Profile QuickBOLT with Microflashing™ is the industry's affordable, UL Certified Asphalt Shingle mounting system. The Microflashing™ is compressed by the collar on the bolt to create a water-tight seal. With an installation time of less than one minute, the Low Profile QuickBOLT allows installers to complete more jobs.