In a VPPA, the electricity thats produced is sold into the local grid while the corporate offtaker receives credit for the renewable energy to address the emissions from the electricity consumption from traditional sources.
How Virtual Power Purchase Agreements (VPPAs) are Solving the Corporate Energy "Trilemma"
John Hoekstra | Schneider Electric
What are the main drivers of corporate sustainability initiatives today?
There are three predominant drivers of corporate sustainability – and specifically the wide-scale adoption of renewable energy – today. The first is that the economics now make sense. Although climate change may be the inspiration for clean technology, plummeting costs in wind and solar power have made them commercially viable. The second is the desire that brands have to demonstrate leadership on climate action. Following the adoption of the Paris Agreement in December 2015, corporations have embraced a new era of sustainability growth. Governments and businesses are more aware that clean solutions will play a major role in a more sustainable future. Companies are playing a crucial role by participating in groups like the RE100 and the Science-Based Targets Initiative to drive climate action forward. Finally, companies are driving to make meaningful impacts on the environment in order to mitigate carbon risk, reduce water scarcity and improve the quality of the communities in which they do business. These three factors have led to a push for more corporate sustainability programs. For example, nearly 25 percent of the Fortune 100 have defined renewable energy targets and many are seeking to use 100 percent renewable energy in the long term.
What are the key challenges that inhibit organizations from moving their sustainability and renewable energy strategies forward?
The global energy landscape continues to evolve at a rapid pace, sometimes by the nanosecond. This speed of change makes it increasingly difficult for organizations to anticipate and react to the variables that will have the greatest impact on their business. Additionally, the impacts of energy are likely to be felt across multiple departments by multiple stakeholders across multiple geographies. In today's multinational corporations, energy affects not only energy managers and procurement professionals, but also sustainability officers, real estate managers, finance directors and even public relations teams.
For many corporations, the complexity of coordinating global sustainability and renewable energy programs is the biggest challenge they face in getting projects off the ground. But there are best practices that organizations can follow to develop and execute on strategic sustainability and renewable energy plans to meet targets and improve the bottom line.
What have the early adopters of renewable energy done successfully that other organizations can replicate?
Early corporate adopters of ambitious renewable strategies provide an invaluable roadmap. A critical first step to action for many of these companies was to set an ambitious, science-based goal. Many early adopters have made the most significant, sustainable and cost-effective strides toward their corporate renewable goals through the use of offsite power purchase agreements (which have exploded since 2014). Corporate offsite PPAs accounted for three gigawatts of additional renewable capacity in 2015 – more than the amount of utility-scale solar added in the entire U.S. However, offsite renewables are only one component of an integrated portfolio strategy. Early adopters have also strategically used energy attribute certificates – like renewable energy certificates (RECs) – as well as distributed generation to meet their goals. The next frontier for these leaders is to engage these technologies at a global scale.
What is the difference between a PPA and a VPPA?
PPAs are a financial contract where a developer arranges for the design, financing, installation and maintenance of a renewable energy system, and a company – known as an offtaker – agrees to buy the power that is generated at a fixed cost over the course of a long-term contract, usually 10-20 years. PPAs come in a variety of flavors and can essentially be divided into three main types.
The most self-explanatory are on-site, or distributed generation, projects like the installation of wind turbines or rooftop solar panels at a facility or on company property. Second, retail-sleeved PPAs allow for the renewable resource to be managed by the retail electricity provider within the same grid. Finally, virtual PPAs (VPPAs, also called synthetic or financial PPAs) allow a buyer to use a contract-for-difference model to acquire the benefits of renewable generation without many of the standard geographical and logistical constraints.
In a VPPA, the electricity that's produced is sold into the local grid while the corporate offtaker receives credit for the renewable energy to address the emissions from the electricity consumption from traditional sources. These deals often come with associated RECs and benefits of additionality. Additionality is a key claim for many organizations related to their sustainability goal where, without the support of the offtaker, the renewable energy project could not be financed. The offtaker's involvement in the PPA often brings new, additional renewable energy generation to the grid.
How do PPAs or VPPAs help meet the twin goals of sustainability and profitability?
PPAs have surged into the corporate space as an effective tool for achieving sustainability goals while also meeting procurement and profitability targets. These agreements are uniquely suited to help address financial, logistical and perception issues that can challenge corporate renewable efforts.
For some companies considering green energy, their physical locations may be limiting in terms of the potential for onsite wind or solar. For example, a U.S.-based corporation with sites along the West Coast may see wind power as an attractive choice, but find themselves space constrained in a market with exorbitant property costs. A VPPA allows a company in this situation to invest in renewable energy from a wind farm in the Midwest, where wind resources and space are plentiful, while still realizing the environmental and fiscal benefits of renewables.
Plus, procuring onsite generation for every site in a company's portfolio could be daunting. A VPPA provides the opportunity to green the energy use of multiple sites with a single transaction, leveraging the efficiencies and economies of scale a developer can deliver.
Can you share an example of a company that has successfully implemented a VPPA?
On the on-site PPA side, Sun Chemical announced a project to cut electricity costs at its Carlstadt, N.J., production facility by roughly $400,000. Rooftop and carport photovoltaic arrays at the site will generate more than 30 percent of the energy needed to power the facility. Under a 20-year PPA, solar developer Onyx Renewables will design, install, own and operate the arrays, selling the electricity the technology produces to Sun Chemical at a cost below current utility rates.
T-Mobile recently signed the largest wind power deal by a U.S. wireless carrier. The VPPA provides up to 160 megawatts of capacity from the new Red Dirt wind project in Oklahoma, helping the company increase efficiencies and account for power use at retail stores, calls centers and network operations across the country.
How will this model and renewable energy programs as a whole evolve going forward?
One trend that will continue to impact VPPAs and renewable energy programs more broadly is the convergence of various departments that manage projects to reduce energy costs, consumption and carbon emissions. These departments are becoming more tightly integrated to remove silos, reduce inefficiency and conserve resources in support of a single energy and sustainability strategy.
Because of the scale of projects like VPPAs, there are typically a number of internal stakeholders who will need to be informed and able to act in order to bring a VPPA deal into reality. These stakeholders can include representatives from finance, legal, corporate real estate, sustainability and procurement departments, and oftentimes these roles will overlap. Making sure each of these stakeholders is informed and engaged can be the most important component of a successful program.
In the broader energy marketplace, corporate demand is one of the key drivers shaping global renewable energy markets. There are now opportunities to source energy attribute certificates (EACs) from markets on nearly every continent, and these EACs are the precursor to PPAs and other contracting structures.
Do you see other methods that may emerge in the near future to enable corporate renewable and energy strategies to grow?
There are a number of emerging trends that will impact the adoption of renewable energy and cleantech, one of the most significant being the perception of an organization's energy cost and usage as an asset rather than a cost center. In the future – perhaps even the near future – companies will begin to make decisions based on price to increase reliability, decrease spend and create new revenue streams, or they will sacrifice competitiveness.
Another key trend is that companies will embrace new business models, including energy-as-a-service, to achieve savings, reliability and efficiency goals using third parties. With these models, companies will receive one bill in exchange for an agreed upon level of service across their stakeholder departments. All maintenance is then handled under a service level agreement that is either pay-for-service or similar to a performance contract whereby costs are offset by energy savings.
Finally, the Internet of Things (IoT) will usher in unprecedented interconnectivity to everything from the power plant to the plug. And it is not only the number of connected devices that will increase, but also the granularity of the data they produce. In the very near future, many more energy and sustainability teams will be able to curtail loads to avoid costly peaks, make better purchasing and use decisions in response to real-time grid signals, and improve efficiency by controlling consumption in response to changes in weather, occupancy and production schedules.
About John Hoekstra
As vice president of sustainability and cleantech services at Schneider Electric, John Hoekstra leads companies through the processes of strategic planning, greenhouse gas emissions reporting, renewable procurement, carbon position management and other sustainability related services. Hoekstra has been with Schneider Electric since 2005, during which time he has worked with clients around the world, including those with exposure on the European Union's carbon trading system.
Before joining Schneider Electric, Hoekstra was an environmental engineering consultant serving a variety of Fortune 500 companies including those in the chemical, automotive, packaging and food and beverage industries. In addition to consulting, he has experience in the environmental affairs and corporate governance departments at Dell Computer Corporation and Brown-Forman Corporation.
Hoekstra earned a B.S. Chemical Engineering from the University of Louisville and is a registered Professional Engineer.
The content & opinions in this article are the author's and do not necessarily represent the views of AltEnergyMag
---
Comments (0)
This post does not have any comments. Be the first to leave a comment below.
---
Post A Comment
You must be logged in before you can post a comment. Login now.
Featured Product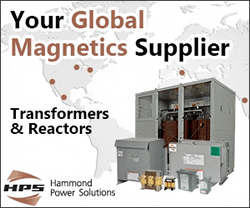 HPS is the largest manufacturer of dry-type transformers in North America. We engineer and manufacture a wide range of standard and custom transformers that are exported globally in electrical equipment and systems. We support solid industries such as oil and gas, mining, steel, waste and water treatment, and wind power generation. HPS leads the industry in these markets through its technical design strength, breadth of product, and manufacturing capabilities, making HPS a stronger company both fundamentally and financially.