In states like California and Massachusetts at least half of all Target stores there will have solar panels by the end of 2017. In California, 150 of our 287 stores will have solar installations by the end of the year.
Target's Latest Solar Installations
John Leisen | Target Properties
Why is solar and sustainable energy important to Target?
Sustainability is something Target works to incorporate throughout our business practices every day. For years, we've focused on designing and operating energy-efficient and sustainable buildings, and finding new ways to meet some of our energy needs with solar power. In fact, by 2020, Target has a goal to install solar panels on 500 of our stores and distribution centers.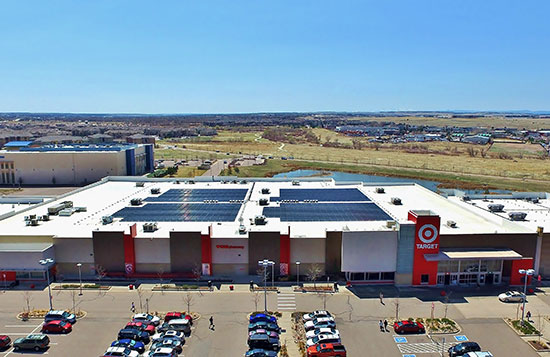 We also strive to lead the way in sustainable operations and know that meeting our energy needs through solar is good for both the community and environment. With each roof-top solar panel we install, Target reduces energy costs by 15 to 40 percent of a property's energy needs. Target also invests in wind energy and partners with utilities to make more renewable energy available to our stores and the communities we serve.
In recognition of our commitment to sustainable operations, the Environmental Protection Agency named Target an ENERGY STAR® Partner of the Year for the second year in a row. Currently 80 percent of our buildings are ENERGY STAR® certified—more than any other retailer. That means all of those buildings (1,500) meet strict performance standards for energy use.
When and where did Target first focus on solar efforts and how has Target expanded its solar focus since then?
In October 2015, to demonstrate our support for action on climate change, Target became one of 154 companies to sign the American Business Act on Climate Pledge. To support the pledge we established eight sustainability commitments, including solar energy.
At the time of this commitment, Target was using solar power in more than 100 stores in eight states ranging from California to North Carolina. We have now expanded to 350 stores in 20 states and plan to continue expanding. Last year, we added more than 75 megawatts (MW) of solar across our U.S. stores in partnership with our solar vendors –this is equivalent to powering over 12,400 homes in America, and more than any other U.S. retailer.
What are the latest solar projects you're most excited to be working on and why?
In states like California and Massachusetts at least half of all Target stores there will have solar panels by the end of 2017. In California, 150 of our 287 stores will have solar installations by the end of the year. We've come a long way since our first installation in the state back in 2003, and are still looking at new opportunities for solar installations in the state. Increasingly, we're looking at pairing solar with energy storage systems in California that can help relieve utility grid congestion, benefitting all customers. In Massachusetts, 22 of our 42 stores will have solar, and as the Massachusetts energy policy continues to evolve, we are evaluating how our stores with existing solar and those currently without can help the state meet its clean energy and energy storage goals.
What makes Denver, Arizona and Hawaii different from Target's other solar projects?
Each of our solar installations are customized to the specific store's capabilities, needs and opportunities, making them all unique from one another.
For the first time, this year we've added solar panels in Colorado at five stores in the Denver area, in partnership with SunPower. The energy produced from these panels equates to one-third of each store's energy use, reducing the store's energy grid need. In total, the systems across our Denver stores will produce more than 3,800 megawatt hours (MWh) of energy annually, helping us to contribute to the state's clean energy goals.
In April, our Kona, Hawaii, store received its first combined solar power and solar powered battery storage installation. The energy produced from this 910 kilowatt (kW) solar system and 250 kW battery provides over 40 percent of the store's energy, reducing the dependence on the energy grid to run everyday operations. This system captures energy throughout the day and can also help to power the store's lights, refrigeration and other essential needs later in the evening. We plan to use this solar-and-storage combo as a case study for the integration of clean, renewable power for other Target stores across the U.S. In addition to the Kona store, we are in the process of adding solar rooftop panels to five other locations in the state to provide each with solar power.
For our latest Arizona installation, Target partnered with SoCore to install the company's largest completed solar rooftop array to date at our distribution center in Phoenix. The energy produced from this array equates to just under 3,000 MWh of energy each year and will provide 30 percent of the distribution center's energy use. This array is one of 13 completed rooftop solar projects in Arizona, totaling seven MWs, with plans to install over 10 more systems on local Arizona store rooftops this year. One of the most unique aspects of this installation is that the panel is in the shape of Target's iconic bullseye logo, allowing travelers flying in and out of Phoenix Sky Harbor International Airport from the west to catch a glimpse.
What benefits will the panels provide to stores and the community?
For each installation, we tailor specifically to the store and state's energy needs and goals. The 350 stores currently using solar power will offset approximately one-third of each building's energy needs, reducing demands on the local power grids. This reduction will lower the costs of running power through stores and will help contribute to each state's specific energy goals.
How does the move to solar effect the bottom line at Target with regards to energy cost savings over the long term?
On average, each store that has a solar installation uses about one third less energy, which can be directly translated into cost savings for the store. The solar systems also help Target reduce our exposure to energy cost volatility and help us reach our clean energy and climate goals.
You mentioned your solar goal is 500 stores by 2020, where is Target at now?
Yes, in 2015 we set a goal to install solar panels in a total of 500 stores and distribution centers by 2020. As of May 2016, we're excited to share we have completed over 350 of those installations.
Is Target pursuing other alternative energy projects now or planned for the near future?
In addition to our solar installations, Target is expanding the use of sustainable energy for our buildings with our recent investments in wind energy partnerships. In 2016, Target kicked off our first wind power partnership with Starwood Energy Group's 211 MW Stephens Ranch Wind Project. We have purchased a portion of the energy produced from the project to offset 100 percent of the energy used at 60 of our Target stores throughout Texas. The first phase of the Stephens Ranch project, as a whole, is estimated to prevent approximately 550,000 metric tons of greenhouse gas emissions per year. That's about the same amount that 115,000 cars produce in a year!
Target continues to explore new opportunities to reduce our carbon footprint through sustainable energy initiatives. We look forward to working with our energy partners and neighbors to meet the sustainability goals of the communities we serve and continue to be the leader in corporate sustainability.
The content & opinions in this article are the author's and do not necessarily represent the views of AltEnergyMag
---
Comments (0)
This post does not have any comments. Be the first to leave a comment below.
---
Post A Comment
You must be logged in before you can post a comment. Login now.
Featured Product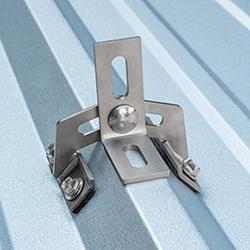 Error-Proof Compression: The QB2 doesn't leave any room for user error when it comes to Microflashing® compression. Once the Dual Drive Shoulder Screw is secured, the Microflashing® is compressed. Only 3 Components: The QB2 is comprised of Microflashing®, an L-foot and a Dual Drive Shoulder Screw. No more Nuts needed to tighten and secure the L-foot! Not only does this simplify the installation process, it also cuts down the installation time.