Though there is a perception that maintenance costs money and a solar system should run on its own, preventative maintenance can increase your ROI by 25% and reduce your cost significantly.
What did You Miss When You Bought Your Solar System? How to Assure You Save For Your Systems Life Time
Wayne Williford, VP - Operations and Maintenance, Stellar Energy & Jonathan Doochin, CEO, Soligent/Stellar Energy | Stellar Energy
The commercial solar industry has seen tremendous growth in the past decade. The need for professional and experienced operations and maintenance service providers has grown right along with it. Initially, commercial solar owners and managers were not as concerned with availability and getting the system rapidly up and running when it goes down. But this has changed.
Though there is a perception that maintenance costs money and a solar system should run on its own, preventative maintenance can increase your ROI by 25% and reduce your cost significantly. Preventative maintenance is like putting oil in your car. Without it, your solar system produces a fraction of the power it should produce; when you learn of the issue, you can't get those extra watts and their associated dollars back. There is a perception that paying for scheduled maintenance is an extra cost that doesn't pay back, but short of it, systems often underperform soon after commissioning onward, costing solar owners much of what they had hoped to save.
The largest hidden cost isn't failure in the early years, it is failed power production expectations. Customers plan, forecast, and budget based on the expected power output that is estimated during design and construction. A solar project owner's profits can be seriously affected by an underperforming project that needs large amounts of time and materials. For the solar developer, this could mean reputational and financial damage.
"Get it, set it, and forget it" isn't a solution. Buyers can end up with a "Get it, forget to set it, and regret it." The hard truth is solar equipment is comprised of manufactured articles, raw-earth materials mixed and manipulated in a production facility to become a pre-engineered element. Therefore, any component of the system has potential for failure, and every component left uncared for will deteriorate and fail over time.
The key to proper maintenance is planning when, and how much service should be done, so the original value and functionality is maintained without incurring more than "reasonable cost". Finding and contracting with a reputable and experienced solar O&M service provider can be time consuming and challenging. Knowing how much service to contract for and at what price can be a difficult process to work through unless you find an experienced and qualified service partner.
What type of maintenance do you have? Preventative or reactive maintenance? It's important to remember that not all sites are designed or constructed the same nor are they located in common environments. For example, one of the most important and commonly missed preventative maintenance services is inverter filter cleaning. Dirty inverter filters reduce the inverter's efficiency and can ultimately suffocate the inverter. Ground faults like failed grounding lugs, conductor insulation failure, pinched or loose conductors, or conduit exposure can all cause significant energy loss and downtime. Loose or missing fasteners, improperly installed hardware and racking corrosion can lead to module, system and/or property damage. Module failure caught early can be fixed or replaced before you lose your energy production ROI. And, we have yet to even touch on panel cleaning which can increase your energy output by 25%. This is just the tip of the iceberg.
But much of the energy loss goes unnoticed for years. That is why the focus on performance monitoring (DAS) is a solar array's lifeline. Email notifications alert a monitoring specialist to irregularities on-site, such as low production or a down inverter, issues that could otherwise go days or weeks without being noticed. Data collected from monitoring also allows easy performance reporting to stakeholders and rebate programs.
If there is one thing to note, a well scoped and scheduled maintenance plan is essential to the customer's solar ROI. This maintenance plan should be customized to the system that it is being used to maintain and not a generic form that is good for every system in the "fleet."
Reactionary services on a PV system tend to be costly, have higher downtime, and significantly higher equipment replacement costs. Regular maintenance could mean the difference between a 6 year high production lifespan or a 20 year-plus, high production lifespan, and ultimately a significantly altered corresponding ROI. It is the difference between a system that pays you versus a system you pay for.
About Stellar Energy
Stellar Energy is a large-scale full service solar O&M service provider with complete project development, design, engineering, procurement, and construction (EPC) management capabilities. The company also provides professional operations and maintenance services for solar power plants as well as small business and residences. With installations spanning government, education, commercial, and municipal customers. For information about professional O&M services for your PV system, contact Stellar Energy by phone at (707) 347- 9938 or online at www.stellarenergy.com or wayne.williford@stellarenergy.com
The content & opinions in this article are the author's and do not necessarily represent the views of AltEnergyMag
---
Comments (0)
This post does not have any comments. Be the first to leave a comment below.
---
Post A Comment
You must be logged in before you can post a comment. Login now.
Featured Product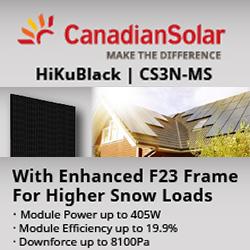 Aesthetic appearance for residential systems: With black backsheet & black frame, Power range 380 ~ 405 W, Low power loss in cell connection. Enhanced reliability: · Low temperature coefficient (Pmax): -0.34 % / °C, LID LeTID less than 2.0%, Lower hot spot temperature, Better shading tolerance.