Wind energy is now the cheapest form of new generation in many parts of the country making it a good investment for many reasons.
The Status of Wind Energy in the USA
Rachel Fakhry | Natural Resources Defense Council
What would you say are wind energy's biggest recent achievements?
In 2016, wind energy surpassed hydroelectric power to become the largest source of renewable capacity for the first time. With more than 82,000 MW of installed capacity, we now have enough wind energy to power nearly 25 million homes, and this number is expected to grow in the next few years.
Wind energy is now also a massive driver of jobs and economic growth for the U.S. economy. In 2016, jobs in the wind industry grew nine times faster than jobs in the overall economy, and the industry now employs a record 102,500 Americans. That's more than a 30 percent increase from 2015.
And we can't overlook a major achievement located beyond our shores, with the nation's first offshore wind project – the 30 MW Block Island project- being commissioned in 2016. This project marks a major milestone in offshore wind energy, and in the coming years, momentum to push the industry further will only grow.
What is making wind energy so competitive and attractive to investors?
Wind energy is now the cheapest form of new generation in many parts of the country making it a good investment for many reasons.
The federal production tSax credit (PTC) is a core driver for wind investments because it provides long-term pricing certainty for investors and developers- i.e. wind projects that receive the tax credits (i.e. built prior to 2020) can provide very cheap power contracts over their lifetime. And in 2016, power companies all across the country capitalized on the PTC by making strong, smart investments in wind.
Technological advancements in turbine technology is another major factor; larger rotor diameters and higher hub heights are improving the performance of wind projects. For example, the average capacity factor of projects completed in 2014 and 2015 was 43 percent, compared to an average of 32 percent for projects built between 2004 and 2011.
At the same time, turbine costs are plummeting – they decreased by 66 percent between 2008 and 2016, and the costs to install a wind project fell by roughly 6 percent between 2015 and 2016 alone.
All of these factors lead to declining wind power prices, which averaged a low $20 per MWh in 2016. In fact, wind power has become so cost-effective that in some regions it's now cheaper to build a new wind project than it is to run an existing fossil plant. For instance, analysis in Colorado found that it would be cost-effective for Xcel Energy to replace 6,000 GWh of older coal generation with 2,000 MW of new wind.
You mentioned earlier that wind energy is expected to grow for the next few years. Could you explain why that is?
The PTC will remain a major driver of growth, and both investors and developers will keep looking to capitalize on it through 2020. At the same time, wind prices are expected to remain very cheap, and wind is now one of the smartest investments utilities can make in their portfolios. In fact, in the last two years alone, utility resource plans included more than 14 GW of wind additions. That's nearly as much wind capacity as there currently is across the Midwest ISO. The cost-effectiveness of wind can simply no longer be ignored, even by the most historically coal-reliant utilities. Consider what Michael Mohen, president of Ameren Missouri, said when his company -- the second largest coal-dependent utility in the country -- announced its plan to dramatically increase its wind investments: "Because of significant advancement in technology, harnessing wind is less expensive than other forms of new generation."
Corporate America is also playing a big role in accelerating the growth of clean energy. Large corporations like Facebook, Google and Amazon are demanding clean energy to power their operations and nearly half of Fortune 500 companies now have clean energy targets on the books. And these companies are increasingly locating their facilities based on access to wind and solar energy. This is pushing utilities across the country to invest in renewable energy to attract or retain those customers.
And I think that the amount of wind capacity in the transmission queues at the end of 2016 is a testament to all of that. At the end of 2016, there were more than 140 GW of wind capacity in the queues, which is more than one-and-a-half-times the total installed wind capacity in the U.S. Although not all of these projects will get built, this is a good indicator of the attractiveness of wind projects to investors and developers.
You have talked about wind's promising near-term growth. What is the growth outlook for the longer term?
This depends on a few factors. On the one hand, the continued technological advancements from public and private investments are enhancing the prospects of wind's continued growth. At the same time, as I mentioned earlier, corporate demand for clean energy is burgeoning, and a large number of cities have now made impressive renewable energy pledges under the umbrella of the Paris Climate Agreement. One can also point to the U.S. Climate Alliance and the 14 states that are pledging to meet their Paris goals. This growing public demand and support for clean energy is showing no signs of stopping.
On the other hand, we need supportive federal policy to ensure wind's sustained growth. The best way to ensure that we keep investing in this low-cost, clean resource is to have a strong carbon policy in place that ensures that the price signals in the power sector reflect the full climate benefits of clean energy.
About Rachel Fakhry
Rachel Fakhry is a Climate and Energy Policy Analyst in the Washington, DC, office of the Natural Resources Defense Council. She is involved with multiple NRDC modeling efforts and focuses on policy efforts that enable the increased deployment of clean energy in NRDC's midwestern focal states. Prior to her current role, Fakhry was a Schneider Fellow in NRDC's Washington, D.C., office, where she focused on state Clean Power Plan compliance, supporting strong federal energy efficiency policies, and defending the U.S. Department of Energy's clean energy budget. She holds a bachelor's degree in Civil and Environmental Engineering from the American University of Beirut and a Master's in Management Science and Engineering from Stanford University.
The content & opinions in this article are the author's and do not necessarily represent the views of AltEnergyMag
---
Comments (0)
This post does not have any comments. Be the first to leave a comment below.
---
Post A Comment
You must be logged in before you can post a comment. Login now.
Featured Product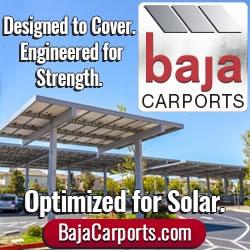 Baja Carports offers an extensive solar support system product line customized to customers' site specifications by in-house engineers, meeting their parking lot coverage, plus optimal PV production needs. Baja's Full Cantilever Tee is often paired with its Semi and Full Cantilever carports to meet live/loads up to 60psf and wind speeds to 160mph. All Baja products are pre-fabricated, bolted connections, pre-galvanized structural steel for fast on-site installation and project aesthetic requirements."