Some analysts have predicted that renewables will make up the greatest part of the nations energy portfolio in spite of any policies that are implemented.
Solar Energy Industry Sector Gets Slammed
Mary Scott Nabers | Strategic Partnerships Inc.
Projections of a possible record year for electric power production from renewable energy sources have been tempered significantly by actions of the Trump administration. The announcement that the U.S. government would impose a 30 percent tariff on imported solar equipment such as photovoltaic cells and modules created shudders throughout the industry. And the shockwaves were hardest felt by the very segment of the industry that in 2017 pushed renewables toward a new record for 2018 – solar energy.
Now come reports that the president's proposed 2019 budget, due out this month, will seek to slash clean energy research funds by 72 percent. If Congress should approve that, it would be even more impactful.
The U.S. has made giant strides in renewable energy and clean air. Many historic firsts were reported over the last two years. Solar power has been so successful in reducing costs for school districts, cities, counties and hospitals – not to mention the benefits of cleaner air - that plans for more solar installations are in planning or installation stages throughout the country.
As the initial shock of the solar tariff news died down, numerous industry experts and analysts said that the tariff, which starts at 30 percent, with a 5 percent reduction annually for four years, will not be a death knell for increased solar energy production in the U.S. But, it will slow down the progress that was being made with the solar energy sector.
If the goal of the tariff is to help American manufacturers gain a bigger share of manufacturing of solar equipment, comments from the leadership of the Solar Energy Industries Association (SEIA) suggest a big error occurred by whoever was doing the research. According to SEIA's president, with the tariff in place, American manufacturers will not be able to meet the demand for cells and modules in this booming segment of the renewable energy market. But that's not all. The bigger problem, she notes, is that tens of thousands of jobs in solar installation may be lost. The majority of all solar energy jobs in the U.S. are related to installation, with only 14 percent in manufacturing.
The tariff's greatest impact will be felt in year one when the tariff is at 30 percent. But industry analysts say that with the annual decline, the impact will lessen each year. Some major energy companies already have indicated they will continue to invest in solar. The cost of producing solar energy will, of course, increase, but how that will affect the end user is uncertain.
Some areas of the country will be harder hit by the tariffs than others. The impact will be greater in states like Florida, Georgia and South Carolina in the South, where solar markets were just emerging. Years of declining costs of producing solar energy translated into growing investments in solar energy.
But in areas such as Texas, where the solar industry has been on a steady upsurge, industry leaders see the tariff as a "setback but not a "killer." In the third quarter of last year, Texas showed its continuing commitment to solar energy by adding enough solar capacity to power 44,000 homes.
Interest in solar and other renewables is high throughout the country. New Jersey legislators are not giving up on renewables because of a tariff. The state's newly minted energy bill calls for support for increased solar generation, solar energy credits and allowing neighborhoods to invest in solar energy projects.
In Nashville, a community solar project is being built through a public-private partnership. A solar array called Music City Solar is to be installed on a former landfill and the array is expected to meet the energy needs of more than 200 homes each year.
Just last week in California, Cal Poly University opened a new 18.5-acre solar farm on campus. The project, a public-private partnership, will help the university reach its goal of being net-zero in 2050. The 16,000 solar panels will produce enough energy to power more than 1,000 homes and enough energy to supply one-quarter of the university's total power needs each year.
Although tariffs may in the short-term slow the rapid pace at which the solar arm of renewable energy is growing and expanding, the overall industry remains strong. Some analysts have predicted that renewables will make up the greatest part of the nation's energy portfolio in spite of any policies that are implemented.
That's reassuring!
About Mary Scott Nabers
Mary Scott Nabers is president and CEO of Strategic Partnerships Inc., a business development company specializing in government contracting and procurement consulting throughout the U.S.
The content & opinions in this article are the author's and do not necessarily represent the views of AltEnergyMag
---
Comments (0)
This post does not have any comments. Be the first to leave a comment below.
---
Post A Comment
You must be logged in before you can post a comment. Login now.
Featured Product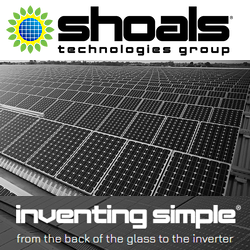 Inventing Simple® isn't just a slogan to us, it's a way of life. Using simple plug-and-play ideology, we revolutionized solar installations in 2003 with our Interconnect System™. Our harnessing system is now the gold standard EPC's use around the world. By using simple ideas, we are making solar energy a more affordable and clean power source for future generations.