We should all keep in mind that focusing on saving energy, using renewable energy sources, reducing waste and creating a healthier environment is crucial for a better and healthier future!
Urban Innovations That Are Making Cities Better
Mattea Jacobs
Populations worldwide are moving to the cities, towards more urban and developed areas, setting significant challenges to urban infrastructure planning, to architects and engineers.
Having most of the population concentrated in the cities opens up many issues such as lack of space, lack of proper housing, problems with transportation, congestions, air pollution, water pollution, increased waste production and sustainable energy sources use. Urban planners, architects, and engineers are searching for solutions to these problems to improve the cities and their infrastructure.
Here are some great innovations that can improve the city infrastructure.
Green Urban Housing
When it comes to the urban environment and the cities, the most prominent issue is the lack of green spaces, and therefore lower quality of air, i.e., pollution. There are high amounts of toxic gas emissions, whether from cars, buses, trucks and similar vehicles on the roads or from different plants and industrial areas in the surroundings. Green spaces, trees, and plants help to clean the air of such gases by producing fresh and clean oxygen.
Another common problem of urban areas is the urban heat island effect. In places with a lot of buildings and little vegetation, the buildings made of concrete and its walls and roofs heat up and can cause an increase in the overall temperature of that area. Higher temperatures involve increased energy use for cooling, as well as higher levels of smog.
A solution for many, if not all, of these problems could be green roofs. They improve the overall air quality, decrease the use of energy, and provide the city with a solution for more green spaces and vegetation. The idea that could benefit the city infrastructure and make urban housing green is to start incorporating green roofs on every new object and to continuously upgrade the old ones.
A green roof is a sustainable one and prevents many common problems caused by faulty roofs, such as leakage, water runoff, and moisture. It is covered with greenery and requires very low maintenance. It also protects from UV rays and regulates the temperature, preventing the building from overheating or cooling too much. This, in turn, means that green roofs also function as insulation, so there is far less need for air conditioning in summer and heating in winter.
Waste Solutions
Automated vacuum collection systems, or AVACs, will make garbage trucks obsolete in the future, hopefully, sooner rather than later. There are cities around the world, in countries such as Norway, France, Singapore, China, Spain, etc. that have already incorporated this kind of waste management. The number is not big but it indicates the inclination towards new and improved systems and more efficient solutions.
The system functions in the way that the waste from trash cans or containers is removed and transported through a system of pneumatic tubes underground to a collection station. There are sensors under the portholes which indicate when to empty the trash cans. These same sensors also control the kind of waste which goes through the pipes, i.e., make sure that only one type of waste goes through them at a time. An automated software then directs the waste to its designated place, depending on whether it is intended for recycling, composting or the landfill.
This system is efficient in several ways. It saves the taxpayers' money by putting an end to garbage collection, and at the same time, reduces the air pollution since there are no more fuel-powered trucks emitting gases on the streets.
The city of Bergen in Norway has recently won the National Energy Globe Award 2017 for installing this type of waste system, an Envac Automated Waste Collection System, in its city center. This award celebrates innovative steps forward when it comes to sustainability and green living, and promotes best urban practices and solutions for the betterment of our environment, of which this system is obviously a part of.
The first system of this kind was installed in Sweden in the 1960s, and there are nearly one thousand of them in the world now, in more than 30 countries. Furthermore, the first system of this kind to be installed in a hospital was installed just recently, in August of this year, in São Paulo, Brazil.
There are several Envac Automated Waste Collection Systems in the USA, and the most prominent ones are the ones in Disney World in Orlando, Florida, and on Roosevelt Island, a residential area in New York City.
Some major cities in Europe where this waste system was implemented in are Copenhagen, the capital of Denmark, Stockholm, the capital of Sweden, London and Barcelona, and many more projects are planned. Bergen, Norway's second biggest city is set to have the world's largest automated vacuum waste collection system, and the two of them are planned for Finland – one in Helsinki and one in the city of Tampere.
Final Thoughts
Luckily, the age we live in is one of the most fertile and productive when it comes to technological advancements. They permeate nearly all aspects of human life and improve its quality.
Many new developments have helped and inspired urban planners to create more efficient cities and support green living. We should all keep in mind that focusing on saving energy, using renewable energy sources, reducing waste and creating a healthier environment is crucial for a better and healthier future!
About Mattea Jacobs
Mattea Jacobs is a freelance writer who mostly writes about both interior and exterior home design, and environmentally-friendly ways to improve homes. She is also a green activist and a mother of two beautiful sons.
The content & opinions in this article are the author's and do not necessarily represent the views of AltEnergyMag
---
Comments (0)
This post does not have any comments. Be the first to leave a comment below.
---
Post A Comment
You must be logged in before you can post a comment. Login now.
Featured Product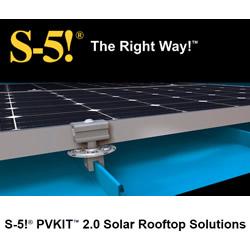 The concept of combining PV arrays with standing seam metal roofing is growing-for good reasons. Metal roofs have a life expectancy of more than 40 years. Shouldn't the mounting system last as long? With S-5! zero-penetration attachment technology and PVKIT 2.0, the solarized metal roof is the most sustainable system available -and without compromising roof warranties! PVKIT 2.0 is the also the best solution for attaching PV modules directly to any exposed fastener metal roof.