Even if you don't totally convert to renewable energy, using it to offset the cost of your heating and cooling can save you a lot of money in the long run.
How Heating your Home with Renewable Energy Works
Emily Folk | Conservation Folks
Heating and cooling your home is one of our biggest energy expenditures. According to the department of energy, simply heating and cooling your home accounts for more than half of your energy costs. Even if you don't totally convert to renewable energy, using it to offset the cost of your heating and cooling can save you a lot of money in the long run. How does heating your home with renewable energy work?
Solar Heating
Solar power can be used to generate electricity to power your entire home but if you don't live in an area that gets a lot of usable sun, you can still use it to heat your home. For a long time, that just meant painting your home in dark colors or using dark shingles — since dark colors absorb heat and can transfer that heat into the house.
For nearly 20 years, that involved putting a solar panel on your roof and using it to heat water that could be circulated through your house beneath the floor or though radiators. While this was functional, it didn't always work — especially in areas where the solar panels would be covered in snow during the winter months.
These solar panels can even be used to heat the hot water that comes through your taps, which can reduce your home's energy costs even further.
Geothermal Heating
The ground we walk on absorbs more than half of the sun's solar energy every single day. Even if you don't live in an active geothermal area, a geothermal heating and cooling system can utilize that absorbed solar energy to heat your home or heat the water in your home.
The heat that is absorbed in the ground can be captured with a series of buried pipes. The ground is warmer than the surface throughout the majority of the year. It uses a loop system similar to the one used in solar heating, but instead of being attached to the solar panel, the pipes are buried in your yard to capture the heat.
This system, depending on where you live, can run at efficiency levels of 400 to 600 percent and a system in good repair can lower your home's heating and cooling costs by up to 80 percent.
This type of geothermal heat can even be tied into an interior heat pump. Heat pumps tend to be less efficient than other forms of home heating, but ground source heat pumps can be a great option for home heating and cooling that are a lot more efficient than those that run on electricity or fuel oil.
Wind Energy
Depending on where your home is located, wind energy can also be an option for heating or cooling your home, especially since we are no longer restricted to standard wind turbines anymore. While they are useful for large applications, these enormous turbines are both loud and unsightly.
Vertical axis wind turbines are smaller, don't take up as much space either vertically or horizontally, but still generate power. If you live in an area where wind power is an option, installing a vertical axis wind turbine can help to offset your home's energy costs. If you're handy, you can even design and build your own wind turbine so that it matches your home's existing décor.
Home energy costs are going up every single year, so anything that we can do to help reduce those costs is something that we should strive for. Green energy sources also reduce our home's carbon footprint, which can help lessen the long-term impact of global warming. If you have the option to upgrade your home's heating and cooling systems to a greener energy source, it's a win-win choice all around.
The content & opinions in this article are the author's and do not necessarily represent the views of AltEnergyMag
Emily Folk - Contributing Author
Emily is an environmental writer, covering topics in renewable energy and sustainability. She is also the editor of Conservation Folks.
Other Articles
Major shifts — including new technology, rising oil prices and a changing climate — are encouraging investors to look to new energy sources. In 2020, power consumption and the industry as a whole is expected to grow significantly.
As the demand for renewable energy continues to grow, so does the need for suitable locations and project sites. As it turns out, there are ways to use many Superfund sites and similar properties to this end.
Solar PV systems spend all their time outside, so it's natural for them to encounter the occasional animal droppings or falling acorns. You may wonder how to keep them intact when more prominent issues like thunderstorms and hurricanes roll around, though.
---
Comments (0)
This post does not have any comments. Be the first to leave a comment below.
---
Post A Comment
You must be logged in before you can post a comment. Login now.
Featured Product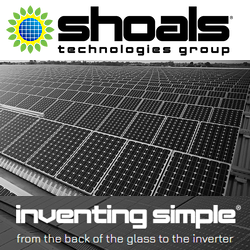 Inventing Simple® isn't just a slogan to us, it's a way of life. Using simple plug-and-play ideology, we revolutionized solar installations in 2003 with our Interconnect System™. Our harnessing system is now the gold standard EPC's use around the world. By using simple ideas, we are making solar energy a more affordable and clean power source for future generations.