Automating your processes is important for a variety of reasons and can be done with very little effort using an asset management software like BluePoint. Here are 6 benefits to automating your asset management workflows with software:
6 Benefits of Automating Your Renewable Energy Asset Management
Julia Maciunas | 3megawatt
If you haven't already automated your asset management process, you may be wasting incredible amounts of administrative time. Time costs business money too which means you're spending more money than you need to on processes that aren't automated. Automating your processes is important for a variety of reasons and can be done with very little effort using an asset management software like BluePoint. Here are 6 benefits to automating your asset management workflows with software:
1. Data accuracy
A manual process is not a guarantee for the next 5 years, or even the next year depending on your portfolio growth. When handling data manually there might appear to be some errors from time to time: miscalculations, commas in wrong places etc, but if you import your data property through an online solution which has automated processes, your data will always be accurate and up-to-date. In this case the data will be exactly the same even though you're transferring it between two different systems. Instead of seeking where some possible error is skulking in your spreadsheets, you have time to analyze your data and make decisions right away. This is especially true when syncing your data to a system that also has a reporting and monitoring feature because the entire process is completely automated.
2. Efficiency
Automation enhances the speed of your business and frees up more time for your team. If you can automate a lengthy process like Solar PPA invoicing and reduce error at the same time, you're saving a lot of time and effort. Just ask your accounting team: 47% of accounts payable professionals consider manual processes their biggest challenge. This can easily be done with a solar software like BluePoint. In this everlasting race of improvement and development, speed is important. For your business's own good, it's crucial to have real time and understandable data right at your fingertips.
3. Data access
By automating processes, data becomes more central and accessible. No need for digging in an inbox or tracking down a key contract. All the data can be accessible in a solar and wind software for those who want it to be accessed by, from property managers to asset managers, accounts and any stakeholder you want to give access to key information.
4. Data visualization and KPI's
Data visualization is something you can do with software like excel. You can create graphs using your data from your data, usually the difference is that in automated wind and solar software visualization is built-in so you don't have to create the graphs yourself. Data visualization helps you to follow essential KPI's and the easier the following and analyzing process is, the better the results are. It is possible for software to create visuals for your data automatically and show essential KPIs specific to your needs, eg. for vacancy percent, yield, maturity and NOI.
5. Ensuring that standards are kept
When you integrate your renewable energy asset management software such as BluePoint to your current systems like monitoring, CMMS, and Invoicing software all data is being transferred to the software through automatic data interchange. All of your performance data and other important business data and processes are all being managed and updated to the same place. No manual entry means less human error and logging in to fewer applications to get the job done. You can set standards and rules for your asset management process.
6. Generate cost savings
A solar and wind software like BluePoint save you time and resources. A key study from KeyMarket's 2020 In(Sight) Report, shows that nearly 6 weeks of employee time and 9 weeks of leadership time can be saved every year with automation. With automation you will be able to schedule repeating compliance reminders and tasks so that your workflow is seamless and streamlined. You won't have to pay fees for missing important compliance and you can start managing your assets preventatively. If you have a new asset manager in charge they will know exactly how to get started and nothing will fall through the cracks.
The content & opinions in this article are the author's and do not necessarily represent the views of AltEnergyMag
---
Comments (0)
This post does not have any comments. Be the first to leave a comment below.
---
Post A Comment
You must be logged in before you can post a comment. Login now.
Featured Product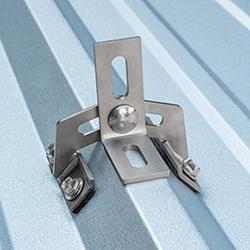 They have been changing the game for 10 years with their original Top Mount line for Asphalt Shingle roofs, and by now supplying one of the widest ranges of solar mounts in North America. From their patented products, to the custom production services they offer, QuickBOLT has been working with solar installers for nearly a decade to make solar installations easier than ever before.