This is the age of fast automobiles and autonomous vehicles. And the depleting natural reservoirs is a pressing issue. Thus, investors are placing bets on hydrogen to be next-generation fuel.
Innovations And Increased R&D Opens New Opportunities For Hydrogen Fuel Cell Vehicles
Swamini Kulkarni | Allied Market Research
This is the age of fast automobiles and autonomous vehicles. And the depleting natural reservoirs is a pressing issue. Thus, investors are placing bets on hydrogen to be next-generation fuel.
Hydrogen fuel cell vehicles produce electricity while the car is running and unlike diesel- and gasoline-powered vehicles, these vehicles do not emit greenhouse gases. Owing to such advantages, the demand for hydrogen fuel cell vehicles has skyrocketed. According to Allied Market Research, the global hydrogen fuel cell vehicle market is anticipated to reach $12.13 billion by 2023, growing at a colossal CAGR of 72.4% from 2017 to 2023.
The invention of green hydrogen was absolute bliss for the energy and power industry. Powering fuel-cell vehicles is one of the most anticipated applications of green hydrogen. Moreover, the fuel-cell vehicles have gained traction over the last few years and in the coming years, these vehicles are bound to become a norm.
Keeping the increasing demand for fuel-cell vehicles in mind, the two major market players Ballard Power Systems and Deloitte China together published a joint white paper, titled, "Fueling the Future of Mobility: Hydrogen and fuel cell solutions for transportation". The white paper is the first volume in the coming series that addresses how hydrogen can be the future of mobility.
Increased R&D to invent new ways to produce hydrogen fuel
Thanks to rapid technological advancements, in the coming years, automobiles would witness drastic changes in terms of fuel. The demand for hydrogen fuel is ever-increasing and researchers have been doing everything in their power to develop ultra-efficient hydrogen fuel for the vehicles.
Recently, a paper was published in Nature regarding the success of researchers at the Technion-Israel Institute for Technology in developing safe, clean, ultra-efficient, and inexpensive method to split water molecules into hydrogen and oxygen.
Although there are several ways to split the molecule, not every method is eco-friendly and certainly not inexpensive. Moreover, removing hydrogen from water is the only environmentally clean way to produce liquid hydrogen, which has piqued attention as it is proved as efficient as gasoline.
For now, hydrogen is produced using fossil fuels that give birth to greenhouse gases. Thus, an innovative and environment-friendly method was required. The team used their specialized E-TAC technology, which can split water 30% faster than the traditional method of electrolysis. Moreover, the process does not demand rare or expensive earth minerals, which can be manufactured at 50% less cost.
BMW to launch small series fuel cell drives
The pioneer in the automobile industry, BMW is expected to unveil the second-generation fuel cell technology with the helping hand of Toyota. Although the details of the project are not yet completely disclosed, it has made clear that the cost of the third-generation FC system would reduce by 2050.
The major hurdle for launching hydrogen fuel cell vehicle is its humongous cost. At present, a fuel cell drive train costs around ten times than the BEV system. Thus, the company plans to launch a cost-effective solution that boosts the adoption of hydrogen fuel cell vehicles.
Turning plastic into hydrogen fuel
The earth is swamped with plastic waste and it is getting larger. The reluctance to adopt a biodegradable alternative would turn our planet into an inhabitable globe. Unless we act on it.
Recently, scientists at Singapore's Nanyang Technological University (NTU) addressed the possibility of converting consumer plastic into a chemical that can generate electricity in the hydrogen fuel cell by exposing it to sunlight.
The team introduced a novel material, a photocatalyst that can harness light energy to support chemical reactions. The material called vanadium that possesses the potential to convert plastic waste into useful chemicals. Furthermore, the material is often found in steel and aluminum alloys, which are used in aircraft and automobiles. However, the scientists propose that it may play a vital role in plastic recycling.
According to the study, the addition of a vanadium-based catalyst to a solution comprising consumer plastic, heating at a higher temperature, and exposure to artificial sunlight could break down the major bonds of polymer in six days. The breaking of the plastic bands is the most vital, expensive process that consumes a lot of energy, making it environmentally harmful. However, the use of artificial sunlight may be the greener way to break bonds.
The bottom line is that hydrogen fuel cells are about to gain momentum and the increase in R&D to create a cost-effective solution would help people accept this new technology. Additionally, advancements in the research and infrastructure are expected to open new doors for the hydrogen fuel cell vehicle industry.
For more information visit: https://www.alliedmarketresearch.com/hydrogen-fuel-cell-vehicle-market
About Swamini Kulkarni
Swamini Kulkarni holds a bachelor's degree in Instrumentation and control engineering from Pune University, and works as a content writer. She is deeply fascinated by the impact of technology on human life, and loves to talk about science and mythology. When she is not glued to the computer, she loves to read, travel, and spend time thinking how she could read and travel more often.
The content & opinions in this article are the author's and do not necessarily represent the views of AltEnergyMag
---
Comments (0)
This post does not have any comments. Be the first to leave a comment below.
---
Post A Comment
You must be logged in before you can post a comment. Login now.
Featured Product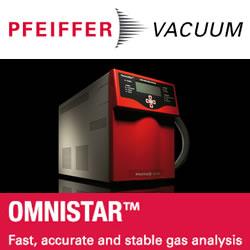 The Pfeiffer Vacuum OmniStar benchtop analysis system offers you a compact footprint, powerful software and Ethernet connectivity. It's the optimum solution for many real-time gas analysis applications. With the OmniStar, Pfeiffer Vacuum offers you a complete solution for gas analysis, in chemical processes, semiconductor industry, metallurgy, fermentation, catalysis, laser technology and environmental analysis. The turnkey OmniStar gas analysis system consists of heated, temperature-regulated gas inlet system, Quadrupole mass spectrometer, a dry diaphragm vacuum pump and HiPace turbopump. Unlike competing methods such as FTIR, OmniStar is suitable for qualitative and quantitative analysis of most gases.