Whether you're a long-time solar contractor or an HVAC or electrical contractor looking to get into solar, an effective strategy remains crucial for success.
4 Effective Tactics for a Successful C&I Solar Sales Strategy
Article from | Trina Solar
Commercial solar currently only accounts for just over 10 percent of its total addressable market, which means it has massive potential. But whether you're a long-time solar contractor or an HVAC or electrical contractor looking to get into solar, an effective strategy remains crucial for success.
So what goes into crafting the right strategy for selling commercial solar? Consider these four tactics:
1. Tailor proposals to match clients' needs
In most instances, no two commercial or industrial properties will be the same. Each building or parcel of land has its own size, shape and shading issues. At the same time, no two clients' energy needs will be the same either.
This means it's imperative to tailor each proposal based on the client's specific energy needs and space restrictions. While a pitch template is a good starting point, each individual project should require significant modification.
Tailoring the proposal requires having a thorough understanding of the company's lease structure and the owner-occupant relationship. These factors can be some of the biggest obstacles for a commercial solar project. The owner-occupant relationship can come in several forms, including owner-occupied buildings, single tenant buildings in a triple net lease (NNN) and multi-tenant buildings to name a few. Each variation will impact the solar project in a different way, so it's important to understand the real estate relationship.
2. Help identify financial options
While the customer is ultimately the party responsible for financing a commercial solar project, contractors can still assist in this area. Decision makers at companies seeking to install a solar asset aren't going to be familiar with the vast financing options available to them.
Power Purchase Agreements (PPAs) and leases are two of the most popular financing mechanisms, but other options are also available. However, these both involve third-party ownership of the system and some companies might want to purchase their systems outright.
There are also multiple types of debt financing, including secured loans, that companies can use.
It can be wise to inquire about the company's financing plans and help provide a variety of options to help move the project along. For example, a company that owns its property and has a high tax bill might be more likely to want tax equity deals included in project financing. Meanwhile, a company leasing space might prefer third-party ownership of the system.
Establishing a trusted financial partner to assist with this process can be a boon for helping customers find the financial options best suited for the project.
3. Incorporate available incentives
The right incentives can be the solution to many of the obstacles in selling commercial solar, such as capital constraints or the relationship between owners and tenants.
For instance, Commercial Property Assessed Clean Energy (C-PACE), is one such financial tool that can help. This is a form of debt financing available in many states where a loan is repaid through the site's annual property tax bills.
In addition, the Investment Tax Credit, which Congress recently extended, can further incentivize companies that aren't using a PPA or lease.
In states that allow it, net metering can be another important incentive to include in the sales strategy. This allows companies to earn money on energy overproduction they can sell back into the grid.
4. Deploy Smart C&I Solutions
A successful commercial solar sale often comes down to one factor: offering the best value and fastest return on investment (ROI) for end users. Using a smart C&I solution helps ensure the commercial project accomplishes this goal.
Trina Solar's C&I Solutions are all-in-one equipment and service bundles that make commercial installations easier, faster and more efficient for EPCs, developers and solar contractors. The C&I Solutions team designs adaptable systems to meet project-specific needs and specifications that can maximize power density with limited space. This provides more savings on overall costs and greater optimization of the system or project.
The content & opinions in this article are the author's and do not necessarily represent the views of AltEnergyMag
---
Comments (1)
Nice article! Finding a financial partner can be tricky, as many project financiers want to own the projects. It is critical to start the financial assessment of the opportunity if going the PPA route early. Initial modeling is key to ascertaining whether investors will ultimately be interested in investing the project. Target unlevered asset yields range by investors from 8% to as much as 15% or 20%. It is critical that the financial partners have "dedicated" funding, can move quickly, and understands your market specifically. Ask the hard questions early and save yourself time.
Post A Comment
You must be logged in before you can post a comment. Login now.
Featured Product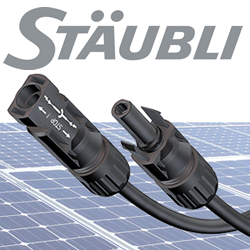 ​Stäubli Electrical Connectors are used on more than 300 GW, over 50% of the PV capacity worldwide. The MC4 family of UL and TUV listed products include connectors, in-line fuses, branch connectors, cable assembly and more.