Not only the selection of quality components but also their correct handling is crucial for the PV plant's profitability and safety. Therefore, it is essential to know and understand the technical impacts when installing and connecting the various elements.
Avoid Cross-mating of PV Connectors
Article from | Stäubli Electrical Connectors, Inc.
Mating connectors from different manufacturers in a PV system is comparable to installing incalculable technical and legal risks or hidden time bombs.
Not only the selection of quality components but also their correct handling is crucial for the PV plant's profitability and safety. Therefore, it is essential to know and understand the technical impacts when installing and connecting the various elements and to follow the respective regulations.
There are no established standards for connector design and technology in the field of photovoltaic, but a quasi-standard is set with the connector type MC4 from Stäubli (formerly under the name of Multi-Contact). Thus, several manufacturers claim to produce "Stäubli compatible", "MC4 pluggable", "MC4 connectable" components. We strongly support the local directives as well as international standards that prohibit the coupling of connectors of different manufacturers. Doing cross-connection is not permitted under any circumstances and may lead to severe damages.
Our own experience with many incidents over more than 20 years, and, above all, third-party studies like SolarBankability, the IEA PVPS report on "Quantification of Technical Risks in PV Power Systems", a study of a group of international scientists or the statement of TUV Rheinland, state unequivocally that cross-mating of different connector brands increases the technical but also the legal risk of a PV system enormously. In addition, this often results in connector failures, power loss, and safety hazards. At worst, this damage may even lead to a fire. Such problems consequently have a negative impact on the return on investment (ROI) and the cost of electricity (LCOE).
Even if the plug face matches when connected, the contact technology on the inside would not match.
Connectors of a particular manufacturer have their individual plug-in face and different contact technology inside, material composition for the contact and insulating parts, and different production processes whereof the exact specifications only being known to the manufacturer.
Factors that are causing technical incompatibility:
Deficient technology and product material
Differences in the production process and quality standards
No aligned tolerance zones to ensure tightness as well as sufficiently high contact forces
No chemical compatibility of all raw materials (including production and auxiliary materials)
Changes of the production process without respecting possible interactions
Disrespect for the fact that certification and standards are given for one product from one specific manufacturer; those are not manufacturer-independent
Consequences of cross-connections
The legal basis, which excludes cross-connections:
Product norms (IEC 62852 (EN62852)) and UL 6703 product norm resp. UL 1703 module norm)
Installation norms and local regulations
Assembly instructions of the manufacturer
Currently, valid PV standards (IEC 60364-7-712:2017; E343181) state that "male and female connectors […] shall be of the same type from the same manufacturer" and that UL certification for connectors only applies if products from the same product family have been mated.
For quality and safety reasons, Stäubli dissociates itself from cross-connecting components of 3rd party suppliers, being advertised as "MC4 compatible". We assess the cross-connection of components from different manufacturers as a risk for safe use.
We further disclaim any participation in tests from independent test institutes that are misleading and wrongly indicate compatibility. We also consider the efforts from third-party suppliers to verify their connector product by an independent third-party as "Stäubli/MC4 compatible" to be inappropriate and not beneficial to the PV industry. We have not recognized any products from third-party suppliers as being compatible with the Original MC4 product portfolio and do not intend to do so in the future.
No certification
There is no compatibility and no (product) certification for a cross-connection. There are different norms on this topic: Product norm for connectors the IEC 62852 (EN62852). For instance, if a plug connector from manufacturer A is connected with a socket connector from manufacturer B, the certification is not valid anymore. The UL1703 STP Module norm requires module manufacturers to list on their module and assembly instructions the specific manufacturer and model numbers of all allowable PV connectors that the module is UL listed to be mated to. This helps installers and inspectors to rely on very clear instructions on what connectors can be used.
The new edition of IEC 61730-1 will require that the connector type which is installed at the module will be printed on the label allowing the installer to know which connector can be used to connect the module.
The installation norm IEC 62548 specifies that plugs and socket connectors mated together in a PV system shall be of the same type from the same manufacturer to make a connection.
The content & opinions in this article are the author's and do not necessarily represent the views of AltEnergyMag
Stäubli Electrical Connectors, Inc.
Stäubli Electrical Connectors are used on more than 300 GW, over 50% of the PV capacity worldwide. The MC4 family of UL and TUV listed products include connectors, in-line fuses, branch connectors, cable assembly and more.
Other Articles
Requirements for operating electrical installations in ambient temperatures over 70°C or at altitudes higher than 6,500 feet differ from the requirements for standard installations due to the different climate conditions.
White Paper contributed by Stäubli Electrical Connectors: Attention to the smallest detail always shows the biggest returns. Connectors may be small components, but their influence on the efficiency and bankability of a PV project is undeniable.
---
Comments (0)
This post does not have any comments. Be the first to leave a comment below.
---
Post A Comment
You must be logged in before you can post a comment. Login now.
Featured Product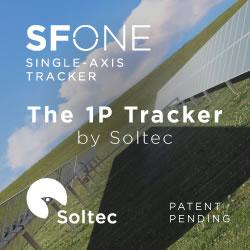 SFOne is the 1P single-axis tracker by Soltec. This tracker combines the mechanical simplicity with the extraordinary expertise of Soltec for more than 18 years. Specially designed for larger 72 an 78 cell modules, this tracker is self-powered thanks to its dedicated module, which results into a lower cost-operational power supply. The SFOne has a 5% less piles than standard competitor, what reduces a 75% the labor time.