-Combined technologies, global reach and executives industry expertise position NantEnergy as leader in energy storage market -SmartStorage® energy solutions will continue to be developed and sold under the NantEnergy brand
Los Angeles - Nov. 8, 2018 - NantEnergy today announced that it has acquired Sharp Electronics Corporations Energy Systems and Services business, which develops and delivers innovative energy management products for the U.S. market. Included in the acquisition is the award-winning SmartStorage® behind-the-meter energy storage system. NantEnergy has also retained the entire Energy Systems and Services team, including Carl Mansfield, former general manager and founder of Sharps Energy System and Services Group, who will continue with NantEnergy as Vice President, System Solutions.

"Adding Sharps sizable and world-class energy storage business to the NantEnergy service portfolio is an important step in our mission to accelerate the worldwide transformation to clean, reliable energy through intelligent energy storage solutions," said Dr. Patrick Soon-Shiong, chairman of NantEnergy. "The acquisition of Sharps energy systems business and the SmartStorage brand immediately creates a foothold for NantEnergy in the U.S., particularly in the important California market."
Included as part of the acquisition is the SmartStorage behind-the-meter energy storage system that reduces peak demand usage for commercial and industrial (C&I) buildings. Sharps energy systems business was previously rated by Navigant Research as a top 10 distributed-scale energy storage systems integrator for the U.S. market and it has an active project pipeline exceeding 60MW of commercial and industrial solar plus storage installations in the U.S.
NantEnergy will continue to promote the SmartStorage system, along with the optional 10-year Asset Management Service Agreement which provides routine and unscheduled maintenance, coupled with a 10-year demand reduction performance guarantee. Existing SmartStorage service agreements will continue to be covered by NantEnergy.
NantEnergy Chief Technology Officer Ramkumar Krishnan commented, "The technology and software capabilities of the SmartStorage product are complementary to NantEnergys proven technology and products in telecom and microgrid markets and enable us to become a leader not only in behind-the-meter applications but also in the broader stationary energy storage market. We are excited to leverage SmartStorage technology, talent and over five years of proven product experience in the C&I market."
With the acquisition, NantEnergy expands its market reach with thousands of energy storage systems deployed globally across more than a dozen countries, including the lucrative U.S. market. NantEnergys management team now possesses over 100 years of combined experience in the energy storage industry.
"The SmartStorage team continually aims to make energy storage accessible, affordable and simple for our customers, guaranteeing that performance will be delivered," Carl Mansfield said. "NantEnergys proven technologies will enable us to offer new SmartStorage products and expanded capabilities in the future. I have ultimate confidence in the direction and promise of SmartStorage and NantEnergy, and I look forward to working with a leadership team that shares my passion for growing and innovating in the energy storage market."
About NantEnergy
NantEnergy (formerly Fluidic Energy) is dedicated to accelerating the worldwide transformation to clean, reliable energy through its innovative and intelligent energy storage solutions. Enabled by groundbreaking battery technology and smart-grid intelligence, NantEnergy designs, manufactures and markets energy storage solutions globally, providing reliable backup power to critical wireless infrastructure, rural electrification microgrids, and distributed commercial and industrial energy management systems. Continuing to build momentum as an energy storage leader, NantEnergy is installing systems worldwide that increase reliability, functionality and surpass cost targets necessary for practical energy storage adoption. While meeting market needs now, NantEnergy is paving the path for the smart, sustainable and accessible grids of the future. Energy Everywhere for Everyone. Learn more at NantEnergy.com.
Featured Product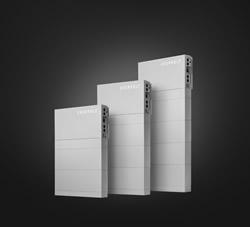 Panasonic's Total Home Energy System is built to deliver. The same battery technology we use to power the world's most advanced electric cars is now available to power your home. But it doesn't stop there. The all-in-one renewable energy system pairs Panasonic solar panels with Evervolt™ batteries to offer your customers a complete solar + storage solution, manufactured and warrantied by a company you know you can trust. In stock now.