GlobalData's report "Asia-Pacific Renewable Energy Policy Handbook" presents an in-depth analysis of the renewable energy policies across the major renewable energy markets in Asia-Pacific. It details the key policy instruments adopted by the major Asia Pacific countries in order to promote the deployment of renewables. The report provides the current and future renewable energy targets and plans along with the present policy framework, giving a fair idea of overall growth potential of their renewable energy industry. The report also provides technology specific support policies and measures used in different countries.
Asia-Pacific Renewable Energy Policy Handbook
Sushmita Chaudhuri | GlobalData
The Asia Pacific Region is Strongly Positioned for Rapid Growth In the Renewable Energy Industry
Driven by strong growth in countries like China, India, Japan and Australia, the renewable energy sector in Asia Pacific is expected to grow rapidly in coming years. The continued support of the national governments to the clean energy projects even in this downturn promises a strong growth of the industry in future.
The wind power will account for the largest part of the renewable energy development in the region. China, India, Japan and Australia will together add approximately 57,400 MW of additional wind capacity during 2008-15. This represents a 47.4% increase over the total world wind power capacity in 2008. China and India are expected to be the major drivers of this growth.
Apart from wind, other renewable energy technologies like solar, geothermal, small hydro and biomass are also expected to increase their share in the overall renewable energy market of Asia–Pacific.
Government Policy Measures will Play a Vital Role in the Renewable Energy Development
Government policy structure and promotional measures for renewables are expected to play a vital role in the renewable energy development especially with the global economic downturn and lower crude oil prices causing renewables energy projects to become uneconomical.
China uses both Renewable Portfolio Standards (RPS) and feed in tariffs to promote renewables. In India there is no national level tariff or standards but the different states in the country have RPS targets and offer fixed tariffs for renewable electricity.
Australia and Japan have a national RPS scheme and different states in these countries also offer feed in tariffs. The Australian Government's extension of renewable energy targets from 9,500 GWh by 2010 under the old Act to 45,000 GWh by 2020, as per the new law will give a major boost to the renewable energy sector in the country.
Thailand offers additional fixed tariffs for small renewable energy projects. The country has also enacted a National RPS. The renewable energy industry in the country is still in its early development stages. However, Thailand's renewable energy industry is expected to grow at a fast pace in future with the government laying down the Renewable Energy Development Plan 2008-22. With huge biomass resources, the government expects biomass to play a leading role in this development.
The New Zealand Government has set a set a target of 90% renewable electricity by 2025. Currently the renewables account for about 70% of the country's total electricity generation. This implies an increase of about 20% by 2025. However, the government has still not come up with any specific policy measures to promote renewables. Indonesia and Russia lack a major policy framework for renewable energy development.
China to lead the Growth of Renewable Energy Sector in Asia Pacific
China will lead the growth of renewable energy in the Asia-Pacific. The country is expected to continue its strong investments in the renewable energy industry especially in the wind technology. The Chinese Government has established a target of generating 15% of country's electricity through renewables by 2020. The wind power industry in China has witnessed a rapid growth in past years. The country has the largest wind power capacity in Asia Pacific and the fourth largest worldwide. The wind industry in the country will continue to grow in the future with the country expected to become the second largest wind power installer by 2015.
The wind power capacity in China grew at an AAGR of 44.5% during 2000-08 and is expected to increase at an AAGR of 20.2% during 2008-15.
China is also trying to establish itself as a major player in Solar PV. In March 2009, the Chinese Government announced a new incentive of RMB 20 [US $2.93] per watt for solar PV projects with a capacity of 50-kilowatts and above. The move is expected to drive the demand for solar PV domestically.
The government has also initiated support measures for small hydro and biomass facilities. The moves are expected to promote the renewable energy development in the country and increase investments in the sector.
Stronger Policy Framework to Boost Renewable Energy Could Significantly Increase Renewable Energy Industry Investments in India and Japan
Stronger policy measures could further boost the renewable energy investments in India and Japan. Both countries have huge potential in terms of renewable energy and but lack in terms of overall renewable energy targets. Japan has made huge technological advancements in terms of renewable energy and is one of the major players in the world renewable energy market. However non-aggressive national targets for renewable energy may hinder the development of renewables in the country. The country uses RPS as the main policy instrument to support renewables. However the targets specified under the RPS are too low. The RPS aims to establish 16.0 TWh of renewable electricity by 2014, implying that only 1.63% of the total electricity is required to be generated from renewable energy sources. The renewable energy sector in the country is strongly positioned for growth and this growth would drastically increase if the government pursues stronger and more aggressive targets.
India also offers huge potential for growth of renewable energy industry. However the country still has not enacted any national RPS targets or feed in tariffs for renewables. The RPS or feed in tariffs for renewables are offered at state level, this has restricted the renewable energy development to only some states. The implementation of a national level RPS or a feed in tariff scheme will lead to a larger scale deployment of renewables in the country.
For further details or to purchase this report, please visit
www.globaldata.com

About GlobalData
GlobalData is an industry analysis specialist company providing business information products and services. Our highly qualified team of Analysts, Researchers, and Solution Consultants use proprietary data sources and various tools and techniques to gather, analyze and represent the latest and the most reliable information essential for businesses to sustain a competitive edge. If you have any queries about this report or would like further information, please contact
North America: +1 646 395 5460
Europe: +44 207 753 4298 OR +44 161 227 0666
Asia Pacific: +91 40 6616 6700
Email:
info@globaldata.com
The content & opinions in this article are the author's and do not necessarily represent the views of AltEnergyMag
---
Comments (0)
This post does not have any comments. Be the first to leave a comment below.
---
Post A Comment
You must be logged in before you can post a comment. Login now.
Featured Product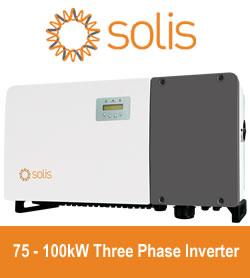 Solis75kW - 100kW series high-power string inverters are widely used in industrial and commercial rooftops. Solis's new three-phase string inverter is the first choice for industrial and commercial photovoltaics. 75-100kW three phase series string inverter have Maximum 28 strings input, support "Y" type connection in DC side. Maximum string input current 13A, support bifacial modules access.Supports anti-PID function to improve system efficiency.