For alternative energy there is a need for specialized software developers and engineers who design, build, and maintain the networks of sensors and stochastic modeling for wind and solar energy, smart energy grids, congestion pricing and other systems substituting intelligence for natural resources.
Careers in Alternative Energy
Dan Charney and Matthew Cohen | Direct Recruiters Inc.
Which Alternative Energy sectors are hiring the most?
Right now we are seeing hiring activity in several sectors including energy management software, sales and distributing for EMS, and solar energy. In fact, of all the different alternative energies, solar is the fastest growing.
What are the best careers in the Alternative Energy industry?
For alternative energy there is a need for specialized software developers and engineers who design, build, and maintain the networks of sensors and stochastic modeling for wind and solar energy, smart energy grids, congestion pricing and other systems substituting intelligence for natural resources. Coders with experience using large scale enterprise resource planning have an edge in this market.
In which areas of the country are the opportunities the greatest?
In the US, we are seeing the majority of activity in Texas, California, and the Southeast Seaboard including the Carolinas. But surprisingly states like Iowa and North Dakota have been home to many opportunities as well.
As company's look to expand their businesses by hiring New Business Development & Sales
Professionals, what technical skills will they be looking for?
Companies that hire us to find them business development professionals want that rare combination of not only great communication skills and great presentation skills but also a strong technical background. Most of our clients look for business development people to have some type of Engineering degree either Mechanical or Electrical. If this is not possible they require a demonstrated proven track record of selling an engineered product. If our client develops software most clients would prefer a software engineering background.
Why has company culture become such an essential part of the interview and selection process?
You've probably heard the phrase that "people are hired for skills but fired for fit." While a candidate's skill sets and expertise are extremely important, Hiring Managers and HR professionals realize just how vital "culture-fitting" is in order to avoid a costly mismatch or misfit.
Each company in the growing Alternative Energy industry has its own unique culture comprised of values, surroundings, management style, delegation of power and authority, decision making latitude, work / life balance, etc. Once a company has defined their company culture, they'll know what type of candidate to pursue and what questions to ask during the interview process in order to establish if there's a culture fit.
What "soft skills" do Alternative Energy companies look for when interviewing and assessing a candidate?
We feel the most important 5 soft skills a candidate should possess in the Alternative Energy Industry are:
Innovation: The ability to advance new ideas successfully and design and create products or services plus improving the productivity of operations within an organization.
Skills to Motivate & Foster Teamwork: The ability to spread positive attitude and inspire a team in order to achieve targets and goals with the combined efforts of a team
Excellent Communication Skills: Employers are looking for people who are very articulate when speaking but also know the importance of listening. They want people who are able to build bridges with colleagues, customers and vendors.
Flexible & Adaptable: The capacity to adapt to new situations and changes. Companies want to know that a candidate is open to new ideas and can embrace change and as a result, come through in a pinch.
Leadership Abilities: Being able to demonstrate the ability to build a collaborative work environment for creativity to flow and knowledge to share is imperative.
Are there specific training courses or certifications that are sought after?
There are many Alternative Energy Certifications available and even Clean Energy technology degrees available at many Universities. In addition, a PMP (Project Management Professional) certification is industry recognized as well as a PE (Professional Engineer license). A candidate that possesses a certification or degree would certainly have an edge on the competition.
How does a company become an "employer of choice" in the industry?
In the world of recruiting, the term Employer of Choice is used to designate a company that, because of its reputation, is always a first choice for the best and brightest. Attracting top talent is one of the most obvious and most important advantages to being an Employer of Choice.
Some first steps to becoming an Employer of Choice:
Analyze firms that are already known as an Employer of Choice
Examine the current standing, status and perception of your company
Begin an internal assessment or "gap analysis". Measure where you are now and where you want to go and decide what you need to up-grade in order to get there
Develop a list of program elements, including employee benefit programs that will help you achieve your goals
Create a work/life balance which is very important to people in today's workplace
Hire the best consultants that can coach you

Becoming an Employer of Choice usually doesn't happen overnight. It is a commitment and process that must be start at the top and subsequently be supported by all organizational levels including a "buy-in" from the employees.
Matthew Cohen - Energy Practice Leader
Matthew Cohen serves as the Energy Practice Leader for DRI's Energy Technology sector comprised of Energy Management Software, Alternative & Renewable Energy of Solar, Wind & Biofuels, Smart Grids, Smart Meters, Energy Management Hardware and Systems Integration . He works in conjunction with Dan Charney, a Managing Partner, to continue to grow this practice area through market research, candidate sourcing, recruiting and new business development. His constant thirst for knowledge and discovery helps to guide his success in the Energy Technology market. Matthew's greatest attribute is his ability to connect with people on an personal level. His ultimate goal is to assist those who wish to maximize their potential and achieve their greatest aspirations.

Matthew has a very unique background. After attending College at Bowling Green State University, Matthew served in the military for two years as a combat paratrooper. He arrives at the gym everyday at 5:30am and loves to get an early start on the day. He splits his leisure time to between socializing with his closest friends, mentoring high school students, and volunteering to help adults with special needs.
Since 1983, Direct Recruiters, Inc. has been successfully providing employment, consulting and business solutions for small and mid-sized firms to Fortune 500 companies. For more information about the DRI Energy Technology Practice Area, contact Matthew Cohen, Energy Practice Leader at (440) 996-0860 / fax (440) 287-2388/ e-mail mcohen@directrecruiters.com /www.directrecruiters.com.
The content & opinions in this article are the author's and do not necessarily represent the views of AltEnergyMag
---
Comments (0)
This post does not have any comments. Be the first to leave a comment below.
---
Post A Comment
You must be logged in before you can post a comment. Login now.
Featured Product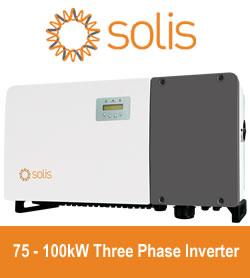 Solis75kW - 100kW series high-power string inverters are widely used in industrial and commercial rooftops. Solis's new three-phase string inverter is the first choice for industrial and commercial photovoltaics. 75-100kW three phase series string inverter have Maximum 28 strings input, support "Y" type connection in DC side. Maximum string input current 13A, support bifacial modules access.Supports anti-PID function to improve system efficiency.