A strong mix of sales to both new and repeat customers highlights that the core strength of GenDrive's value proposition – productivity improvement – is making economic sense for customers.
VANCOUVER, CANADA – Customers in grocery, retail, warehousing and manufacturing facilities are recognizing productivity and environmental benefits available from fuel cell powered material handling equipment, driving important growth in the market. Plug Power is the leading hydrogen fuel cell supplier for material handling operations in North America, holding 85 percent market share. And Ballard Power Systems is the exclusive supplier of fuel cell stacks for Plug Power's full suite of GenDrive® power units.

A strong mix of sales to both new and repeat customers highlights that the core strength of GenDrive's value proposition – productivity improvement – is making economic sense for customers.
RECENT NEW CUSTOMERS
Market leaders in manufacturing, retail and distribution are choosing Plug Power's GenDrive® fuel cell technology to power their material handling equipment. Here are some examples –
Lowe's has acquired more than 160 hydrogen-powered fuel cell forklifts for its facility in Atlanta, Georgia. In addition, Lowe's signed a five year contract with Plug Power to set product pricing and service terms for GenDrive® products purchased for its new distribution centers.
Mercedes-Benz purchased 72 GenDrive® systems to operate its electric lift truck fleet in Tuscaloosa, Alabama. The order was received by Plug Power in early April 2012 and all units were installed and operational by early July. This is the quickest cycle time to date between receiving an order and deployment at a site requiring a new hydrogen fueling station.
Stihl Inc. acquired 75 Plug Power GenDrive® systems for its site in Norfolk, Virgina. The order from Stihl, placed in the first quarter of 2012, was delivered in less than six months, including the installation of the hydrogen fuelling infrastructure. The deployment will serve as a benchmark for future conversions to fuel cell-powered forklifts at the company's European facilities.
REPEAT CUSTOMER ORDERS
Top 5 Plug Power GenDrive® Customers
Sysco 600+ forklifts at 7 sites
Walmart 500+ forklifts at 3 sites
P&G 340 forklifts at 4 sites
BMW 400+ forklifts at 1 site
Central Grocers 230+ forklifts at 1 site
In total, >3,000 GenDrive® units are deployed
An increasing number of companies are becoming repeat fuel cell forklift customers, purchasing additional systems after experiencing benefits and savings at initial installation locations.
BMW purchased its first 86 fuel cell powered forklifts for use at its Spartanburg, South Carolina manufacturing plant in 2010. Two years later, the company was convinced of the benefits and placed a follow-on order to convert the plant's entire forklift fleet to fuel cell power.
Procter & Gamble Co. has selected GenDrive® fuel cell products to power the electric lift truck fleet at its manufacturing facility located in Mehoopany, Pennsylvania. With this additional facility, over 340 units will now be deployed throughout Procter & Gamble's manufacturing infrastructure, including sites in California, North Carolina and Louisiana.
Sysco has more than 600 fuel cell-powered forklifts operating at seven of its food distribution facilities in Massachusetts, Virginia, New York, Texas and California. The company has plans to convert additional facilities to fuel cells in the near future.
Walmart Canada has a fleet of 95 hydrogen fuel cell powered forklifts at its Balzac, Alberta perishable food distribution center, where it uses only fuel cell units. The GenDrive® fleet improves the productivity of the warehouse and is projected to save $1.1 million over seven years, compared to using battery-powered forklifts. Based on the success of this initial deployment, Walmart placed additional orders and now has more than 500 fuel cell forklifts operating in three warehouses.
OPPORTUNITIES BEYOND NORTH AMERICA
The increasing number of deployments across North America underscores growing global demand for clean solutions in material handling operations. Plug Power is addressing the European material handling market, where 325,000 new battery-powered forklift trucks are sold annually, through a joint venture established with Air Liquide, known as 'HyPulsion'. Notably, IKEA has signed a contract with HyPulsion and intends to convert its entire operation in southern France to GenDrive® products in 2013.
Featured Product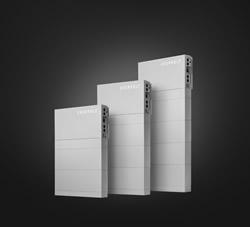 Renewable energy stored in an EVERVOLT home battery system is the perfect backup plan against an uncertain utility grid and weather events. Run key appliances longer and live life when the unexpected happens. EVERVOLT battery storage systems are covered by a complete 12-year warranty from Panasonic.