New Donation Enables the Launch of a Renewable Energy Training Facility
Patriot Solar Group (PSG) of Albion MI, recently donated a number of their innovative Solar Ground Mounts, to the Northwestern Michigan College (NMC) in Traverse City, MI. These mounting structures, capable of holding 36 panels, will serve as a teaching aid for the college while also providing clean, renewable energy.

PSG's donation consisted of two separate systems, a post driven along with a pre-ballasted option, have been sent to show the diversity and simplicity of PSG's ground mount applications. Both are modular, allowing for the integration of the two mounts in the same application. The major advantage to offering a ballasted mount is that it requires no ground penetration. This makes it possible for the structures to be placed in areas that were previously "off limits" (such as brownfields and landfills) where penetrating the ground is not an option. It also solves a problem that can stifle a solar development by allowing one to place a ballasted mount in an area with challenging soil conditions (such as underground rocks and boulders) that make it impossible to drive a post into the ground.
Bill Queen, director of the Michigan Energy Demonstration Center at NMC, had this to say about PSG's donation: "Patriot Solar Group's commitment to the growth and prosperity of the solar industry is evident in its support of our solar training programs. The use of Patriot's rack and mount systems plays a key role in the ability of our students to work with the products they will use in the field. Such experience is essential as the industry seeks to reduce BOS costs. Thank you Patriot Solar Group."
PSG sees this as much more than just a simple donation. "We are investing in the future of this industry by sending these systems to NMC, and we are proud to donate to a college from our home state of Michigan." said Jeff Mathie, President of PSG. "We hope to do many more of these donations to places that have similar renewable energy training programs. Having students working on real world, PSG products, will absolutely give them an advantage in their future careers in the renewable energy industry."
For a closer look at this renewable energy program, check out NMC's website at: http://www.nmu.edu/
Featured Product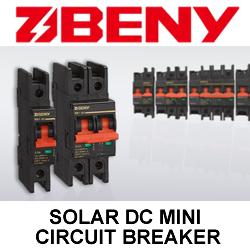 The BB1-63 modular miniature circuit-breakers can be used in solar DC circuits up to 1200 VDC (4-poles execution). Application in solar DC circuits, battery energy storage systems and UPS. Arc flash barrier design keeps solar equipment more safe and reliable. For DC circuit over-current protection.