U.S. Battery engineers help a homeowner build an efficient Solar System with batteries that can provide 11 amp-hours of total power for all his appliances to run 24/7.
As solar energy products become widely available, individual homeowners are seeking to create their own partial-grid, and off-grid system. While there is an abundance of solar panels, inverters, and other components to choose from, it's often difficult for the average homeowner to figure out their particular power needs, as well as how to properly store that energy.

Fortunately, U.S. Battery was able to help one homeowner who contacted U.S. Battery's Product & Process Engineering Manager Zach Cox, who helped solve this customer's particular situation. "Mr. Spong is an individual homeowner and U.S. Battery customer. He contacted us about using a small solar array in his back yard to power his home's appliances, and store the energy from his solar panels using our batteries," says Cox. "The result was a simple, yet efficient system that allows him to have more than enough amp-hours, using eight U.S. Battery US2200XC2 six-volt batteries to store his power.
The system used in Mr. Spong's home consists of an Outback MPPT FLEXmax 60 charge controller, a COTEK 24-volt - 2000 watt converter, and four 280-watt solar panels. "I found the U.S. Battery US2200 batteries to be rated very high, and found them to be the best buy for the money in my area," said Mr. Spong. "I am running my fridge, freezer and computer 24/7 with the batteries, dropping down to only 24.5 volts overnight. During the day, I have more power than I need even with running a microwave and other things."
According to Spong, the system gives him approximately 11 amp hours of total power. "I am trying to keep my usage down to 30 to 40 percent of total battery discharge, which helps extend battery life a lot," says Mr. Spong. "For now, I am running a 14 cubic ft refrigerator and a 12 cubic ft. freezer 24/7, and I can still have lights on and enough power to run a few other things. With the amount of power usage at night and the size of my solar panels, I have lots of surplus power that I can use to run a microwave for cooking and other things. With all this, I still get my batteries fully charged in time for my power usage at night."
The U.S. Battery US2200 is one of the company's most highly rated and popular flooded lead-acid batteries. While these batteries currently serve as great storage for small systems like Mr. Spong's, U.S. Battery's RE-Series batteries are available should his power needs increase. These batteries feature Defender™ moss shields, that effectively prevent the formation of "mossing shorts" and include Outside Positive (OSP™) battery design, which mitigates the effects of positive plate deterioration and further increases battery life.
"So far the system is working well but there is a lot to learn," says Mr. Spong. "I am very happy with the choices I made putting this together and appreciate the help U.S. Battery has given me."
For more information on U.S. Battery products, contact U.S. Battery Manufacturing, 1675 Sampson Ave. Corona, CA 92879. (800) 695-0945. Visit http://www.usbattery.com.
Featured Product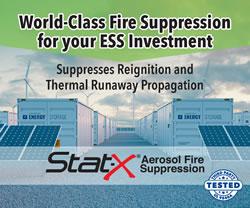 Stat-X® condensed aerosol fire suppression is a solution for energy storage systems (ESS) and battery energy storage systems (BESS) applications. Our Stat-X condensed aerosol fire extinguishing product was tested for efficacy in suppressing li-ion battery fires. It was found that the product successfully extinguished single and double cell battery fires. This testing was conducted in parallel with a large battery fire testing program on behalf of a large energy storage company.