Lithium Iron battery provides cost savings, remote monitoring capability, long life at telecom sites
An Iron Edison Lithium Iron battery is now powering Western Canadas largest off-grid pure solar project, an unmanned site in northern Alberta which is an integral part of ATCOs telecommunications network.

The Saddle Hills Telecommunication Site features a 75 kilowatt PV solar array and an Iron Edison Lithium Iron solar battery which can store 250 kilowatt hours of energy. Previously, the site was powered solely by propane thermal electric generators.
ATCO says the decision to switch to solar and battery power is a cleaner and less expensive way to keep the site up and running. Saddle Hills now runs completely on renewable energy after removal of the generators.
The Iron Edison Lithium Iron battery offers a proven and trusted battery chemistry for remote telecom sites. Cell level performance can be monitored online in real time, saving costly site visits for resistance testing. The Lithium Iron battery delivers higher efficiency and triple the lifetime compared to traditional lead-acid deep cycle batteries.
"Our Lithium Iron battery is the perfect fit for remote telecom sites like Saddle Hills," said Iron Edison CEO Brandon Williams. "It offers significant cost savings over the use of generators at mission-critical sites, and is more reliable, nimble, and safer than any other battery chemistry including lead acid."
The 75 kilowatt solar array is mounted vertically to optimize production at the sites northern latitude and minimize the accumulation of snow and ice.
The critical load at the telecom site is carrier-grade microwave radios and multiplexers. The Iron Edison battery is fully compatible with the positive grounding required for telecom equipment.
Iron Edison Battery Company, headquartered in Lakewood, Colo., offers Nickel Iron and Lithium Iron batteries for solar energy storage, along with complete solar energy system design services. Its team has designed thousands of off-grid and battery backup systems around the world using Nickel Iron or Lithium Iron battery types. Both Nickel Iron and Lithium Iron are longer lasting, more durable alternatives to traditional lead-acid batteries. Iron Edison is dedicated to educating people on the benefits of advanced battery technology.
For more information, contact Iron Edison at 720-432-6433 or email to info(at)IronEdison.com.
Featured Product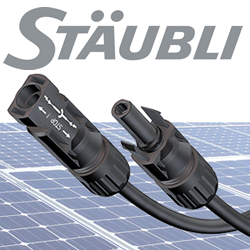 ​Stäubli Electrical Connectors are used on more than 300 GW, over 50% of the PV capacity worldwide. The MC4 family of UL and TUV listed products include connectors, in-line fuses, branch connectors, cable assembly and more.