Seattle is among 17 major North American cities whose "2030 District" is driving high-efficiency district energy systems to share and exchange energy and heat between building partners - saving energy, money and maintenance costs, and providing more reliable power.
Perhaps one of the primary reasons for district heating systems not being as efficient as they should be is due to a lack of access to data. Effectively, designers specify systems without using any operational data to help inform their decisions.
Records 1 to 2 of 2
Featured Product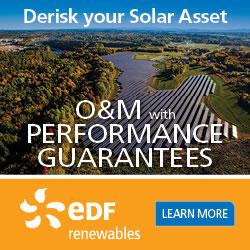 EDF Renewables offers the same innovative solutions that maximize the performance of our own 5.2 GW of installed projects. Because we're not an equipment manufacturer, our recommendations are transparent and data-driven. We cover the entire project lifecycle: from pre-commissioning support, through warranty and post warranty operation, to late stage and decommissioning.