North America may be making up for its reluctance to embrace a legislation-driven approach to transforming the use of energy by wholeheartedly nurturing companies pushing the boundaries of innovation in the sector.
North America Leads The Way In Innovation
Michael Liebreich | New Energy Finance
North America may be making up for its reluctance to embrace a legislation-driven approach to transforming the use of energy by wholeheartedly nurturing companies pushing the boundaries of innovation in the sector.

by Michael Liebreich, New Energy Finance

During the all the debate about the ratification of Kyoto it has sometimes been easy to forget that legislation is only one of the drivers of change in the word's patterns of energy use. Another major factor will undoubtedly be the inherent ability of our economies to innovate.

Which regions in the world are most active in developing new technology, products and services that will transform our use of energy? Should we expect the locus of innovation to be Europe, which has taken such a strong lead politically in the process?

Here at New Energy Finance we surveyed around 3500 organisations of all types active in clean energy, and identified the 1340 most active companies. North America leads the way in terms of the sheer numbers (see Figure 1). Europe, despite having nearly twice the population and also being perceived by many as much more sensitive on environmental and climate issues, has significantly fewer active companies in the sector. Asia lags behind both North America and Europe - in part, as we shall see because its active players are large corporations, not young companies.

Figure 1 Commercial organisations active in renewable energy and energy technology Note: Excludes academic institutions, public bodies and the financial sector
What is most striking is that if, as we do, you believe that the number of start-up companies in a sector is at least one reliable measure of the level of innovation, North America is far ahead of any other region (see Figure 2). Between them the USA and Canada have over 200 entrepreneurial new energy companies, against only 75 in Europe. As a percentage of industry players, in each region, North America has almost double the number.

Figure 2 Startups - Number and as a % of total commercial organisations Note: Includes organisations that are suitable candidates for future venture funding
This is not to say there are no interesting startups in Europe - it has nurtured young and exciting companies such Ocean Power Delivery, SulfurCell, Q-Cells, PEMEAS, Ceres Power and many others. However, it is worth questioning why, despite the amount of attention the sector has received from policy-makers, and despite the EU's Lisbon Strategy for making Europe "the world's most dynamic knowledge-based economy", Europe is unable to spawn renewable energy and energy technology startups at the same rate as North America.
Venture-funded companies are few and far between in Asia where the industrial landscape is dominated by larger and more mature companies. The region leads in terms of the percentage of publicly-quoted companies (see Figure 3). The percentage is more than double that of North America. Many of the leading Japanese automotive manufacturers such as Toyota, Mazda, Suzuki and Honda have significant efforts in fuel cells, and 'Zaibatsus' such as Fuji Heavy Industries, Kyocera and Kawasaki Heavy Industries are developing products and technology in areas ranging from reformers to solar cells.

Figure 3 Publicly-quoted organisations - Number and as a % of total commercial organisations in the region
However, a closer inspection of the nature of the publicly-quoted company universe again highlights the dominance of North America in the innovation stakes (see Figure 4). The region is far ahead of all the others in terms of the number of publicly-traded companies for which new energy is the only or major driver of enterprise value ("pure-play" companies). These focused companies are typically young, often the result of IPOs of venture-funded companies, rather than the older engineering or construction companies one typically finds in Asia and Europe, for whom clean energy forms only a minor part of a portfolio of activities.

Figure 4 Publicly-quoted organisations - Pure-play new energy and non Pure-play Note: Cross-border listed companies are allocated to country of origin
Asia has only 2 pure-play companies, Japan Wind Development and GS Yuasa Corporation, both listed on the Tokyo Stock Exchange; whereas North America has 46, 30 of which are listed on NASDAQ. Amongst these are industry leaders such as Ballard Power Systems, Hydrogenics, Energy Conversion Devices, Capstone Turbine and Ultralife Batteries.
There are no doubt a multitude of reasons for North America's sheer dominance as a hub for technological innovation in clean energy. In our opinion, strong support from a community of financial investors willing to put risk capital to work in new energy is one of the most important factors.
We have identified no fewer than 224 North American financial institutions providing venture-type financing to the sector (see Figure 5). Europe has fewer than half that number even though it is home to institutions such as Apax, Sustainable Asset Management, Impax, Good Energies and Conduit Ventures. Asia lags far behind, in fact the majority of the 28 venture-type investors we identified are corporate-venturers, not pure venture capital providers.

Figure 5 Venture-type investors by region
So North America may be making up for its reluctance to embrace a legislation-driven approach to transforming the use of energy by wholeheartedly nurturing companies pushing the boundaries of innovation in the sector. Which approach will yield more impressive results? Perhaps we should be looking to other technology industries, such as the IT industry, for clues.
Michael Liebreich is Founder and CEO of New Energy Finance, specialist provider of information and analysis to investors in clean energy. Michael@newenergyfinance.com
Michael is an experienced venture capitalist and entrepreneur, specialising in business services companies. He has been UK Managing Director of a Groupe Arnault division investing in technology and media and Deputy Managing Director of Associated Press Television. Michael spent 5 years with McKinsey & Company. He studied Engineering at Cambridge University, and earned his MBA from Harvard Business School, where he was a Baker Scholar and Harkness Fellow. Michael's interest in energy goes back to his undergraduate years, when he won the Cambridge University Ricardo Prize for Thermodynamics.
The content & opinions in this article are the author's and do not necessarily represent the views of AltEnergyMag
---
Comments (0)
This post does not have any comments. Be the first to leave a comment below.
---
Post A Comment
You must be logged in before you can post a comment. Login now.
Featured Product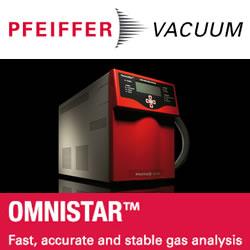 The Pfeiffer Vacuum OmniStar benchtop analysis system offers you a compact footprint, powerful software and Ethernet connectivity. It's the optimum solution for many real-time gas analysis applications. With the OmniStar, Pfeiffer Vacuum offers you a complete solution for gas analysis, in chemical processes, semiconductor industry, metallurgy, fermentation, catalysis, laser technology and environmental analysis. The turnkey OmniStar gas analysis system consists of heated, temperature-regulated gas inlet system, Quadrupole mass spectrometer, a dry diaphragm vacuum pump and HiPace turbopump. Unlike competing methods such as FTIR, OmniStar is suitable for qualitative and quantitative analysis of most gases.