The recent surge in storage activity has its roots in a general consensus being reached by stakeholders that the technologies are on a path that will enable them to achieve the cost, performance, and reliability targets that have been promised.
The State of the Solar Industry in North America
Ray Hudson, Jenya Meydbray, Rick Fioravanti, Jerry Melcher | DNV GL
What is the state of the solar industry in North America?
The development of solar projects in North America is bright and thriving with growth of over 20 percent annually. Solar generated energy is becoming increasingly competitive economically. This is occurring in 2014 even under uncertain regulatory conditions and onerous tariffs. The import tariff on PV modules from China and Taiwan has added 15 - 20 cents to the module price, which has resulted in many projects being uneconomic. Import tariff rules have caused some erratic supply chain behaviors in the past (i.e. Chinese manufacturers sourcing cells from Taiwan instead of using their own or contract manufacturing). This dynamic condition of the supply chain can have a negative impact on the quality of PV modules due to manufacturing concerns. Historic and continued focus on thorough due diligence has and will benefit solar projects. The growth of solar installations has now lead to large enough generation levels to provide a real incentive to examining the best ways to integrate this energy source into the utility grid.
What is the most compelling driver behind the adoption of solar energy by utilities?
RPS and other renewable targets have been fueling the adoption of solar energy by utilities as well as the benefits of the distributed nature of solar. The primary driver for end users is PV reaching grid parity with utility prices – which can be perceived as a threat by utilities. This economic benefit of PV generated electricity will be a major driver for additional future adoption. Some utilities are being very proactive and engaged in this transition and others less so.
Is distributed solar energy growth seen as a threat or blessing to utilities?
There are real benefits of having generation distributed out with the loads, however, many utilities see PV on the distribution grid as a hindrance since they lose kWh energy sales but still have to serve customers at the peak with little or no compensation to them typically due to net metering tariffs. Utilities are requesting regulators to address this perceived inequity.
What do you feel is the most important thing the solar industry needs to address in order to sustain growth in the future?
The industry has all of the strong fundamentals necessary to grow for many more years. Component pricing has come down substantially and PV generated energy is competitive with traditional alternatives at the retail price levels. However, import tariffs could potentially disrupt this positive growth. DNV GL has played a significant role in the growth of renewable resources, establishing viable economic bases for renewable integration at some of North America's most important projects with ERCOT, PJM Interconnection, Hawaiian Electric Company and the California Energy Commission (CEC) among many others.
What is the nature and timeline of the energy storage boom?
The recent surge in storage activity has its roots in a general consensus being reached by stakeholders that the technologies are on a path that will enable them to achieve the cost, performance, and reliability targets that have been promised. It is simply more than storage being deployed in the niche applications that are currently viable today, but rather indicative of less and less skepticism on whether storage will reach a state of commercialization for the electricity industry. There have been triggering events for this surge, such as the mandate for adoption of 1.325 GW of storage in California, the emergence of potential solar-storage combined applications, and "proposal requests for storage" in other countries as well. However, the group of technologies still needs to actually hit their cost targets and accumulate a longer track record of operation. The technologies have not achieved these performance goals just yet, but there has been a significant increase in the confidence level that the group of technologies will achieve these goals.
When and to what extent will it provide a real solution to the renewable integration challenge?
The renewable integration "challenge" really exists when penetration levels of variable, renewable generation begin to reach levels greater that 20% of the total supply. Presently, in areas where penetration levels of renewables are much less, there is a considerable amount of renewable capacity successfully integrated into the grid without storage – and the addition of storage will help this continue to grow. For example, California is already committed to adding 1350 MW of Energy Storage to the grid by 2024 to support renewables integration. Where this "challenge" is being seen today is in island applications such as Hawaii and Puerto Rico. In these cases, the penetration levels of renewables are high and we are seeing storage successfully mitigate issues that were predicted to occur. However, for storage to become the solution of choice to solve potential issues of high penetration of renewables, the early successes will also need to be accompanied by a track record of continued, long –term operational success as well. Early indications have been positive, but there are still few hurdles to overcome such as lower cost. It's close and also dependent on some of the states reaching their goals for 30% penetration levels or higher for renewables.
What opportunities will it create to sell different services to the grid?
Energy storage is already providing numerous services to the grid as well as potential service that the technology can provide to the grid. For example, storage is being used to provide regulation services and spinning reserve services at the wholesale level. There are market services being advanced in most ISO (Independent System Operators) and RTOs (Regional Transmission Operators) where products either have been created or are in the process of being created. Additional opportunities exist with the integration of renewables and peak shaving applications. However, it is clear that some of the capabilities of storage are not being leveraged because not all the capabilities and potential of storage are being extracted due to potential services not yet being created. However, as storage further establishes itself on the grid, we are going to see increasing opportunities for these services being formalized and accessible to storage.
What opportunities will it create for utility scale solar developers to enhance the value of their projects?
When we examine the benefits that storage can provide with solar, we look at two factors. The first is the protection the storage can provide to the grid itself (concern of the utility and grid operator) from impacts of high penetration rates of variable renewables, and second, is the ability to enhance the value of the solar system. These enhancements can occur by the device leveling and "locking" in the load reduction provided by solar. In doing that, demand charges can be reduced and solar production during specific times of day can be captured and discharged after the sun has set. Other benefits include extending the operational profile of the solar system or providing a resiliency device that can discharge during evening hours, essentially creating a system that can supply energy locally even when the electricity and gas supply infrastructure is disrupted. For utility scale solar projects, the ability to provide grid supportive features such as ramp rate and frequency control.
What are the opportunities for greater efficiency and more efficient manufacturing?
For PV modules, the introduction of improved and lower cost raw materials, increasing manufacturing scale, and a higher degree of automation are driving down cost and improving manufacturing and product efficiencies. The import tariff has caused substantial shuffling of raw material supply, which negatively affects manufacturers' ability to accurately define their cost roadmap. Nevertheless, manufacturers are not sitting idle and continuously innovating and squeezing out costs. The challenge for the manufacturers is to maintain product quality throughout these changes. Thorough diligence on the PV modules is beneficial for solar power plant success.
Can standardization reduce cost and increase value?
Yes - increased standardization of components, system designs and contracts can help reduce system cost, which will increase the value proposition of solar. Especially if standardization of contracts is associated with both the electricity off-taker, equipment warranties and production guarantees.
What technological innovations are set to play a role in cost reduction?
Over the past 50 years, this industry has been generally characterized by continual incremental product innovations rather than breakthrough technologies. DNV GL plays a big role in this area across many industries, as five percent of its revenue is reinvested in innovation in order to help tackle the big industries issues. I think this trend will continue. Even incremental product and manufacturing improvements introduce technology risk that is challenging to get financed. DNV GL helps new technologies gain acceptance by the risk-averse financial community through rigorous third party testing, review, and verification services.
Authors
Ray Hudson, DNV GL Global Solar Service Leader
Jenya Meydbray, DNV GL Solar Product Qualification Program Leader
Rick Fioravanti, DNV GL Head of Section, Distributed Energy Resources
Jerry Melcher, DNV GL Senior Principle Energy Consultant
The content & opinions in this article are the author's and do not necessarily represent the views of AltEnergyMag
---
Comments (0)
This post does not have any comments. Be the first to leave a comment below.
---
Post A Comment
You must be logged in before you can post a comment. Login now.
Featured Product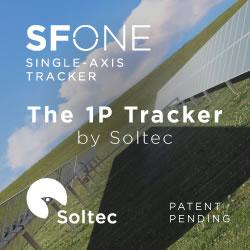 Under the slogan "engineered for greatness", the SF8 tracker aims to revolutionize the photovoltaic market with its new minimum 2x60 configuration and 4 to 6-strings. This tracker is elegantly designed while it reinforces its structure to perform in any terrain. In addition, the SF8 tracker increases the rigidity of its structure by 22% more than the previous generation of Soltec trackers, the SF7. The SF8 is specially designed for larger 72 and 78 cell modules, an increasing market trend.