Renewables have now reached such a critical mass, utilities can no longer ignore them as a way to augment their capabilities in producing power cheaper, smarter, better. At this point, the tide has turned for utilities and there is no going back.
Renewed Interest from Traditional Investors in Renewable Energy
Conor McKenna | CohnReznick Capital Markets Securities
With today's downward pressure on energy prices, how can renewable energy remain competitive?
There is undoubtedly a bull market for renewable energy today, marked by significant year over year growth in the industry. While the lower price of fossil fuels is seen by some as detrimental to renewable energy, the cost of renewable energy production has also declined significantly, keeping renewable power competitive in the marketplace. Lower renewable energy production costs are being driven by decreasing installation costs for solar and wind projects, significant efficiency improvements in renewables technology, and a declining cost of capital as the asset class has matured and become more widely accepted by the largest investors. Unless these dynamics change significantly, we are optimistic about renewables continuing to be a competitively priced source of energy – regardless of price changes in oil, gas, and other traditional energy sources.
Why are traditional infrastructure investors adding renewable energy projects to their portfolios?
In our view, there are three key reasons for this. First, renewable energy projects and portfolios are now at a scale where it makes sense for these investors to deploy the capital amounts necessary to warrant their interest. Second, renewables remain as one of the few areas where investors can achieve impressive yields since bond prices continue to be compressed. Finally, the technology for renewables has advanced to the point where it is accepted across a much broader market – which includes those traditional infrastructure investors that had shied away from renewables in the past.
Why are utilities that had once resisted renewable energy changing their mindset by adding renewable energy to their mix?
As renewables have become cost competitive with other forms of power generation, utilities now see them as representative of low cost power. That's very attractive to them. Also, renewables have now reached such a critical mass, utilities can no longer ignore them as a way to augment their capabilities in producing power cheaper, smarter, better. At this point, the tide has turned for utilities and there is no going back.
How are project pipelines looking, and what is the role of government policy in the project pipeline picture?
Project pipelines continue to be robust and growing across the market. The government's policies on renewable energy, including the ITC and PTC extensions passed last year, have been very helpful in sustaining these pipelines. Governmental policy has also been a vital component in strengthening the renewables market overall and keeping the United States on track toward energy independence.
Is renewable energy utilization reliant on government support via subsidies etc. or can it stand alone and be competitive?
All forms of power generation rely, to one degree or another, on some level of support from the U.S. government. Given how young the renewable energy industry is compared to other forms of power, and how much better it has gotten with government support, it benefits all stakeholders (including the broader U.S. economy) to continue to leverage governmental support. At this point, we believe that government support is a necessary component for continued growth in renewables. While this could change someday, for now the government's role in supporting renewables is critical, helping the industry lower energy costs for consumers, create significant jobs across the country, improve the diversity of our energy fleet, and decrease our carbon footprint.
What are some of the challenges and opportunities shared by both wind and solar and where do they diverge?
The challenges for these two technologies are similar in that they both face two major obstacles. The first is the inevitable sunset of government subsidies. The second is reliability concerns due to intermittency issues. These technologies tend to diverge when it comes to economic viability. Solar projects are typically more economically feasible when they are initiated in higher priced power areas. Wind does not share this connection to an area's power prices.
Where are you seeing the most growth in new renewable energy projects? Why?
C&I and community solar are two major growth areas for renewables. As there are fewer utility PPAs expected for 2017, there is greater focus on, and opportunity for, contracting directly with the offtaker through either net metering programs or community solar. Hedge providers and corporate PPAs offer growth opportunities in wind. We see a number of new hedge providers entering the market and many new corporate investors are seeking opportunities to purchase power from green resources.
What needs to happen in the future to keep up the momentum?
We are doing a lot of the right things, right now, in protecting and growing our industry. It may seem simple, but we just need to keep doing what we are doing.
About Conor McKenna
Conor McKenna is a Managing Director for CohnReznick Cap Markets' New York and San Francisco offices. He has more than ten years of experience in the renewable energy and environmental commodities industries. Conor focuses on M&A asset sales and fund raising, and structuring and negotiating tax equity investments in renewable energy while leading the CohnReznick Cap Markets' West Coast practice. He has led numerous utility-scale solar, wind, and biomass transactions to date.
Since joining the Firm in 2011, Conor has participated in the structuring and placement of tax equity for over 350MW of solar projects and 375MW of wind projects totaling over $3 billion. He also leads buy-side and sell-side advisory for corporate acquisitions. Conor was responsible for the buy-side advisory acquisition of Silverado Power and sPower by Fir Tree Partners to develop a scalable renewable energy platform with over 400MW of assets in the pipeline.
The content & opinions in this article are the author's and do not necessarily represent the views of AltEnergyMag
---
Comments (0)
This post does not have any comments. Be the first to leave a comment below.
---
Post A Comment
You must be logged in before you can post a comment. Login now.
Featured Product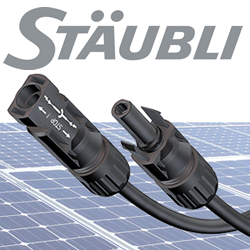 ​Stäubli Electrical Connectors are used on more than 300 GW, over 50% of the PV capacity worldwide. The MC4 family of UL and TUV listed products include connectors, in-line fuses, branch connectors, cable assembly and more.