Activity in support of corporate procurement of renewable energy has been particularly strong in the United States over the last few years.
Serious business: Corporate procurement rivals policy in driving growth of renewable energy
Contributed by | Deloitte
Large corporations have taken a leadership role in procuring renewable energy around the globe. Many have publicly pledged to reach 100 percent renewable energy in the next two decades or sooner through programs such as RE100 and the Renewable Energy Buyers' Alliance. Some of these organizations have already surpassed the halfway mark in achieving those goals. What's clear is that the train has left the station: Renewable energy is vital for corporations, and corporate procurement now rivals policy as a driver of growth in the sector.
These large enterprises have pioneered many means of procuring renewable energy, and their methods and goals have been documented in numerous publications and public forums. However, what has largely been missing from these discussions is how mid-cap and small corporations are approaching the procurement of renewable energy. Do they have the same drive as their larger counterparts? What motivates or disincentivizes them? Do they require new contracts and structures and ways of purchasing electricity from renewable sources?
As suggested by the findings of the Deloitte Resources 2017 Study and other research, many mid-cap and small companies are already looking for ways to invest in wind, solar, energy storage, micro-grids, and other advanced energy technologies—and they are likely to ramp up these efforts in the foreseeable future. This represents an opportunity for utilities and renewable developers to get ahead of the curve in capturing the next generation of opportunities in the renewables space by beginning to work with this underserved population now.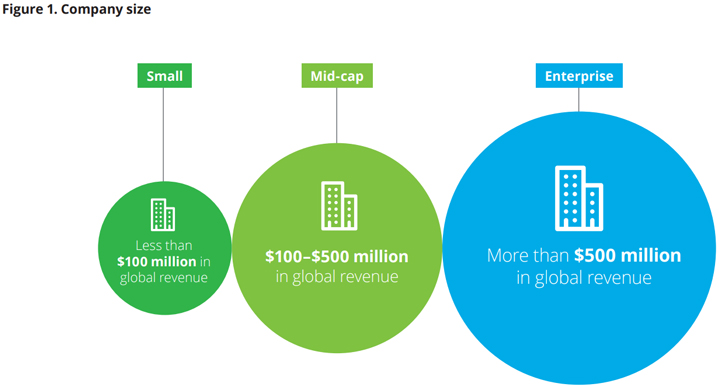 Introduction
Large corporations around the world are demanding renewable energy on a scale that few anticipated. "After a record year in 2015, when corporate purchasers and other nonutility buyers signed contracts for more than 3.7 gigawatts (GW) of solar and wind power—surpassing utility purchases—corporate procurement maintained a steady clip in 2016, reaching 2.5 GW by the end of the year."1 And this momentum shows little sign of abating. The Rocky Mountain Institute (RMI) tracked 1.24 GW of corporate renewable energy procurements in the United States and Mexico from the beginning of January through June 15, 2017, putting the sector on pace to surpass 2016 figures. These numbers do not even count on-site generation, which is another important way that corporations are pursuing their renewable energy goals.
While several large US multinational corporations—particularly those in the information technology sector—are at the forefront of the green power movement, corporate procurement of renewables is virtually a universal trend. Advanced Energy Economy reports that 215 Fortune 500 companies (43 percent) have a sustainability target, a renewable energy target, or both. And large, big-name corporations around the world are aggressively pursuing renewable energy goals, with some such as Unilever (UK-The Netherlands), Ikea (Sweden), Toyota (Japan), AkzoNobel (The Netherlands), AXA (France), and Barrick Gold (Canada) widely publicizing their efforts. However, corporate interest in green power isn't limited to large enterprises. Internationally, an array of small and mid-cap companies is also procuring renewable energy and setting ambitious carbon reduction goals. These companies range from cement maker Dalmia Bharat (India) to Alstria Real Estate Investment Trust (Germany), and Amalgamated Bank (US).
There are several reasons why companies of all sizes are taking a keen interest in procuring renewable energy. As one might expect, economics are a significant driver. Solar and wind power are now cost-competitive with electricity generated from fossil fuels in many areas of the world. Furthermore, the predictable, rather than fluctuating costs of renewables can provide a hedge against future fuel price volatility. But there are other forces at work as well. Businesses are setting sustainability goals to enhance their reputations and satisfy their investors and customers, who are increasingly demanding action on environmental stewardship and climate change. While this factor is harder to quantify, more and more companies around the world appear to be embracing the concept that being a good corporate citizen is good business, and helping to "green the grid" is an important part of that equation. As in any wholesale movement, some sectors are ahead of others. Technology companies with large data centers and big-box retailers with hundreds of stores were the early movers in procuring renewable energy, followed by consumer-facing companies whose brands were closely associated with sustainability. Today, participation is broadening across sectors, extending into industrials, chemicals, and automotive. Even traditional energy and resources companies are getting in the game. Glencore, the world's biggest shipper of seaborne coal, now gets 19 percent of its energy from renewable sources according to its 2017 sustainability report, and Royal Dutch Shell has announced plans to spend up to $1 billion per year on its New Energies division by 2020.
The broadening of the corporate procurement trend is further evidenced by the number of coalitions and alliances recently formed to help companies procure renewable energy. These include the Renewable Energy Buyers' Alliance (REBA), which "works across customers, suppliers, and policymakers to identify barriers to buying clean and renewable energy, and then develops solutions that meet rapidly growing corporate demand." In the process, the organization claims to be "greening the grid for all." There is also the RE100 campaign, which supports companies that have publicly committed to 100 percent renewable electricity. Founded just three years ago in 2014, the RE100 recently surpassed the 100-member milestone, and its total demand for renewable electricity equals 146 terawatt hours (TWh) annually—enough to power Poland or New York State. Its membership is growing globally with initiatives underway in Europe, India, China, and the United States.
Activity in support of corporate procurement of renewable energy has been particularly strong in the United States over the last few years. In addition to the coalitions described above, developments have included federal tax policies (e.g., the Investment Tax Credit for solar and the Production Tax Credit for wind), state renewable portfolio standards (RPS), and US commitments under the UN-led Paris Agreement on climate change. Now, with the US presidential administration curtailing action on climate change, some are naturally questioning whether this momentum will continue. However, far from being a roadblock, the US withdrawal from the Paris Agreement appears to be giving renewable energy an unexpected—and likely unintended—boost. Interest in the aforementioned initiatives and other efforts to support the growth of renewable energy has intensified since the announcement. Within days of the administration's decision, 1,219 governors, mayors, businesses, investors, and colleges and universities across the United States, or with significant operations therein, declared their intent to ensure the country remains a global leader in reducing carbon emissions. Signatories of the declaration, known as We Are Still In, represent 120 million Americans and $6.2 trillion of the US economy—not to mention the broadest cross-section of the American economy yet assembled in pursuit of climate action.
Continued in the full whitepaper here.
The content & opinions in this article are the author's and do not necessarily represent the views of AltEnergyMag
---
Comments (0)
This post does not have any comments. Be the first to leave a comment below.
---
Post A Comment
You must be logged in before you can post a comment. Login now.
Featured Product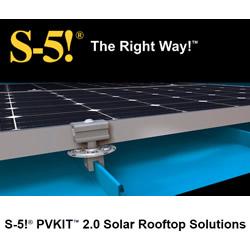 The concept of combining PV arrays with standing seam metal roofing is growing-for good reasons. Metal roofs have a life expectancy of more than 40 years. Shouldn't the mounting system last as long? With S-5! zero-penetration attachment technology and PVKIT 2.0, the solarized metal roof is the most sustainable system available -and without compromising roof warranties! PVKIT 2.0 is the also the best solution for attaching PV modules directly to any exposed fastener metal roof.