For example, scientists are currently researching a form of organic photovoltaics with a chemical additive which mitigates their fragile qualities.
Best Emerging Technologies for Solar Energy
Emily Folk | Conservation Folks
The rapid development of the solar industry has given rise to incredible technologies. Today's consumers have a diverse variety of systems to choose from, an expanding catalog of innovations that continues to grow with each passing year. These options have not only increased in number but in complexity as well.
For example, scientists are currently researching a form of organic photovoltaics with a chemical additive which mitigates their fragile qualities. They can paint or print these cells on surfaces without losing efficiency, using thiol-ene molecules that infiltrate the polymer material to create a mesh. The technology has enormous potential.
So where might we see these organic photovoltaics in the future? What other emerging technologies have shown promise? We'll answer these questions, examining three of the most impressive technologies for solar energy.
1. Flexible Organic Photovoltaics
Researchers from Rice University have found a way to increase the flexibility of organic photovoltaics. They've integrated a network of elastic additives to make the electrically active material less delicate. Furthermore, they're able to augment the material with little to no loss of current flow.
This represents a significant stride forward, especially when you consider the industry's focus on efficiency. Scientists have long given priority to the efficiency of solar technologies while neglecting their mechanical properties. The team at Rice University has gone against this trend with their recent work.
In looking toward the future, these flexible organic photovoltaics will have a wide range of applications. They'll enable engineers to work past their previous limitations and explore new possibilities for solar energy systems. The larger systems we're familiar with may soon give way to exciting alternatives.
2. Enhanced Solar Water Heat Pipes
The conversion of solar energy directly to heat has significant implications for efficiency. This is particularly true with heat pipes that can expand an operating system's temperature beyond 250 degrees Celsius. As context, most commodity solar water heat pipes typically range from 80 to 120 degrees Celsius.
However, Advanced Cooling Technologies Inc. has developed a line of intermediate temperature heat pipes that are superior to the standard equipment. They also produce high temperature heat pipes for heat engines, such as thermoacoustic generators, thermionic converters and Stirling engines.
In short, we've seen the release of several products with value for solar energy conversion over the past several years. The introduction of ACT's intermediate temperature heat pipe is just one example. These technologies will only improve the already high efficiency of solar water heat pipes.
3. Solar-Powered Pavement
Solar-powered pavement technology has seen testing along Route 66, America's historic interstate highway. Sidewalks in the area were the first to receive the treatment, and future plans include designated segments of roadway. These technologies aren't necessarily new to the area, however.
The roadways of Route 66 have a close association with clean energy. They have the thermal heating capacity to melt snow in winter weather, as well as LED bulbs that light the roads at night. Solar-powered pavement is only the latest addition in an ongoing initiative to develop the area.
Eventually, this technology and similar advances in solar energy may see widespread adoption across the United States. The incorporation of photovoltaics with existing infrastructure could help offset a community's reliance on the grid and decrease its carbon emissions.
The Future of Solar Energy
As scientists and engineers continue to advance the solar industry, we'll witness the release of many new and novel technologies. Flexible organic photovoltaics, enhanced solar water heat pipes and solar-powered pavement are only a partial view of something far more substantial. We're only beginning to explore the full potential of solar energy, and there's a long way to go.
About Emily Folk
Emily is a freelance writer, covering conservation and sustainability. You can read her blog, Conservation Folks, for more of her work.
The content & opinions in this article are the author's and do not necessarily represent the views of AltEnergyMag
---
Comments (0)
This post does not have any comments. Be the first to leave a comment below.
---
Post A Comment
You must be logged in before you can post a comment. Login now.
Featured Product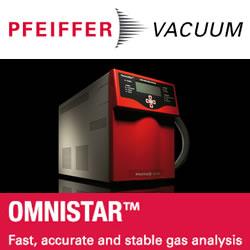 The Pfeiffer Vacuum OmniStar benchtop analysis system offers you a compact footprint, powerful software and Ethernet connectivity. It's the optimum solution for many real-time gas analysis applications. With the OmniStar, Pfeiffer Vacuum offers you a complete solution for gas analysis, in chemical processes, semiconductor industry, metallurgy, fermentation, catalysis, laser technology and environmental analysis. The turnkey OmniStar gas analysis system consists of heated, temperature-regulated gas inlet system, Quadrupole mass spectrometer, a dry diaphragm vacuum pump and HiPace turbopump. Unlike competing methods such as FTIR, OmniStar is suitable for qualitative and quantitative analysis of most gases.