Silicon carbide enables solar inverters to be lighter, smaller and more efficient. Using silicon carbide power components instead of silicon for solar inverters can save 10 megawatts for each gigawatt and 500 watts/sec in operations, representing significant energy savings.
How Silicon Carbide is Changing Solar Power Systems
Q&A with John Palmour, CTO, Wolfspeed, and Cree Co-Founder | Cree
Tell us about yourself and your role with Cree.
I am the CTO of the company's high-potential power and radio frequency (RF) device business, as well as the silicon carbide (SiC) materials business unit named Wolfspeed. I primarily focus on pioneering breakthrough semiconductor technologies for power and RF commercial applications, and the semiconductor material requirements to get there. I am also responsible for processing and device designs for silicon carbide and gallium nitride (GaN) electronic devices, which has led to 75 U.S. patents since I co-founded Cree back in 1987.
What exactly does Cree do?
Cree is a powerhouse semiconductor company focused on silicon carbide and GaN technologies. We help customers apply those technologies in electric vehicles, fast charging inverters, power supplies, telecom solutions, military and aerospace devices, and other applications. Our unparalleled experience manufacturing silicon carbide and silicon carbide devices is at the root of all our work and why we've been able to remain such a prominent leader in the market.
The semiconductor space is in the midst of a massive transition as it moves from silicon-based technologies to silicon carbide, which has significant benefits for a wide array of industries. Cree is at the forefront of that transformation, so we operate across a broad spectrum of applications but are the leading experts in silicon carbide and GaN semiconductors.
Explain silicon carbide, and why do you feel it is better than silicon?
Silicon carbide is a robust alternative to the more traditional silicon semiconductor. It is considered a wide bandgap semiconductor -- versus silicon, which is the most common semiconductor -- and allows devices to operate at much higher voltages, power densities and temperatures, making it ideal for the increased performance demands of next-generation applications. Silicon carbide also offers significantly lower switching losses than silicon, leading to much higher efficiency. For example, in an electric vehicle, using silicon carbide can instantly increase the range of that vehicle by 5-10%, or enable manufacturers to use 5-10% less batteries for the same range, which is significant to say the least. More broadly, across all applications, it enables smaller, faster, lighter and more efficient systems compared to silicon alternatives.
What advantages does silicon carbide offer for solar power systems overall?
Those same benefits apply in the context of solar power systems. Cree's silicon carbide devices can enable 98% efficiency in solar power systems, while decreasing the size of inverters drastically and reducing total cost of ownership in most cases. These inverters can also operate at much higher frequencies, enabling a dramatic shrink in the size and cost of the magnetics required, which then reduces the overall system cost. These benefits can be used strategically for everything from utility-scale solar farms to solar panels in the home, including chargers for electric vehicles.
What are some of the roadblocks for silicon carbide use?
With demand increasing rapidly, production capacity has been a limiting factor in some cases. Silicon carbide crystals are incredibly difficult to manufacture, which is a large barrier of entry for those looking to get into the market. However, as the world's largest producer of silicon carbide, last year we announced a $1 billion investment to increase our fabrication capacity by 30 times, helping us to meet the growing demand.
What are its advantages specific to solar inverters?
Silicon carbide enables solar inverters to be lighter, smaller and more efficient. Using silicon carbide power components instead of silicon for solar inverters, for instance, can save 10 megawatts for each gigawatt and 500 watts/sec in operations, representing significant energy savings.
Cree recently announced its 650V MOSFET product. Tell us about this product and what impact will this have on solar power generation design?
Our 650V silicon carbide MOSFET allows solar power design to be more efficient, paving the way for the next generation of renewable energy systems. When compared to silicon, 650V silicon carbide MOSFETs require fewer components, a smaller footprint and a lighter weight. They lower switching losses by up to 75%, enabling higher efficiencies at higher frequencies. There is also up to 70% greater power density and vastly improved thermal performance, all at a lower system cost.
Our 650V products are targeted to make highly compact and efficient switch-mode power supplies for servers, reducing the large amount of energy wasted in large data farms.
About Dr. John Palmour​
Dr. John Palmour is the CTO for Wolfspeed, a Cree company. He directs and conducts the Power, Microwave, and materials development for Cree. He was one of the co-founders of Cree in 1987. He has been a leader in SiC and GaN device development for the last 32 years, demonstrating numerous firsts in these technologies. John is responsible for 380 publications and 75 U.S. patents in the areas of processing and device designs for SiC and GaN electronic devices. Dr. Palmour received his B.S. and Ph.D. degrees from NC State University and became a Fellow of the IEEE in 2013.
The content & opinions in this article are the author's and do not necessarily represent the views of AltEnergyMag
---
Comments (0)
This post does not have any comments. Be the first to leave a comment below.
---
Post A Comment
You must be logged in before you can post a comment. Login now.
Featured Product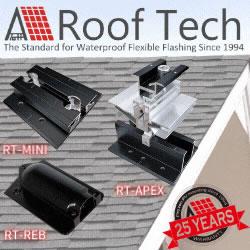 Now Roof Tech brings you the most innovative, watertight mounting systems ever developed for solar photovoltaic systems. Designed and manufactured exclusively for us by Japan's longtime leader in roofing technologies, Roof Tech products are 100% code-compliant and offer fast, simple installation and huge savings on shipping costs due to their compact, rail-less design. Learn more about our full line of versatile PV mounting solutions now available for residential installations. The next generation in rooftop solar mounting solutions."