Manufacturing

Marketing Partner
---
Terrasmart
Terrasmart, the renewable energy portfolio of Gibraltar (NASDAQ: ROCK), is a leading provider of solar racking technologies, electrical balance-of-system products, installation services, and project optimization software. Harnessing the combined strengths, technical expertise, and heritage of its four brands, the new Terrasmart delivers a holistic project experience and best-in-class solutions across markets, providing leading solar technologies and smart solutions across the project lifecycle to mitigate risks and amplify returns for solar projects of any size, type, and location. Serving the commercial and utility sectors across North America, Terrasmart integrates products and solutions across the PV lifecycle to minimize risks and maximize returns. With over 19 GWs of solar deployed across 4600 PV systems, Terrasmart creates unique value for more profitable solar on any terrain, anywhere in the U.S.
---
Mailing Address:
14590 Global Pkwy
Fort Myers, Florida 33913
United States of America
Tel: 239-362-0211
Fax:
Email: info@terrasmart.com
Website: http://www.terrasmart.com
Company Category: Solar & Wind
Geographic Region: USA - North East
Company Sector: Manufacturing
Keywords: solar energy photovoltaic racking mounting systems pv mounts
Partner Status: Marketing Partner
---
Products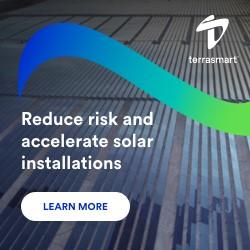 The first and only single axis tracker that allows you to turn unusable land into valuable assets. Built tough for reliable performance, TerraTrak will maximize energy output and returns conquering the most challenging sites. Employ PV where you never thought possible through durable mechanics and intelligent control technology.
---
---
White Papers
SOLID FOUNDATION STRATEGIES FOR MITIGATING FROST HEAVE IN THE NORTHEAST
With growth in the Northeast, frost heave will become a common challenge that developers and EPCs face. Improperly designed and installed solar projects could cause equipment damage, overextended schedules, and budget overruns. To minimize these risks, it's important to engage with the right expert; one that can accurately calculate loads for frost depth and has a decade of in-field experience. Mike Faraone, Director of Engineering at Terrasmart, shares the common mistakes to avoid when planning for frost heave.
---
---