It has been over 6 months without any in person events. With that in mind we are putting together a special feature article for the fall to highlight some of the new products and services our partners have rolled out during that time.

Brandon Hetherington for | AltEnergyMag
Featured Articles:

Sponsored by:

Sponsored by:

Company Insights and News:

Sponsored by:

Whats New?

This year, we've launched 2 new products, both available on www.quickbolt.com.

Our QuickBOLT2 with Microflashing®, an innovation on earlier models of QuickBOLT, is our fastest, simplest, and most efficient solar mounting system yet! Like the extremely popular Low Profile QuickBOLT, the QB2 utilizes code-compliant, and UL Certified Microflashing® that prevents leaks. It can be installed without lifting shingles or removing nails and staples. This doesn't only save installers time, but also reduces their risk of leaks or compromising the roof.

We've also launched our Dual Flashing with Miniflashing® for use with the QuickBOLT1 Low Profile Mounting Kits. Our Miniflashing® is an excellent option for customers who live in counties where traditional (under the shingle) flashing is required, as well as for those who have doubts about our Microflashing® for over the shingle mounts. This way we are still covering all our customers' needs.

Both QuickBOLT2 and QuickBOLT1 work on Asphalt, EPDM, and TPO roofs.

What can we expect?

We will be launching a new website design that we are very excited about! In addition to being mobile friendly and easier to navigate, it will offer a more streamlined ordering experience using a Quick Order feature. This will make it even easier to find and add products to your cart directly from the home page. Using Quick Order on the homepage, you will be able to search by part number and complete your order in less than a minute. You'll even be able to track your orders yourself from our website without needing to be logged in. We will also have a distributor locator for finding QuickBOLT distributors near you.

In addition to our website, we have some fresh faces to our team to provide you with excellent customer service and product knowledge. You can also visit our new Blog for expert knowledge on mounting hardware.

Keep an eye out for updates about the release of our next mounting system – the Deck Mount – for installing directly on Asphalt, EPDM, and TPO roofs without the need for finding rafters. Install in 20 seconds with 4 Stainless Steel screws. The base of the mount has Silicon embedded into it and is assembled with Umbrella Washers for superior holding and water protection.

Where will you be Virtually this fall?

Sign up for our email newsletter

Subscribe on YouTube channels for QuickBOLT and Quickscrews

Learn more on the QuickBOLT Blog

Whats New?

Tigo Energy just rolled out the latest addition to the TS4 family of reliable MLPE, the TS4-A-2F. It is the most cost effective rapid shutdown solution available and is built on the same reliable core technology that the Tigo TS4 platform is known for. One TS4-A-2F connects to two PV modules, meaning it requires half the hardware and significantly fewer connections to meet safety and rapid shutdown requirements.

What can we expect?

In the US, it's all about Rapid Shutdown and spreading awareness of our new TS4-A-2F solution. We are very excited to be rolling out the Tigo Enhanced program with key inverter partners. It's like Intel Inside for PV, but instead of Intel and computers it's Tigo and inverter partners, focused on simplifying the way customers get rapid shutdown solutions for their PV projects.

Where will you be Virtually this fall?

The best spot to find more information about us is at Tigoenergy.com. We are participating in SPI virtually this year as well, and just started a blog that is filled with relevant content. For any product specific information, you can visit our resource center.

Whats New?

SIBA FUSES provides energy storage protection. SIBA fuses have been specifically designed and tested for the stringent requirements of (ESS) Energy Storage applications and have been utilized by large OEM's globally. Fuses for the DC side of the inverter are available in the voltage range from 24VDC to 1500VDC, UL and IEC and current ratings from 1A to 2500A. Fuses developed for energy storage (ESS) have a high current breaking capacity with tested high peak of 340KA and a low L/R. On the AC side of the inverter, SIBA is capable of meeting voltage applications up to 40.5kV for bus protection, capacitor filters, PT transformers, step-up transformers (SSK fuses specific for wind, solar, and ESS applications), and switchgear with medium/high voltage fuses.

Where will you be Virtually this fall?

Stay tunes as we're also working on updating our website and creating a quarterly newsletter that we will be adding to our social media and email list.

Whats New?

Morningstar's Ethernet MeterBus Converter EMC-1 connects to any enabled Morningstar controller or inverter to provide enhanced data and network features, including Modbus and SNMP or Simple Network Management Protocol, which is an important feature for maintaining industrial and remote residential power systems. If a Morningstar product is equipped with an RJ-11 MeterBus port and connects with Morningstar's EMC, it's compatible with SNMP. The MeterBus port enables the transmission of serial data to the EMC-1 for remote monitoring, configuration, and control, using any type of IP-based network connection. This way, many new, powerful integration options for Morningstar products can be activated and used in remote power systems.

What's unique: The EMC-1 already has strong support for industrial protocols including MODBUS, and also supports HTTP and LiveView, Morningstar's local web dashboard filling a unique need with an easy to view a web page that is readable by any device or operating system's web browser. Enabling it with SNMP greatly adds to its value proposition.

Warranty: 5 years

Full offering: Hybrid solar PV inverters, battery inverter/chargers (SureSine inverters. TriStar, ProStar, SunSaver, SunGuard, SunLight, SunKeeper and Essential Series solar charge controllers), solar electric system accessories

Where will you be Virtually this fall?

You can find Morningstar at the following virtual conferences this year:

NABCEP 2020 CE Conference

https://www.nabcep.org/2020conference/

Dates: Ongoing; Available Online

Morningstar gave two presentations at the NABCEP 2020 CE Conference. Registrants for the virtual conference can access the recorded presentations at any time. If you missed it live, view it online today!

Management and Data Operations Focused Course

This session covers the powerful features of Morningstar's embedded Live View Web app which allows advanced hardware configuration using any web browser or mobile device without the need for the internet. These tools are increasingly becoming central to solar-powered networks and systems used in light commercial and other applications; this course will provide solar installers with the basics to master them for success in those areas.

Get to Know the Newest Technology in Advanced Solar Inverter/Chargers

Brad Berwald gave an inside peek into MultiWave, the next generation in power conversion technology. This session covered the features and advantages of the Multiwave as well as setup and commissioning of its various modes of operation, with focus on its powerful built-in scheduler and Live View Web app enabling data management capabilities including viewing system performance data, loading common configurations, and expanding with Ready Block™ modules.

Morningstar is also hosting a number of webinars where you can connect directly with our engineers to learn more about our technology and innovations:

Morningstar Solar Controllers & Inverters Live Webinar

Date: October 27, 2020 ; 9 am ET, 2 pm ET and 8 pm ET

Learn how choosing the right solar charge controller up-front can make or break your off-grid system. First-time attendees of this monthly webinar will receive one NABCEP CE credit.

Solar Systems for Industrial Applications - En Español

Date: Oct 8th, 2020; 10 am ET, 2 pm ET

¿Cuáles son las consideraciones para dimensionar y diseñar sistemas solares para aplicaciones industriales? ¿Es una aplicación que requiere alta confiabilidad y disponibilidad? La selección de componentes y su compatibilidad es muy importante para el buen funcionamiento de todo el sistema. Tres factores son clave: diseño, componentes e instalación.

Whats New?

SMA has pioneered a new method of optimization that is taking the solar industry by storm. We weren't satisfied with the way traditional optimizers operate. They consume power and they operate constantly in the hottest possible environment under the module. This injects a host of concerns related to component failures and service liability. Traditional optimizers are like driving a gas guzzling four wheel drive vehicle in bumper to bumper traffic – they're inefficient and wasteful.

Our optimization method does not rely on traditional module-level devices for power management. Our ShadeFix technology optimizes energy production without those added components under the module, reducing system componentry by 50%. This yields significant replacement and service savings, while improving safety. Instead of using complicated devices at the module, SMA optimizes power at the inverter and uses very simple SunSpec certified rapid shutdown devices to address code requirements at the module. In addition to the simplicity, a recent university study also showed this model produces energy gains under most conditions when compared to traditional DC optimized, module-level technology.

Readers can learn more by downloading our white paper.

What can we expect?

SMA has recently added several exciting new service offerings to further the support we provide to installers. So for the remainder of 2020 our customers can expect a greater level of online access to the resources they need. Some highlights of our service portfolio include: SMA Online Service Center

SMA America has launched a new Online Service Center to elevate service quality and expedite response. Installers can now access resources that previously required calling a service technician. In the new online service center, customers can track the progress of a service case, inverter exchange or request a rebate, sign up for an extended warranty and update delivery details. Learn more at the SMA Inverted blog.

With the SMA Service App, installers are empowered with an extensive support guide designed to make installation and servicing fast and easy. SMA's free Service App includes documentation for SMA products, quick fault analysis and reliable repair guidance—online and offline. It is available for Apple and Android devices.

While this offering isn't new, we recently opened the enrollment window so customers can activate Smart Connected even if their system was commissioned as far back as two years ago. For those not familiar with Smart Connected, it is a proactive service solution that actively monitors PV systems and notifies an installer of any events. This makes servicing more efficient, convenient and can help cut truck rolls by up to 50%.

Where will you be Virtually this fall?

Readers can always look for updated content on the SMA America website as well as our SMA Inverted blog. In addition, SMA has significantly ramped up our online training courses that are hosted by our Solar Academy experts. A full list of Solar Academy trainings can be found here.

We also continue to sponsor and attend industry leading virtual conferences and events including the upcoming Solar Asset Management North America and Solar Asset Management Mexico.
Sponsored by:
News Headlines & More Related Articles
The content & opinions in this article are the author's and do not necessarily represent the views of AltEnergyMag
---
Comments (0)
This post does not have any comments. Be the first to leave a comment below.
---
Post A Comment
You must be logged in before you can post a comment. Login now.
Featured Product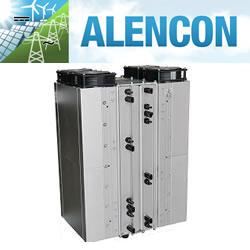 Alencon Systems is the premier manufacturer of high power, high voltage DC:DC optimizers for alternative energy applications including solar, battery energy storage, Microgrids, Fuel Cells and Electric Vehicle charging. Alencon's DC:DC converter offerings include the SPOT, BOSS and CUBE series DC:DC converters. The SPOT is a modular, uni-directional DC:DC solution ideal for solar applications. The BOSS is a modular, bi-directional unit for use with battery energy storage. The CUBE is a monolithic DC:DC converter which is available in both uni-directional and bi-directional modalities. Pictured above, is the Alencon SPOT.